New Commissioner of National Housing
View(s):

Dr. W. M. Karunadasa has been appointed as Commissioner of National Housing under the Ministry of Housing and Samurdhi.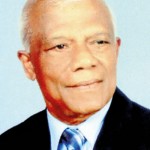 He was the senior Professor of History and International Relations at the University of Colombo.
He holds a doctoral degree on Sri Lanka's Foreign Policy and Non-alignment and has authored several books on the subject.
A Commonwealth scholar, he obtained his postgraduate qualifications from ICS, University of London and followed a special academic orientation programme on conflict resolution in in the United States on the invitation of the US government. Dr. Karunadasa served as a Visiting Sabbatical Professor at the Institute of Commonwealth Studies, University of London.
He played a major role in initiating, developing and promoting the curriculum of International Relations within the university system in Sri Lanka.
Dr.Karunadasa is a product of Peradeniya University, where he completed a honours degree in History(1968). He earned his LL.B from the University of Colombo in 1978.