Letters
View(s):

The relevance of Bak Poya in solving the ethnic problem

The event surrounding Gauthama Buddha's second visit to Sri Lanka on a Bak Poya day is more relevant today given the country's ethnic problem. Though the thirty-year war is over, a final settlement is yet to be reached. As clearly pointed out by the Lessons Learnt and Rehabilitation Commission (LLRC), one of the main causes for the conflict was the introduction of the 'Sinhala Only Act' by a disgruntled politician backed by the Buddhist clergy after he was deprived of his legitimate succession to be the Prime Minister of Sri Lanka.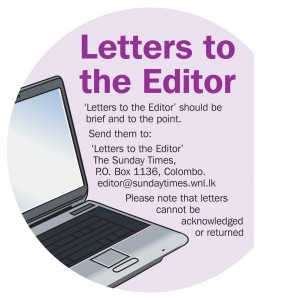 Bak Poya is also significant because it was on a Bak Poya day that Prince Gauthama, for the first time saw an old man, when he was on his way to the royal gardens. It is also recorded that on the invitation of Naga King Manikkhitha, the Buddha visited Kelaniya and the jewelled throne was enshrined in Naga Deepa Chaitya on a Bak Poya Day.
The Mahawansa records that the Buddha, on his fifth year of enlightenment, saw in his divine eye a dispute between two Naga Kings — Chulodara and Mahodara as to who should own or possess the jewelled studded throne 'Manipalage'. He, with his supernatural psychic powers travelled to Sri Lanka to settle the dispute. On his arrival, the Buddha rose to the mid-air and created darkness and later illuminated the area. This miraculous act made the Naga clan believe and pay obeisance. The Buddha then came down and preached the Jathaka stories – Kakoluka, Endana Lajukika and Wattaka Tula, which explain the evils of discord, the value of unity and peaceful co-existence.
The Jathaka story is about a dispute between animals and birds. The Buddha related this to his disciples who questioned him of the controversy between crows and owls. He narrated that thousands of years ago when he was a Bodhisathva, was born a golden swan and recited the following stanza which convinced the disciples.
Jayam Veram Pasavathi
Dukkham Seti Parajitho
Upasanto Sukhahamset
Hitva Jayaparajam
[Victory gives rise to hatred. Those defeated lie in pain. Happily rest the peaceful, rejecting both victory and defeat.]
It is this understanding and acceptance of the preaching of Gauthama the Buddha, which is needed today for political leaders who strive to bring about a lasting solution to the country's ethnic problem.
G.A.D. Sirimal
Boralesgamuwa
Don't undo Gota's good work
Former Defence Secretary Gotabaya Rajapaksa earned the respect and admiration of the citizens of this country for his leadership and excellent management in ending the war.
His post-war effort in the transformation of Colombo and other cities, through development of infrastructure under the ten-year Urban Development Framework (UDF) also deserves acknowledgement and praise.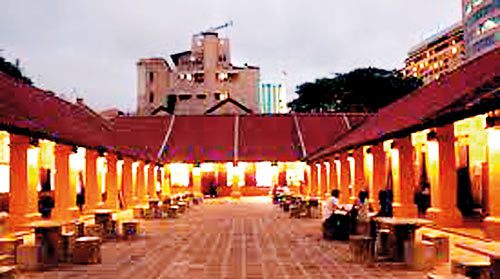 In just five years, the city of Colombo has blossomed into a garden city equal to any city in the developed world. Many are the achievements, which have made those of us living in Colombo, proud to call it home. The well paved road network (free of pot-holes) makes it a pleasure to drive on, whilst the well controlled traffic lights systems accommodate a free traffic flow for most parts.
Mr. Rajapaksa's efforts to restore dilapidated colonial buildings to their former glory and convert them into recreational facilities are a true tribute to our heritage.
Through his vision, combined with careful planning, execution and personal supervision along with the support of the Sri Lanka Army, these buildings have got a new lease of life today and bring pleasure to all. Buildings such as the Dutch Hospital precinct, the Race Course and the Independence Square Arcade have sprung to life already, whilst many are yet under construction in the Fort area. We only wonder at the fate of these on-going constructions, given the antipathy of the present government to anything that has been initiated by a Rajapaksa.
The many walkways and cycling paths that adorn not only Colombo but also places such as Kotte, Nugegoda, Madiwela, Malabe, Boralesgamuwa and Kandy and Gampaha have helped create a health-conscious society, enabling everyone access to free exercise.
Some of these locations like Diyatha Uyana also serve as a fair for goods and plants with entertainment.
The upgrading of the waterways under the flood prevention scheme has ensured clearing up clogged canals, opening up water drainage systems and creating lakes. The revival of Galle Fort was another effort which has converted the once neglected area into a great tourist attraction which we can be proud of.
Though prime Colombo properties were cleared of shanty towns for development purposes, the dwellers were resettled in housing complexes across the city, uplifting their lifestyle and standards. Many public locations such as markets, bus stations and railway stations have been upgraded into clean and orderly facilities.
Mr. Rajapaksa executed his plans meticulously, driving the administration to deliver results with military precision. I have witnessed his personal supervision of several of these buildings. With architects, he visited the sites late evening. Once I was amazed to see him giving instructions to provide support to a young tree which was growing a bit crooked at Independence Square — his eye for detail was an asset.
However, he was also criticised for having used the military cadre for the nation building efforts and apparently this was a reason why the rank and file of the military voted against former President Mahinda Rajapaksa. While I will not debate on the merits or demerits of using the soldiers for this noble task of nation building, I believe he did it with the best of intentions.
Today, I see neglect already seeping in – lacklustre supervision, dead leaves collecting on walkways and canals getting clogged. General apathy has started setting in, without direction. It is only in Sri Lanka that we see everything and anything politicised to the extent that good work done by one government is not continued or sustained by a new government. I sincerely hope and pray this would not be the case where Urban Development is concerned.
Though many an attempt is being made to tarnish Gotabaya Rajapaksa's image, his contribution to the development of our nation speaks for itself. Having witnessed over-promises and under-delivery of politicians and governments over the decades, here is one who delivered!
Mr. Rajapaksa, I thank you for giving us a safe, secure and beautiful country to be proud of. You are a true son of the soil and are sorely missed. Your capability and talent should not be wasted and I believe I am speaking on behalf of many, in urging your return to public service, to continue the noble task undertaken by you.
Premila Wijesinghe
Via email
Port City project can still be made use of
The multibillion-dollar Colombo Port City project was promoted by former President Mahinda Rajapaksa, as part of his rapid development programme in the afterglow of the end of a 30-year war.
China's willingness to offer unlimited loans for Sri Lanka's development projects was a boon for Sri Lanka. But unfortunately an unnecessary airport and a modern harbour was built at great cost in the Rajapaksa home base of Hambantota, neglecting the debt-riddled poor.
The original proposal for the Port City project, it is said, was for a landfill of only 125 hectares. Since it would not significantly affect the environment, the Coast Conservation & Coast Resources Management Department had approved the project. Taking for granted this approval was sufficient, the China Communications Construction Co., Ltd., it is alleged, decided to reclaim 233 hectares from the sea for this project.
Mr. Rajapaksa not realising the consequences, signed this project to give China 30 hectares of freehold land and 90 hectares on lease for 99 years out of the 233 hectares as part payment for this dream city.
It is now revealed in the Environmental Impact Assessment Study (EIA) that a landfill of 233 hectares may cause considerable environment damage to the western coast and it is not advisable to carry out this project as proposed.
Since, one fourth of the landfill project has been completed, it cannot be undone. It could either be used for further port expansion or landscape it to enhance the beauty of Colombo and the Galle Face Green.
D.L. Sirimanne
Kohuwela
Bouquets for Ward 6-B at National Hospital
Most often than not, only brickbats are hurled at government institutions, especially hospitals. Rarely do we hear about bouquets. This is what I experienced at the National Hospital.
I, for one, never wanted to be admitted to a government hospital. I used to say that I would rather die at home than enter a government hospital. I was proved wrong. I underwent surgery for breast cancer at the National Hospital – Ward 6-B.
I could not believe my eyes and ears, the ward was spick and span, cleanliness of the highest level, far superior to many private nursing homes. From the doctor-in-charge to the minor employees, they possessed humane qualities – kindness, caring and patience. Patients from all walks of life were treated alike. My grateful thanks go out to Dr. Ajith de Silva, his team, medical students, the nursing staff, trainee nurses and other employees of Ward 6-B.
S.W.
Dehiwala
Will annals of justice ever forget this unfair judgment?
In Nazareth lived a good Rabbi who became somebody
Who contrary to nature born from a virgin's grief
Simple carpenter, his foster father was, mother graceful
Poverty, obscurity and obedience were his ways.
Foreign travel he had none, in babyhood with parents fled
In childhood he puzzled lawyers with questions asked
In manhood, he showed the way and truth
Sad, the Galileans belittled the good he did.
Education he had none, but in parables spoke
Ruled over nature, woke the dead, calmed the noisy sea
Changed water to wine; few loaves of bread, thousands fed
The blind, mute and lepers healed, demons fled
For all the good he did, High Priests desired his blood
Judas greased with 30 coins for his night arrest
He broke no rule, was to explain opinion a crime?
Witnesses coaxed to lie to prove his guilt
Judgment of Pilate and Caiaphas on death penalty malfide
Appeal to Caesar non-exist, a breach of Roman law
A judgment where human decency absent was Jehovah's plan
Will annals of justice ever forget this unfair judgment?
-H.L.D.E. Perera
Mattakuliya
Pensioners seek Yahapalanaya solution
Pension anomalies continue to remain unresolved despite frequent appeals to the authorities. This has left a large number of pensioners, especially those affected by the 2006 circular, in a state of despair and deep frustration.
Promises made by the previous regime and the present government that they would settle the matter without delay remain unfulfilled or presumably put under the carpet for reasons best known to them.
Many were the pensioners who have passed away without justice being done to them. They are probably muttering curses on all those who are responsible for the callous disregard of their just claims.
However, pensioners would be grateful to the Ministry responsible and the Department of Pensions if action could be taken by them to settle the issue within the present Government's 100-day programme under its 'Yahapalanaya' theme.
H.S.R.
Kandy
Monthly statement no more
Most state sector pensioners who drew their monthly pension through banks received a bank statement every month. Since the new government came to office, this practice, it appears, has been done away with. As a result, we do not know how much pension we got.
We earnestly request the authorities to restore the practice of sending the monthly statement.
An aggrieved pensioner
73 years ago: The Japanese air raid on Ceylon
It was 73 years ago, April 5,1942 – an Easter Sunday, during the Second World War, that Japanese forces launched a raid on Ceylon as our country was then known.
Japan's aim was not to attack Ceylon but their mission was to destroy the British Eastern Fleet. The British commander of the Eastern Fleet Admiral Sir James Somerville who was in the Addu Atoll, Maldives receiving a warning diverted his fleet and thereby managed to save most of his fleet and men from disaster.
This unexpected raid shook the British Empire. People became panicky. The whole of Ceylon became a funeral house. Most of the schools and colleges in Colombo were closed down and most of them were shifted to outstations such as Gampaha, Pannipitiya, Bandarawela, etc. Colombo became a dead city. There was not a place to have a cup of tea.
Earlier Admiral Sir Geoffrey Layton, was dispatched to Ceylon to see to the welfare of the civilians and he held discussions with V.I.P's including D.S. Senanayake and others. Oliver Goonatilake was appointed as the Civil Defence Commissioner. He appointed Emergency Assistants, Government Agents in all divisions. Food items were rationed; coupon books were issued to the people. Co-operative stores were opened throughout the island and people drew their rations without any difficulty.
"Looting is punishable with Death", "black marketers will be jailed", "grow more food", "growers are the winners"– These were some of the slogans written on parapet walls. (They were better than the election posters of the day)
Looking back on those wartime days, mass-scale recruitment for service took place. No. 399 Galle Rd. was the recruiting office under Major Gunaratne, "Join the Army and see the World" was another slogan to attract the young crowd.
All school buildings were acquired by the military authorities and converted into hospitals and Army barracks. Vice Admiral Lord Louis Mountbatten, Supreme Commander of the South East Asia Command, had his headquarters at the Peradeniya Botanical Gardens. After the arrival of Mountbatten, Trincomalee was well fortified. Camps were opened in Kundasale, Polgolla, Kekirawa, and at several places. Signal offices were opened at the Army – Command and other places. Underground cables were laid between Colombo- Trincomalee- Kandy- Kekirawa- Dambulla etc. They were very secretly done.
A special secret air strip was opened under the care of John Kotalawala at Mawatagama along the Kandy-Kurunegala Road. Other air strips were opened at Koggala, Dambulla and Kekirawa and the most secret was at the Colombo Race course. Many fighter planes were hidden here and no one knew about it. It was these fighter planes that rose up against the Japanese planes on April 5, 1942.
H.G.P. Jayasekara
Ampitiya