Handmade for the feet and solely Lankan
By Lanelle Hills Perera
View(s):
They are a colourful piece of ingenuity. However, for the boys behind the DODO brand of handmade handloom loafers, it's part of who they are – it's Sri Lankan.
With all the raw materials for the DODO sourced locally and put together in Colombo the team comprising college friends Naushad Ninzer, Bernard Arulanandam and Amjad  Hamid, have ensured that quite a bit of thought has gone into the DODO, from its design to the personally handpicked materials.
"I like to call it 99.9 percent Sri Lankan," says Naushad proudly, except for the thread he tells us that everything else has been sourced locally.
For the young mavericks of sole, finding their feet in the niche of men's footwear, the story of the DODO shoe stems from a conviction to support the country's local cottage industry, more specifically the handloom industry.
However, with productivity issues being a concern they decided to source the material but undertake the production of the shoe separately at a small factory. As of now the brightly coloured yarns of handloom fabric have stitched in well with the team's choice as the main ingredient for a comfy shoe.
"When we set out we wanted to make something we would wear," says Bernard. "Very casual, light and fits well. It's much comfier than most."
With none of the three being designers, and working full time jobs elsewhere, Naushad as an analyst, Bernard at
Copal Amba and Amjad as a tour manager it has taken the boys a year of sitting behind a blackboard at Naushad's home in the weekends and putting together sketches, manoeuvering through the maze of finding appropriate material suppliers and scouting out production facilities that would fit with their requirements.
However, it did, of course help that Naushad's family had been in the business industry. "So I did have a know-how about how to go about the manufacturing process. To make it timely and to know what issues we might come across. So we minimized that part," he says.
The DODO shoe into its 5th revision was launched in January at the Colombo Design Market (CDM). With just eight pairs in hand as samples the boys left that evening with close to 50 paid orders. Many of those who saw the pairs were willing to even walk away with the samples, they tell us.
"We went thinking if we sell four, we'll go to dinner somewhere," laughs Bernard who together with Naushad and Amjad was quite taken by surprise at the response to their hard work.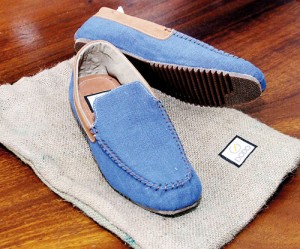 "We didn't even have business cards," recalls Bernard adding that while the team are pleased with the outcome it's very much a learning process for them and in their view there's much that remains to be done.
These days it's a matter of streamlining operations and fine tuning their loafer. Maintaining stocks is also a bit of a balancing act along with keeping costs down. The shoe which comes in sizes 6-10 takes about three to four weeks to have them on buyers' feet.
Having launched at CDM, the pairs didn't miss the eyes of the ladies and the many pleas from the fairer kind have not gone unheeded. A ladies' shoe is in the pipeline they tell us.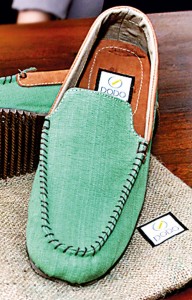 "What we thought of for the girls' shoe, is that when we start getting the designs out we will put them up on FB and get their feedback. Based on what is liked we will design it accordingly. So the girls have more leeway in the design," says Naushad.
What started out as a random idea has evolved into petitions for more colours, laced up shoes, calls from retailers, orders being made via their FB page and close encounters with Chinese tourists eager to take home a pair at any cost.
But what is it about the DODO shoe that elicits the response to own it? Is it the careful thinking and workmanship of the shoe that grabs your attention besides its bright fabric ? Or is it the gumption of three youth to see through an initiative that in a small way attempts to revive an endangered industry?
See their FB page at http://www.sundaytimes.lk/150405/