Creating art that could mean anything to anyone
By Vinusha Paulraj
View(s):
"Ideally, I would love to be a painter," says Kavan Balasuriya. It's been under a year since he moved back home with a degree in Fine Art from the Central Saint Martin's College of Art and Design in London and the young artist is now taking his first steps into the public eye with his maiden exhibition in Sri Lanka which opened at the Ruby Gallery this week.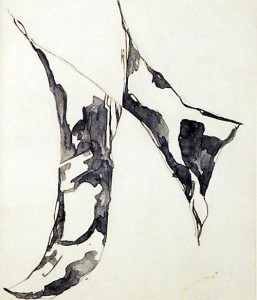 The four years Kavan spent at the prestigious school of art which has produced the likes of Alexander McQueen, apart from influencing his visual philosophy, left him with the realization that he "is primarily a draftsman."
The process of drawing holds more attraction for the 22-year-old graduate who enjoys working with conventional mediums in unconventional ways. "My time in college was an evolution," he shares. Starting out inspired by genres like fantasy and abstract, the shift in his perception of art he says came from greater introspection. "I started thinking why I drew things the way I did" and in the process he found himself enjoying the "act of drawing" as much as what his pieces depicted.
At first glance Kavan's most prized work- a rectangular piece he calls 'Foundation'- can leave one a tad confused. The layers of charcoal on paper, with subtle hints of shade is what he says marked the identity of his take on art. Representing among other thing the development of his unique concept, he says it's the ultimate expression of art breaking away from literal or traditional expectations- It could mean anything to anyone.
Kavan's introduction to art came early. "I grew-up with a lot of art," he says of being surrounded by paintings at his grandmother's house. "For
the longest time I tried to emulate that work" he admits, but the realization that in college he was among the "future George Keyts of the world" inspired him to think differently.
His piece, Foundation, has been in London galleries previously and is now on display with his other work at the Ruby Studio, Ward Place, until April 22 from 9 a.m. to 6 p.m.