A place to relax and reflect in style
Guidebook writer Royston Ellis features hotels that are good value and affordable
View(s):
Guidebook writer Royston Ellis features hotels that are good value and affordable
This dream bungalow began with a door, two windows, and four posts. A retired antique dealer from England on one of his frequent holidays to Sri Lanka, saw those items on sale here and bought them. He had no idea or plan about what to do with them; he just wanted to preserve them as a memento of the country's ancient houses being demolished to make space for concrete block monstrosities.
I didn't know the story behind Sagala Bungalow as I turned off the Bandarawela to Poonagala Road some two km up the road where it leads to the hills behind Bandarawela Railway Station. A sign proclaims Sagala Private Road, which becomes a pretty, flower bordered lane before ending in the bungalow's courtyard.
Steps lead up past the garage with a loft (which is to be opened as an Ayurveda spa) to a neat wooden cabin that turns out to be quarters for guests' drivers. The lawn has stepping stones in it leading to the bungalow. I walked to the other side of the lawn to take a long look at the building. It seemed deceptively simple in appearance, like bungalows on the south coast. But this was on a plateau above in the hill country and quite unlike other colonial or planters' bungalows in the area.
There is a narrow verandah crowned with a balcony serving the upper floor, with woodwork defined with a matt blue finish, topped with a roof of traditional red clay tiles. This is supported by four antique wooden posts, an arch-framed stable door, and two matching windows. That's when I learned the story behind Sagala.
Having bought those items to save them from destruction, the English antique dealer eventually decided to retire to Sri Lanka. He found the perfect plot for his dream bungalow, and dreamt. He imagined the house as he wanted it: a kind of traditional southern bungalow with the latest modern plumbing and a splendid, breezy view, making the most of the seasonal climate.
It is sheer, joyful fantasy. Enter the parlour and it's like entering a theatre: the walls are painted a stressed Victorian pink with a ceiling-high frieze of hand-painted elegant motifs, reflected on the borders of the brushed blue titanium cement floor. It exudes simple sophistication. Perhaps what is most amazing is that this private dwelling has become an affordable place to stay under its new, Sri Lankan owners, a doctor and his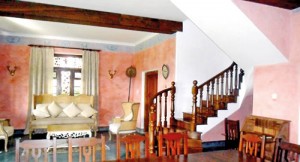 lawyer wife from Bandarawela.
There is a single bedroom with attached bathroom on the ground floor, and another bedroom (with garden entrance but no bathroom yet although there is one serving the parlour) off the dining side of the parlour. A double bedroom, with four-poster bed and bathroom, is off a corridor. There is also a guest kitchen for self-catering as well as a staff kitchen on the ground floor.
A spiral flight of wooden steps leads up to the first floor where there are two large bedrooms, each with a king-size bed and blissfully comfortable mattresses and pillows and top-quality linen and towels. I was ecstatic to see new, wooden toilet seats imported from England in the bathrooms, a nice colonial touch instead of cheap plastic. The bathrooms have hot-and-cold rain showers and are emphatically clean.
Both bedrooms have modern heaters, emergency lighting, mosquito gadgets, flat screen TV, and chairs and antique chests. Mine had a genuine almirah as a wardrobe. The other bedroom has its own private balcony with a small garden view. Both bedrooms have doors opening onto the front balcony and it's there I sat drinking bed tea and listening to the sounds of a school marching band practising in Bandarawela far below.
Sagala Bungalow is the kind of place everyone needs to know about when they want to get away from it all in style, in comfort and without extravagance. The bungalow didn't exist (except as that front door, windows and columns) 15 years ago, but has the lustre of mature charm, thanks to the careful upkeep, and the period and reproduction furnishings painstakingly sourced by its new owners.
It's a bungalow for relaxation and reflection, whether one is alone or with family and friends taking over the whole bungalow. What to do? Well there is free WiFi so you can pretend you're at work but much better just to sit on the verandah and watch the birds and the view, or hike, or use a mountain bike to tour the area.
And the cost of all this splendour in the hills, a dream come true? From Rs.8,000 for a single and Rs. 10,500 for a double.
SAGALA, Poonagala Road, Bandarawela; tel: 071 8500005;
www.sezaleisure.com