India ignores Sri Lanka's vulnerability concerns to nuclear 'accidents'
By Namini Wijedasa
Indo-Sri Lanka Nuclear Pact
View(s):
Whenever Sri Lanka took up safety issues related to the proximity of India's nuclear power plants, New Delhi maintained it was not necessary to tackle those concerns bilaterally, authoritative sources say.
"The Indian side said there were international conventions covering all countries," a senior official said, requesting anonymity. "They asked why we wanted bilateral agreements when already there were multilateral agreements in this regard, binding all countries."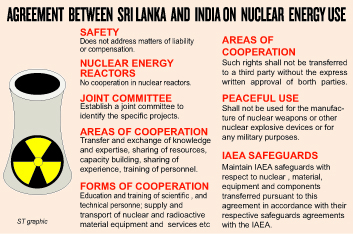 These include the International Atomic Energy Agency (IAEA) Statute; the Convention on Early Notification of a Nuclear Accident; the Convention on Assistance in the Case of a Nuclear Accident or Radiological Emergency; and the Convention on Nuclear Safety. All these are mentioned in the preamble of the Indo-Sri Lanka agreement on peaceful uses of nuclear energy signed in February.
The deal does not make specific reference to liabilities or compensation in the event of nuclear accidents. It also does not address any of Colombo's concerns regarding the nearness of some of India's nuclear power plants.
India has one of the fastest growing nuclear reactor populations in the world—20 in six nuclear power plants. The only fast breeder reactor in South Asia is under construction in Kalpakkam, Tamil Nadu, and is expected to achieve "first criticality" in March 2015.
Experts have long pointed out the need for an agreement between India and Sri Lanka covering compensation for damage arising in the event of a nuclear accident. Two sites of concern to Sri Lanka are Kalpakkam and Koodankulam, both in South India. The second is only 232 kilometers west of Kalpitiya, as the crow flies.
A diplomatic source said that Sri Lanka has formally notified India that it should have confidence in the safety levels of Koodankulam, implying site visits by Sri Lankan experts. "India has always responded to this concern by saying that it would 'brief' Sri Lanka as and when needed," he reported. "The idea of site visits was completely eschewed."
"When a question was often raised as to how best it could be persuaded of the 'soundness' of the system and accident, or any other disaster would not have implications for Sri Lanka, their response virtually has been 'You take our word for it'," he said.
An official from the Atomic Energy Regulatory Council (AERC) said Sri Lanka had introduced several measures to guard against nuclear accidents. This includes the installation 'online gamma monitoring stations' in six locations around the country. "If there is any radioactivity, the instruments will detect it immediately," said AERC Director, Anil Ranjith.
There exists a wealth of data on the distributive pattern of radioactive material, collated after past accidents such as Chernobyl and Fukushima. Scientific information proves that Koodankulam is situated far enough from Sri Lanka not to pose an "immediate" threat.
However, depending on wind and weather conditions, radioactive material could waft southwards. If precautions are not taken, long term exposure could increase risk of cancer.
Mr Ranjith admitted that the online gamma monitoring stations had been installed because of worries of an accident across the Palk Strait. But he downplayed the possibly of this occurring. He also said there were international contingency plans in place.The Indo-Sri Lanka nuclear pact had nothing to do with nuclear reactors, Mr Ranjith said. "We signed up to develop other aspects such as peaceful uses in medicine and industry," he explained. "India will provide assistance and we can send our people for training."
Sri Lanka has already inked a deal with Rosatom, the State-owned Russian nuclear agency. Nothing substantive has so far emerged from that agreement, officials said. "The only thing is that Russia offered three scholarships for Sri Lankans to study nuclear physics there," a senior bureaucrat pointed out. "I feel we won't gain much from the agreement with India either. They are much too advanced in this field. I think we may have benefited more from a country that isn't as far ahead of us as India is."
Diplomats pointed out that India's "rush" to sign a nuclear deal with Sri Lanka could be rooted in geopolitical one-upmanship. An agreement was ready to be signed with Pakistan well before the Indo-Lanka agreement came through. This was successfully preempted.
Officials revealed that Pakistan now wanted their nuclear agreement to be signed in the presence of their Prime Minister and Sri Lanka President Maithripala Sirisena. This is likely to happen in the near future.
A regional non-proliferation expert also analysed that India's motivation for signing nuclear deals around the globe was strategic. "The UN High Level Summit marking 70 years of the UN is in September 2015," he said. "India is currently intensifying its campaign to seek membership of the UN Security Council as a permanent member, with or without the veto power."
"It is possible that India may be the first non-NPT (Non-Proliferation Treaty) nuclear weapons State which would join the Security Council's permanent members' club," he continued. "Sri Lanka was one of the first countries in Asia, after Bhutan, to endorse India's bid to seek permanent membership of the Security Council. This was during Chandrika Kumaratunga's presidency."
"India may feel that having an agreement of this sort with a neighbour would make it appear as a champion of peaceful uses of nuclear energy, and not as a country which promotes non-peaceful nuclear activities," he said. India is not a party to The Treaty on the Non-Proliferation of Nuclear Weapons.
This expert pointed out that Sri Lanka's agreement with India is limited in scope. It deals with material and technology related matters, not nuclear energy per se. The suspicion in some quarters that uranium enrichment was also being planned "does not appear to be grounded in reality," he said.