Final count down for 'Super Golden Chimes'
View(s):

The original line up of the Super Golden Chimes, one of the most popular bands in the 70s era, will come together for a mega reunion Concert for the last time on 10th April at the BMICH starting at 7.00pm.  The original members of the band last performed in Colombo to a packed audience in 2004. The concert in April will feature Annesley Malawana, Sunil Malawana, Dixon Gooneratne, Rukshan Perera, Nimal Perera, Chandral Fonseka and Paul Perera.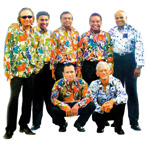 The Super Golden Chimes one of the most sought after bands in the 70s, was not only known for their great hits but also as a leading dance band and a concert crowd pullers in the 70s. Super Golden Chimes has just completed two very successful concerts in Sydney and Melbourne, Australia. Both concerts were sell-outs and many have acknowledged that the concerts were most memorable events in Australia.
The up coming reunion concert in Colombo will give an opportunity to all Super Golden Chimes fans to enjoy the hits of the band, which are considered timeless.. The reunion concert will feature the great hits of Super Golden Chimes like 'Gamen Liyumak', 'Sandak Basa Giya', 'Katharagama', 'Udarata Niliya', 'Wana Bambaro', 'Sihina Pathum' and many more.
'We will perform few English songs to give the Western Music lovers also a chance to enjoy the great hits of 70s. We are planning a series of Accapella songs sung by Rukshan and few surprises as well' explained Annesley about their final concert. It was not an easy task to get the Guys together as they are scattered all over the globe, but the demand to make this Concert a reality was great so I managed to round up the boys with much difficulty' Annesley added.
Kulasiri Budawatta's Dance troupe will also be featured to add colour to the event.  The MC for the evening will be the evergreen Vijaya Corea.
For more details contact Annesley on 0777375884 or Rukshan on 0773057219