The Lazy Cat
View(s):

Finding the lazy cat was the easiest thing anyone could do. He was always sleeping on his owner's wall, at any given time. He only went into the house for his meals or when it rained. He was too lazy to do anything else other than sleep. The sun made him warm, the wind brushed his fur,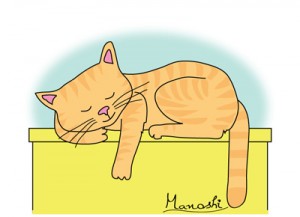 'Why should I do anything when everything is just fine?' he thought. He closed his eyes and smiled to himself and thought, 'Could life get any better than this?'
"Hey, Lazy!" barked Brownie from next door. "Come down to play with my new ball!" Lazy cat got up, stretched himself and yawned.
"No thanks!" he said,
"Find someone else!"
"But aren't you bored? I haven't seen you do anything else from morning!" said Brownie. "Go away!" said lazy cat and curled on the wall preparing for a long nap.
"Why should I do anything, when I don't have to do anything?" he yawned.
Two squirrels running up and down a tree gathering food, stopped to look at lazy cat. "Hey, Lazy!" said one, "Why are you always lying there? Don't you have to work like us?" The cat lifted his head and stared. He felt too lazy to even get up. "Why do you work?" he asked the squirrel. "Because we need to build a nest, we need to gather food," replied the other squirrel. "Well, I have a home. My owner gives me food. So I don't have to worry about work!"
he replied closing his eyes.
A mouse that was searching for food came running along the wall. When he saw the cat he froze in fear and stood still. "Don't worry," said a sparrow on the branch nearby.
"This cat won't harm you. He's too lazy to catch mice!"
The cat opened just one eye.
He felt too lazy to open both eyes. Instincts told him to catch
the mouse, but his laziness told him to ignore the mouse and go back to sleep. So he closed his eyes and went back to sleep. 
The mouse ran over his body and went to the other side.
"I wish I could show what
I just did, to my friends! No one would believe me. I don't think anyone would have come across a cat as lazy as this!" the mouse shouted to the sparrow. "Well, there is no other cat as lazy as him, or any other animal for that matter!" said the sparrow. The cat wanted to ask the mouse and the sparrow to shut-up, so that he could get some shut-eye. But he was too lazy to even talk. So he just kept quiet.
A little while later, a crow came and perched on the wall next to the lazy cat. "Hey, Lazy!" The cat just moved his tail. He felt too lazy to even open an eye. The crow pecked at his stripy tail, trying to annoy him and wake him up. The lazy cat did get annoyed, but his laziness was much stronger. So he just stayed there with his eyes shut.
The crow got bored and flew away saying he'd never seen anyone as lazy as the 'lazy cat'.
Finally in the afternoon lazy cat reluctantly got up to go home to have his lunch. He was too lazy to do so but his tummy was rumbling, so he had to go home. When he went home he realized that his plate was empty and the house door was locked. His owners had gone out for a couple of days and usually when this happened, they asked the
next-door lady to feed the cat. "Here Kitty, Kitty!" shouted the lady next-door, calling lazy cat to come have his meal. Lazy cat turned his head.
He had to go all the way across the garden and jump over a tall wall to go to the neighbour's house. He was too lazy to do that. His hunger was unbearable, but his laziness was far greater. So he just lay down near the empty plate and slept. He missed all his meals for the next couple of days, just because he was too lazy to go to the house next-door.
Luckily his owners came back home, before it was too late. When they saw lazy cat weak and unwell, they took him to get medicine. "He has starved for a few days. After a few healthy meals, he should be okay!" said the Vet. So lazy cat's owners fed him good food and a few days later he was alright. He went back to his spot on the wall to have a nap. The animals in the neighbourhood were all worried, because they didn't see lazy cat for a while.
"What happened to you?" they all asked him. 
After lazy cat told them what happened, they all shook their heads in disbelief. "How could you be so lazy?" they all blamed him.
"There is no cure for laziness!" said Brownie. "We hope you learnt your lesson!" said a squirrel. "Oh that's enough!" said lazy cat, "Now just let me have my sleep!" And with that he curled himself and shut his eyes, after a lazy yawn.
All the other animals shook their heads in disappointment and went away to do their work. "Laziness is a very bad habit that's very hard to break. But if you can get over it, life becomes more meaningful and much happier!" said the sparrow somersaulting into the blue sky.