The tale of two'yahapalanaya' speeches
View(s):

Democracy is messy. Fundamentally, the business of democratic government involves criticism of politicians, rightly stinging sometimes and less deservedly so on other occasions. The shoulders of government are broad enough to take even unjustified public rebuke, far more than when the rights of a private citizen are infringed.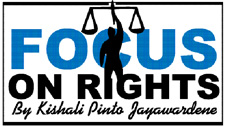 This is the rationale on which the law operates when balancing the right to freedom of speech with competing rights. Undeniably moreover, the manner in which a government stands up to criticism is the true measure of its commitment to just governance.
Future trends of the 'yahapalanaya' government?
This week, two speeches were delivered respectively by President Maithripala Sirisena (to members of the United Peoples Freedom Alliance) and by Prime Minister Ranil Wickremesinghe (in Parliament). One was addressed to recalcitrant party members alleged to be rebelling against President Sirisena and pulling for his defeated predecessor, former President Mahinda Rajapaksa. The other was a parliamentary address by the Prime Minister aimed at the opposition critical of the infamous Central Bank bond issue.
What was said on both occasions merit attention as the wider audience was the general Sri Lankan public. The tone and tenor of the speeches, with some commonalities but more divergences, indicate warnings as well as future trends of the 'yahapalanaya' government.
First, let us go to the common positives. Both speakers emphasized home truths, pointing out that credit must be given for enabling dissent and criticism without fear of consequences. That said, this obvious fact need not be unduly repeated. This was precisely the reason why the Rajapaksa regime was rejected by an electorate tired of gross corruption, rampant communalism and delusions of grandeur. Measuring itself by the standard of Rajapaksa evils and patting itself on the back therein is self-delusionary. This is not why a new government was voted in.
'Crabs dancing in a boiling pot of water'
From that point onwards however, the divergence between the two speeches is marked. The President's speech, undoubtedly one of his most forceful to date post-election, was measured and stern, yet with a hint of poignancy to it. Unfortunately it was caught by viewers on state television mostly by chance with the private print and electronic media giving it sparing attention.
At one level, its tone was personal as President Sirisena remarked that he regards criticisms in the most benign light much as, one would venture to say, a parent reacts to quarrelsome children. He reiterated that he had taken certain decisions last year in full knowledge of the consequences that may ensue and forsaking positions and privilege. On a deeper and more intense level, what was said also projected a warning, for the health of the party, the people and the country.
Party men and women squirmed in their seats as he resorted to the earthy idiom that 'despite what we say or do, at the end of the day we are all like crabs dancing in a boiling pot of water.' His audience was asked to distance itself from political slogans that are primitive and counter-productive and instead remember that the country cannot advance without its people moving forward like one, Sinhalese, Tamil, Muslim and others. As he said, the founder of the party, the late SWRD Bandaranaike had been well aware of this need to preserve balance and had taken care to observe this principle in the nomination of his deputies.
Defensiveness on the part of government
In contrast however, the Prime Minister's speech on the Central Bank bond issue in Parliament was distinctly angrier in tone. His interjection that he has been abused enough and that his abusers are free to continue without hindrance evokes some sympathy.
But the front and centre focus by the Prime Minister on selected private electronic and print media institutions perceived to be critical of him is unsettling. His reminder that a Broadcasting Authority must be enacted is well and good. Yet the vital issue here is that such a body must be independent from government as the Supreme Court once strongly cautioned in better times, (Athukorale and others v. AG and others, 1997).
Politically, that such defensiveness should be exhibited just a short while after winning a stunning electoral mandate in January is ironic. Perhaps we may recall what befell the Chandrika Kumaratunga administration after its equally spectacular 1994 win when, unable to withstand critical democratic pressure after the flush of victory faded, the leadership commenced targeting the media and the judiciary by repeatedly filing criminal defamation indictments against editors and by ministers using privilege to slander highly honourable judges such as the late Supreme Court Justice Mark Fernando in Parliament.
Further, the Prime Minister thought it fit to indulge in a long litany of Rajapaksa malpractices. The Rajapaksa government abused every conceivable law and stood parliamentary procedure on its head not only in regard to finance but also in relation to every aspect of governance. As said before, this was why, among other reasons, the former President was defeated. Consequently the people look to the new government to properly operate the law against those responsible rather than continue complaining about the past or rush to 'name and shame' individuals under cover of parliamentary privilege when challenged on a serious issue of apparent breach of integrity if not the law, committed by their appointees to high finance.
Need for commendable restraint
True enough, one cringes at the sight of former Presidential first son Namal Rajapaksa demonstrating with vim and vigour outside the Central Bank as much as the sight of erstwhile professor of law, GP Peiris drily expounding on constitutionalism from the ranks of the opposition remains exceedingly distasteful. These are, of course, political games played also by others desperate for a place in the 'yahapalanaya' sun. But that should not detract from the fact that the people demand a higher standard of care from this government.
For all its talk of a national government, there is a measure of commendable restraint that the Wickremesinghe government can learn from the Sirisena Presidency. Perhaps we may see this at least now, in the remaining few days of this administration.