Chinese billionaire's illegal mansion deal falls foul of Australia's national interest
View(s):

Colombo's opposition politicians have been clamoring for investigations of suspicious mega deals of billionaires without a lawsuit to show as yet, and government lawmakers regained the seats of power by making bombastic claims of prosecuting tainted foreign and local dealmakers who benefited from political patronage. "Maithree Palanaya" is yet to redeem itself.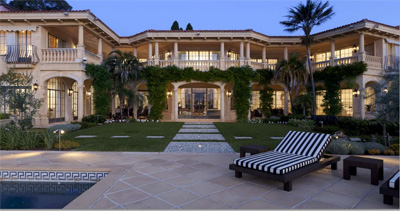 While the Sirisena and Wickremesinghe administration sniffs around for mythical files, Australia has put on notice a prominent Chinese billionaire over a dodgy multi-million-dollar residential property deal in Sydney, a city less than 12 hours by air from Beijing. Australia told the tycoon to unwind the deal and absorb the loss, or reap a profit when the asset under scrutiny is sold.
Canberra has thrown the book at the billionaire saying non-resident foreign investors are not allowed to buy or invest in residential property.Australia is citing its national interest in forcing the Chinese billionaire to exit a dodgy deal. Australians are meanwhile, complaining that foreign investors, especially Chinese, are pricing them out of the homes market. Sydney house prices increased by more than 13 per cent in February. Many Chinese are believed to be dancing around the rules in buying homes.
Children of Chinese communists are among buyers of plush homes. The Australian Financial Review reports that Zeng Wei, son of China's former vice-president Zeng Qinghong (until 2008) has spent A$32.4m on a luxury property called Craig-y-Mor also in Sydney. Reports from Australia say that it is for the first time in seven years that a foreign investor involved in residential property has been cornered.
Chinese billionaire Hui Ka-yan who founded Hong Kong-listed Evergrande Real Estate Holdings has been ordered by Australia's Treasurer Joe Hockey to sell within 90 days, a luxurious Sydney harbour-side mansion acquired through various shelf companies and without notifying the Foreign Investment Review Board. Evergrande had said it had been unaware of the rules.
Hockey announced the past week in parliament that the 39 million Australian dollars (Rs 3.99 billion) mansion had been illegally acquired. Hui must offload the lavish Villa del Mare located in an exclusive suburb, or it would be repossessed by the Commonwealth Department of Public Prosecutions. "If it's sold at a profit, the owner gets to keep the profit," the Australian Associated Press cited Hockey as saying. "If it's sold at a loss, it sounds as the though the owner has the capacity to absorb some of it."
Hockey also has said Australia welcomes "all foreign investment that is not contrary to our national interest."Last week Australia also tightened rules on non-nationals buying property. Non-Australians are required to pay A$5,000 for a property below A$1 million. The Chinese tycoon's transaction last year involving the blue ribbon address listed for sale by realtors Christie's International and L J Hooker Double Bay, has uncovered a chain of shelf companies, one of which is the buyer, Golden Fast Foods. It is not a noodles and dim sum restaurant, or a food products trader. The others are registered in Hong Kong and the British Virgin Islands, reports from Australia reveal.
A report in Australia's The Daily Telegraph discloses that Golden Fast Foods is owned by Egality Investments (Australia) Pty Ltd. This, in turn, is owned by Jiaying Holdings in Hong Kong. At the end of the chain lies Evergrande Holdings, which describes itself as "a large-scale integrated residential property developer in China". Billionaire Hui is its chairman. He is also known as Xu Jiayin.
The Australian Treasurer said Golden Fast Foods "is a foreign-owned company which failed to notify FIRB of its ­intended purchase." He made it clear that "Non-resident foreign nationals cannot buy established dwellings as homes or investments."
But the agents who sold the mansion last year have insisted that the purchaser was an Australian company and they had been told that approval was not needed. Evergrande has said the purchase was legitimate. It has undertaken to "fully cooperate with the arrangements of the Australian authorities to ensure compliance with legal provisions" in Australia.
Evergrande Holdings filings show that it is not just a property developer. It has interests in mineral water, dairy, grain and oil, and even plastic surgery and media. It also owns a football club in the Chinese league. The company is heavily loaded with debt to finance its business. As of June 2014, outstanding debt has ballooned to US$24.46 billion.
Evergrande Holdings reports that as of June 30, 2014, it had 303 property projects. Some of its luxury projects have names such as Evergrande Palace, Evergrande Royal Scenic Peninsula, and Evergrande Emperor Scenic.
Australia homes in on  billionaire's opulent address
The Chinese billionaire's luxury mansion at the centre of an investigation in Australia by the foreign investment regulator has been described by realtors Christie's International and L J Hooker Double Bay with a string of adjectives — impeccable, opulent, world-class, prestigious, exclusive, enormous, and exquisite.

The agents describe the 2,000 square metre Sydney residence, Villa del Mare, sitting on more than 1,500 square metres of land, as "a world class address exuding all the luxury and glamour of the Mediterranean".

Referring to Sydney harbour views, the realtors say the sight will "take your breath away".
Spanning three expansive levels, the residence offers more than 2,000 square metres of living space including five oversized ensuite bedrooms along with a fully self-contained apartment on the lower level," the brochure gushes.

The opulent master wing boasts equally enormous dressing and ensuite rooms, and uninterrupted harbour views.

Extensive formal and informal living and dining spaces encompass a bar room and a magnificent entertainer's kitchen."

According to the realtors, Villa del Mare also offers "a stately office, a gymnasium and a dedicated wine cellar".

They note that the "exquisite sandstone home took more than 100 craftsman over two years to create".