Vegetables in price soup
Govt. moves to fix prices by streamlining economic centres
View(s):
With farmers, traders and even consumers complaining about major fluctuations in vegetable prices, the Government is working out a new plan to fix vegetable prices.  Officials of the Food Security Ministry which is handling the subject of agriculture said a chairperson responsible to the Government would be appointed to streamline economic centres set up by the former regime. They said such a chairperson would decide on vegetable prices without being influenced by traders or farmers.
Meanwhile, improved weather, increased cultivation and an influx of produce from the north to the markets are contributing to a major reduction in vegetable prices, traders and market research reveal. Hector Kobbekaduwa Agrarian Research and Training Institute (HARTI) Director E.M. Abeyratna said vegetable prices had taken a plunge since early this month after the prices had soared to their highest levels from late last year.
He said the heavy rains and landslides last year had devastated upcountry and low country vegetable cultivation. This together with the seasonal demand had pushed prices to their highest levels. The director said cultivation had now increased and indications were that the prices would go down further in the coming weeks. He pointed out that generally about 1.3 million kilos of vegetables were brought daily to the wholesale market in Dambulla.
Mr. Abeyratne said the Government could not also introduce rules for the storage and the transport of vegetables in refrigerators conditions because farmers and distributors could not afford it. He said the ARTI had a market-based production plan worked out in coordination with the Department of Agriculture to control the price fluctuation.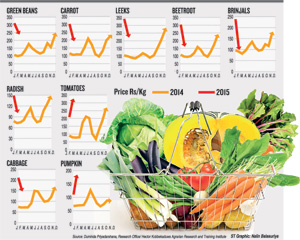 He said they would start a programme soon to educate farmers to plan out crop rotation so that they could cultivate according to market demand. Farmers would also be shown ways of increasing harvest and reducing crop damage. HARTI research officer W.H Dumunida Priyadarshana assured that the Maha season vegetable harvest would be fully bought by next month and vegetable prices were likely to go down further during and after the National New Year.
He said heavy rain was a bigger crop destroying factor than the drought.
Mr. Priyadarshana said farmers were cultivating the same vegetables countrywide without studying the market forces. The farmers focused on one crop instead of the vegetables that were in demand. While the people wanted quality vegetables at affordable prices, the farmers can increase their profit by targeting export markets such as Malaysia for organic vegetables.
The Sunday Times spoke to consumers regarding the vegetable prices. Nilmini Gunasekara said she went to both Nugegoda and Narahenpita vegetable markets and now felt free to choose the vegetables she liked and could buy stocks for the month because of the price reduction. She said that for her, the quality factor was as important as the price.
Another customer, K. Aananda, had a different view. He said there was an increase in the quantity of vegetables available but no significant decline in prices. He also charged that vegetable sellers were resorting to unscrupulous methods preventing the customers from taking the full benefit of the price reduction.
Vegetable market traders complain they were suffering losses because the prices have come down. They said vegetables were now being sold even at grocery stores and by mobile traders in carts and tractors, thus reducing the demand from the market.
Narahenpita market trader Bandara Abekoon, who had been in the business for seven years, complained that the reduction in vegetable prices was having a negative effect on him. He said that prices of some vegetables had gone down while others had not and consumer demand varied.
The trader said the prices of Ambarella, mango and murunga were still high.
Another vegetable seller S. Nimesh said he was badly affected as prices were low and many were buying from grocery stores or mobile vendors.
The customers who come to the market check and pick the best items, damaged vegetables cannot be sold and we have to throw away most of our vegetables because the customers will not buy then, he complained.
Another trader Susantha Bandara said that earlier he earned about Rs. 80,000 a month but now his income had come down because many people were buying vegetables elsewhere instead of coming to the market. He lamented that most farmers and sellers were suffering losses due to lack of proper transport and facilities for cold storage.
Bogus Sathosa
Amid the confusion over vegetable prices, officials have exposed a racket by a trader at the Narahenpita economic centre.
They said a trader who illegally used the Cooperative Wholesale Establishment or Sathosa boards for his stall, had been nabbed and ordered to remove it immediately.
This action was taken following complaints from other traders and consumers. CWE Chairman R.M.K. Ratnayake said that using the Sathosa board illegally was a criminal act.