Questions loom large over unbuilt Helmut Kohl maternity hospital
View(s):

Ten years have passed since a foundation stone was laid to build the Helmut Kohl maternity hospital in Galle, but since then the site has turned into a breeding ground for mosquitoes, a group of concerned environmentalists complained. The Karapitiya Environment and Community Development Society charged that although Rs. 680 million was donated towards this project, today all that was to be seen on the 5-acre site at Karapitiya, Galle, was the foundation laid on December 27, 2005.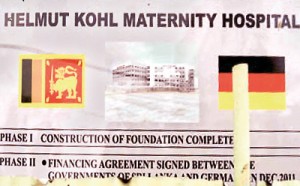 The proposed hospital was named after the former German Chancellor Helmut Kohl who was in Galle when the 2004 tsunami struck. On witnessing first hand the destruction caused to the Maha Modara maternity hospital he donated Rs.330 million from his fund towards building a new hospital.Responding to a plea by the government in 2012, the German Bank, KfW donated another Rs. 300 million, followed by a donation of three million Euros from the Helmut Kohl Foundation for medical equipment.
Karapitiya Environment and Community Development Society member U A. Wimalajeewa said that at that time the Health Ministry said that work would be completed by the end of 2014. He added that it was the responsibility of officials to disclose what had happened to all the donations that amounted to Rs. 680 million.
Bandula Dias another member of the society said a group of Mr. Khol's envoys had visited the site recently and had said that it was still possible to build on it.
Meanwhile, Nandasoma Umagiliya, a resident of Karapitiya said the original buildings that stood on the five-acre site were razed to the ground to no avail. "No less than five MPs live in Karapitiya. They ought to be ashamed."
Another resident, J. Danthanarayana said due to the lack of proper facilities at the Maha Modara hospital expectant mothers had to undergo a lot of hardship .
"Had the construction gone ahead as scheduled the hospital should have begun functioning in 2008 and expectant mothers would not have suffered," he said, adding that costly building equipment was exposed to the elements at the site.