Promises of greener pastures for migrant workers with shake up on the cards
External Affairs Ministry to recall officials in West Asian countries while Foreign Employment Ministry to crackdown on corruption in FEB and get tough with illegal job agents -- Experts say migrant workers should undergo better training before leaving the shores
View(s):
A number of Lankan officials attached to West Asian embassies, consular offices and safe houses are to be recalled and disciplinary action is to be taken against corrupt officers at the Foreign Employment Bureau (FEB) and fraudulent job agents in and around Colombo by the Ministries of External Affairs and Foreign Employment to resolve migrant worker issues.
Foreign Employment Minister Thalatha Athukorale told the Sunday Times that the services of three development officers have been terminated while the services of more than 10 officials attached to the FEB have been suspended. "The former Foreign Employment Bureau has been a hub of corruption. Job agencies have been controlling the FEB," she said adding that these activities give rise to questions regarding the role of organisations such as the FEB and the Foreign Employment Agency.
The Minister said more teeth would be given to investigations being conducted on bogus labour agents in Colombo and the suburbs. "Once the licence is cancelled, the agents will not be able to register in another name. Discussions are being held on increasing the maximum punishment for bogus agents. Investigating officers in civvies would be sent to observe operations in these agencies," she said.
"While the External Affairs Ministry is recalling officers who have been in West Asian officers for many years, there will be changes in the FEB headoffice and the airport unit," Minister Athukorale said adding that this was all part of restructuring the FEB. Issues varying from non-payment of salaries, illegal contracts, lack of training, sexual and physical abuse, aggravated health conditions, long working hours, poor working conditions, trafficking will be addressed, once the operations of the institutions are regulated, Ms. Athukorale said.
She said bogus job agencies have until March 31 to either wind up their operations or come under the regulations of the Bureau. "I have informed the Bureau that corrupt officials will not be tolerated. A 24-hour complaint line has been introduced and special IDs will be given to migrant workers to ensure that they go through proper legal procedures," she said.
The minister promised strict and swift action against officials attached to safe houses that have become hubs for human trafficking where abused domestic workers are being further victimised. Disturbing reports from migrant workers returning to the country are mainly due to the poor performance of embassy officials, consular officials, labour attaches and officials in charge of safe houses. We have identified most of them," Acting Foreign Minister Ajith P. Perera said.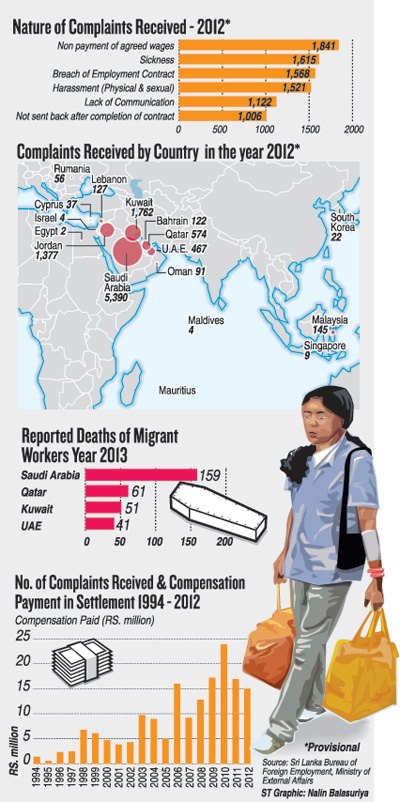 Nilanthi Priyangika, a 40-year-old mother of three left for Saudi Arabia in 2013 is among the latest victim's to return to the country not only empty handed but with inflicted wounds on both her legs.
She claimed that her Saudi employer's wife had used metal wires to pierce her legs. Nilanthi from Dimbulagala, Polonnaruwa said over 12 metal wires were inserted into her legs. Detergent was also poured into her ears while being tied to a chair. "I went through a job agent in Colombo. Their sub agents come up with success stories and trick women in villagers. There are many women from Ampara, Anuradhapura Batticaloa, Puttalam, Vavuniya, who are stranded and some even being used for trafficking despite all the physical abuses," said Nilanthi, who added that she had not received any training prior to her leaving the country.
The former agriculture research assistant said she had no option but to leave her children and go overseas seeking a job as she had lost her job and was living on rent raising her children with no husband.
"I pawned some jewellery I had and went to Saudi with hopes of saving money for my girls. We are on the verge of losing our house as we failed to pay the rent," she lamented. Her 20-year-old daughter Nilmini Subhashini said they had visited the Foreign Employment Bureau over 12 times and lodged complaints.
About 53 percent of the complaints are from workers employed in the Kingdom of Saudi Arabia with over 5,000 complaints in 2012, followed by Kuwait and Jordan, the Foreign Employment Bureau stated.
The nature of the complaints ranged from non-payment of wages, illness, lack of communication, physical and sexual harassment and breach of employment contracts. According to FEB, of the 287 total number of migrant worker deaths, 130 were from the kingdom. The 2013 annual performance report of the External Affairs Ministry states that 501 bodies were brought to the country, with the highest number of deaths from a single location being reported from Saudi Arabia with 159, followed by Qatar 61 and Kuwait 51.
Last year, 221,377 migrant workers left the country from January to September. Of this number 138,317 (62.48 percent) were males and 83,060 (37.52 percent) females. Out of the total, 66,737 (30.14 percent) were housemaids. This is in addition to about two million Lankan migrant workers, mostly in the Middle East.
Last year while 2,430 complaints were received from the public against licensed agents 427 complaints were received against persons engaged in foreign employment business without a valid license issued by the Bureau.
Jagath Wellawatte, senior lecturer at the Colombo University's Sociology Department and a former chairman of the Bureau said an inter-ministerial comitment was needed with the Ministries of External Affairs, Foreign Employment, Child Affairs and Women's Affairs, Social Service and Welfare, Housing etc. working together.
"There is a need to introduce an ethical code for officers at the FEB. Many senior officers have illegal dealingsl with agents and sub agents and tough action should be taken against them. Forged travel documents, bogus medical and training certificates should be thoroughly inspected," he said. He said that an employer in West Asian countries spends around Rs.200, 000-300,000 on an individual domestic worker. They also had certain requirements that had to be met.
"In discussions with foreign employers, it was revealed that a majority of our domestic workers have poor hygiene, are unable to operate household appliances, experience bouts of homesickness, lack a command of the language and confidence and find it difficult to adjust," Mr. Wellawatte said. He said in countries like the Philippines almost all domestic workers go through their foreign employment bureau.
"The FEB should make it compulsory for all agents to ensure that the women go through proper medical check ups, are trained in cooking, housekeeping, self defence, language, cleanliness and hygiene. The purpose of the FEB or agents should not just be to send people to earn wages," he said. He said not only sending-agents but also receiving- agents too should be investigated as many were involved in trafficking women.
Making an important point, Mr. Wellawatte said the country should encourage more skilled male workers to go overseas and discourage unskilled domestic female workers, as the social cost was alarming with children back home in Sri Lanka being exposed to victimisation.
(Additional reporting by Nimal Jayaratne from Manampitiya)