Helmets: Alternative design to head off robberies
By Chamal Weerakkody
View(s):
With the number of snatch-and-run bank robberies by criminals wearing full-face helmets increasing, manufacturers here have been asked to design a head protector that gives maximum protection to riders but also enables the security officers to identify criminalsthe wearers. Motorcyclists had expressed concern over a recent ban on the full-face helmet and this had prompted the Public Order Minister John Ameratunga and the Police to lift the ban until an alternative plan was found.
Police said that after the lifting of the ban, a number of robberies and other crimes were committed by motorcyclists wearing full-face helmets. At least three such crimes by those wearing full-face helmets were reported this month. In the latest crime at Gonapinuwala in Hikkaduwa last Monday, a 28-year-old youth, Nirosh Dharshana, was shot dead by two armed motorcyclists who were wearing full face helmets and jackets.
According to the police, the crime was seen on CCTV cameras but the police have not been able to track down the suspects because they were wearing full face helmets. In another incident, the Co-operate Wholesale Establishment (CWE) outlet at Mudungoda in Kadawatha was robbed by two men wearing full face helmets and jackets. The armed men had robbed Rs. 27,000 from the cashier and got away in a car.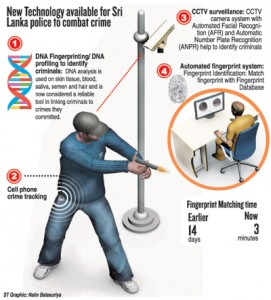 Minister Amaratunga said he was confident that local helmet manufacturers would be able to design and make a helmet that would be safe for the rider but also would allow police to identify the wearer. This would also boost the local industry.
He also said that hi-tech equipment would be introduced soon to enable the Police to curb criminal activities. Police officers would also be sent to New Scotland Yard in London for specialized training in crime busting.
The new Police Spokesman Ruwan Gunasekara said that though the ban had been suspended due to pressure from motorcyclists, the Police would be on full alert for criminals who were hiding behind full-face helmets. He said the Police were using modern methods such as DNA tests, finger prints, mobile device tracking and CCTV cameras to track down suspected criminals.
Sri Lanka Banks' Association Secretary General Upali de Silva expressed concern over the lifting of the ban on full-face helmets. He said that most of the recent bank robberies had been snatch-and-run cases with the police and bank security officials not being able to nab the suspect because of the lightning speed with which they carried out the robberies. "Most of the banks have adequate security to prevent large-scale robberies. Yet in some recent cases, the robbers took whatever the amount at the counter and fled before the security officers identified or approached them," he pointed out.
He also noted that the use of cash instead of other ways of financial transactions was apparently encouraging the robbers to grab cash from banks, financial institutions and other establishments. He believed that if people used other means of financial transaction instead of cash, the robberies could be curbed.
Former senior Deputy Inspector General of police Sirisena Herath said he believed the police and bank security officials should coordinate plans to prevent robberies or nab the suspects.
He said bank security should be improved to counter snatch-and-run robberies by installing bulletproof enclosures inside and outside the banks. The security officers could then observe the whole premises and take effective action or even shoot at the robbers.
The former DIG said he believed bank security officers should be further trained by the Special Task Force of the Police or by former senior police officers with expert knowledge of crimes. They could use a short range weapon such as a revolver to gun down a robber during a heist with minimal damage within the bank.
He said banks and other financial and commercial establishments should install CCTV camera systems and other equipment as primary security procedures with the support of the police.
Mr. Herath said police stations should be made aware of bank outlets and other financial establishments in their areas so that they could regularly carry out surveillance operations and at times even put up security barricades. Emergency drills should also be conducted.