Drug shortage makes mockery of 'free health'
By Chathuri Dissanayake and Nadia Fazlulhaq
The facts: No audits, no information centre, poor quality control, short-term planning
View(s):
Another shortage of drugs in the state medical sector is forcing patients to buy prescribed medicines from privately-run pharmacies when they should have been provided free of charge in pubic hospitals.
This recurrent situation over the past decade has reduced the concept of "free health care" to a label. Lack of proper planning or awareness of current requirements, and limited funding have contribute to the current situation.
"The doctors who treat us write down the prescription in the record book and tell us what we need to buy from outside," said Malani, a patient who travels to the National Hospital in Colombo from Aluthgama for obtain treatment at the diabetes clinic.
She had to buy at least one drug on the last two occasions she attended the clinic as drugs were not available in the hospital.
Sumanawathie from Grandpass in Colombo 14 has often been advised to buy some of her drugs from private pharmacies. This includes aspirin and metformin, prescribed for hypertension and diabetes.
Prior to starting insulin treatment she had been asked to buy drugs from outside. With no steady income after retirement she struggles to finance her treatment and has to depend on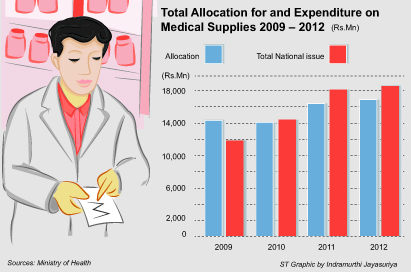 her children to buy her medicines.
Two weeks ago, Sriyani from Angoda came to the National Hospital to be treated for a skin condition. After examination, she was prescribed an application that she had to buy from a private pharmacy at a cost of more than Rs. 900.
With no improvement, she returned to the hospital a week later.
"I was told not to use the medication I was prescribed. The doctor said that it was not a skin rash as told to me by the earlier doctor but that it was due to sunburn.
"This doctor sent me to the skin clinic where I was told to get yet another application which cost me another Rs. 500," she said.
Most of the patients interviewed by this paper said they spent Rs. 500- 3,000 each month for drugs and more on tests.
Interviews with patients and several hospital officials showed drugs prescribed for epilepsy and diabetes as well as some antibiotics were in short supply in the government medical drugs supply system.
Patients receiving treatment from routine clinics in the Ragama Teaching Hospital complained of a severe shortage of drugs, with heart and diabetic patients the most inconvenienced."Most of those coming to the clinics are from low-income families and they cannot afford medicines that have to be bought from outside," said 65-year-old heart patient S. Liyanaarachchi.
These medicines often cost about Rs. 1,000 monthly — too much for some people.
"Essential drugs should be in stock both in clinics and dispensaries," Mr. Liyanaarachchi said.The case is the same at the National Hospital. T.R.C. Perera, who underwent coronary artery bypass surgery a month ago, was asked to buy all his medication when he was discharged from hospital.
"I had already spent about Rs. 15,000 on the surgery itself, so spending another Rs. 6,000 on medication again was difficult," he said.
He was also asked to buy the drugs given to treat his diabetes.
"The pill for diabetes was not in the hospital pharmacy. I don't take the metformin tablet as my body doesn't tolerate it. The tablet I am prescribed costs Rs. 6 each. I don't know what I will be asked to buy from outside," Mr. Perera said, as he waited worriedly to consult a doctor.
Ragama Teaching Hospital Director Dr. U.M.M. Samaranayake acknowledged there was a shortage of several drugs including several antibiotics.
"The hospital will be purchasing locally from two outlets including Osu-sala on the instructions of the Medical Supplies Division (MSD) as a measure todeal with the present shortage. Financial allocation for this will be made by the MSD," he said.
There is usually a 10-20 per cent shortage of medicines in many hospitals, Kandy Teaching Hospital deputy director Dr. S. Siriwardena said.
"Although there is no shortage of common drugs, the hospital allocates about Rs.150,000 for local purchasing of drugs that are not supplied by the MSD and are prescribed by consultants," he explained.
This is not a new problem. For years, the MSD has struggled with a drug shortage, with no permanent cure.
The 2012 Annual Bulletin of the Health Ministry lists several problems in medical supplies management, including not receiving supplies as scheduled and a lack of storage facilities in the MSD, hospitals and some regional medical supply divisions.
The non-availability of facilities to store medical supplies under optimum temperature and humidity conditions and inadequate staffing have been cited as contributory factors to the problem/current situation.
The issue is whether Treasury allocations are being effectively utilised, explained Dr. Naveen de Zoysa of the Government Medical Officers Association (GMOA).
He claimed that the current funding would be sufficient to fund the national requirements if it was properly managed."If the MSD is organised it can prevent both an actual shortage and an artificial shortage created by the pharmaceutical industry. The ministry should continuously maintain the essential drugs list and not allow any shortages in these drugs," the GMOA spokesman said.
He said the MSD should be efficient. "Despite having 15,000 medicinal drugs registered there is no complete database of medicines. A strong database will ensure transparency and can be technologically improved with alerts when stocks are low in line ministry, rural and remote hospitals as well as government dispensaries," Dr. de Zoysa said.
Dr. Jayantha Bandara of the Senaka Bibile Memorial Association agrees.
The Ministry has not conducted a proper situation audit in years, he claims. For the ministry to be able to strategically utilise funds allocated by the budget, such audits and planning were essential.
An information system to manage medical supplies was to be established and fully functional by 2014, the 2012 annual health bulletin states. This goal has not been achieved. Without such a system proper evaluation and monitoring remains difficult.
"The accepted practice is that when you plan for the next year, the estimated drug usage should always be calculated as 110 per cent of quantity used the previous year.
"But in our current system it is impossible to do this as there is a continuous shortage of drugs. The drug requirements of hospitals have never been fulfilled", Dr. Bandara explained.
Both Dr. Bandara and Dr. de Zoysa highlighted the need for a drug information centre.
Without such a reference point for technical assistance regarding drug-related issues, doctors depend on information obtained through medical representatives of pharmaceutical companies or the internet or through old issues of the British National Formulary, Dr. de Zoysa said.
Despite repeated appeals by lobby groups including the GMOA and other medical professionals, the Health Ministry has failed to publish an annual pharmaceutical reference book.
Shortages are also being caused by repeated instances of drugs withdrawn from hospitals and shops due to quality concerns, and also failures in issuing drugs to hospitals.
Short-expiry drugs are often ordered by authorities although they are fully aware of their limits, says Society of Government Pharmacists general secretary Ajith Tillakeratne.
"When such batches reach the expiry date, then there is a shortage the authorities have not planned for but they do not rectify this issue," he said.
Quality failure results in the Cosmetic Devices and Drug Regulatory Authority removing batches of medicine issued in hospitals. This too adds to the shortage. By February this year, 13 batches of eight drug varieties had been withdrawn due to quality failure.
This includes commonly used drugs such as amoxycillin, domperidone, salbutamol, ibuprofen and paracetamol.
Admitting there were drug shortages, Health Minister Rajitha Senaratne said he aimed to reduce the problem by setting up a proper network linking the provincial health ministries, all provincial and national level hospitals and the Health Ministry.
"Very soon, all the drugs prescribed to patients will be given out by the hospitals. I instructed all the provincial ministers and directors of hospitals to assist in this process," he said.
"Directions have been given to issue necessary funds to hospitals in order to ensure all drug issuances and tests are conducted by the hospitals," the minister said.
He said a quality-monitoring system would also be implemented. The introduction of the new National Medicinal Regulatory Act provides necessary legal provisions, he said.