Act will remove brand pressure from drug prescribing
By Nadia Fazlulhaq
View(s):
The government will move fast on reforms following the long-awaited passing of the National Medicines Regulatory Authority Act embodying the Senaka Bibile drugs policy to ensure the public has quality affordable medicines.
The Act was passed on Friday by a majority vote of MPs.
"The public can be assured of quality medicines, a smaller choice of good medicines, and prices should come down a little in short term and decrease further," said Dr. Palitha Abeykoon, a member of the Committee that drafted the Act.
From now on, every medical practitioner, dentist or veterinary surgeon will be asked to write only the generic name of a prescribed drug and only if required, a particular brand name while pharmacists should inform customers about the range of brands available.
Health Minister Rajitha Senaratne said in time the Act would be amended, making doctors prescribe drugs only by generic names.
He added that within three years Sri Lanka plans to manufacture all drugs, equipment and devices locally.
Mr. Senaratne said 80 per cent of drugs were imported from India but lack of quality and a ready supply were problems.
"I have met the Japanese Ambassador and discussed projects that can be implemented jointly with the State Pharmaceutical Manufacturing Corporation (SPMC)," he added.
The authority will function as the central regulator in registration, licensing, cancellation of registration or licensing, pricing, manufacture, importation, storage, transport, distribution, sale, advertising, and disposal of medicines, medical devices and borderline products.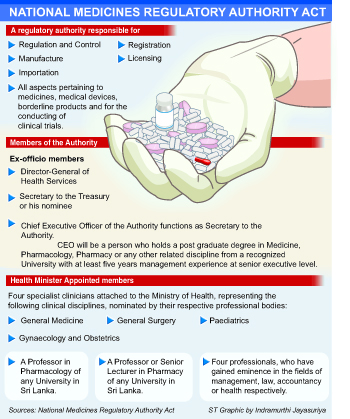 The authority will hear complaints over medicinal drugs and all measures will be taken to prevent doctors being influenced by pharmaceutical companies, Dr. Abeykoon said.
Mr. Senaratne said the new authority would investigate the composition of drugs as well as prices and commissions paid by manufacturer, distributors and pharmacies.
"A standard price will then be decided. This will definitely result in bringing down prices as pharmaceutical companies mark up prices by up to 500 per cent," the minister said.
The authority will authorise and regulate the registration, licensing, manufacture, importation, storage, re-packing, transportation, distribution, sale, advertising, promotion, recall and disposal of medicines and medical devices. It will be able to cancel or suspend any registration or licence.
Among offences listed in the Act are contaminated or adulterated drugs and flaws in importing, storage and sale of drugs.
Minister Senaratne said the country did not possess laboratory facilities of a sufficiently high quality to check the quality of medicinal drugs.
"Once facilities at the National Quality Assurance Laboratory reach world standards then Prof. Senaka Bibile's policy will be 100 per cent implemented. At present, it is impossible to decide which are the better brands," he said.
Dr. Abeykoon said training of pharmacists will take place continuously.
"At present there are about 25,000-30,000 pharmacies. Only 6,000, however, have basic training," he said.
P. Sundarasan, Secretary to the Pharmaceutical Traders Association of Sri Lanka said the Act should ensure that pharmacies are strictly monitored and that action is taken against errant pharmacists.
"Pharmacy owners tell us that they pay about Rs. 3,000-5,000 to a drug inspector in order to avoid inconveniences. Some pharmacies are greatly influenced by pharmaceutical companies, with some companies even installing air conditioners, televisions in pharmacies in order to induce them to sell only their brands," he said.
He said the pharmacy industry had not been regulated for decades and most of the mushrooming pharmacies did not have qualified, full-time pharmacists.
The authority will employ four specialist clinicians attached to the Ministry of Health in general medicine, general surgery, paediatrics and gynaecology and obstetrics as well as a professor in pharmacology, professor or senior lecturer in pharmacy.
Senaka Bibile Commemorative Association National Organiser Dr. Jayantha Bandara said although the Act did not fully implement the Bibile Policy the association welcomed the establishment of a drugs pricing committee and the regulation of medicines.
"Drugs are just one component in the health system. The industry is burdened by issues such as irrational use of medicines, issuing over the counter, without prescription, shortage of drugs, quality failures and lack of price control," he said.
"The medical field has quacks, both doctors and pharmacists, and lack of continuous medical education," he added.
Dr. Bandara said it was important that prompt measures be taken to strengthen the SPMC.
"There is gross uncertainty about the quality of drugs. There are 20,000 registered brands and about 400-500 generics. Improving quality assurance is of the utmost importance," he said.
Prof. Priyadharshani Galappatthy, senior lecturer in pharmacology pointed out that cosmetics had been taken out of the Act and said another Act should be introduced for cosmetics, beauticians and beauty parlours.
The General Secretary of the Society of Government Pharmacists, Ajith P. Tilakaratne, welcomed the news that doctors would be discouraged and later prevented from suggesting drugs by brand names.
"This will definitely be good news in regard to doctors who are influenced by pharmaceutical companies. This has been a violation of the right of the patients," he said.
Dr. Naveen de Zoysa, spokesman of the Government Medical Officer's Association said improving the quality assurance laboratory should be priority.
"Affordability and cost-effectiveness are the priorities that follow quality," he said. When standard drugs are available doctors can prescribe only the generic name. The authority can also limit the number of brands of certain medicinal drugs," he said.
He hoped the authority would carry out its remit regardless of pressure from politicians and the pharmaceutical industry.
Committee to revise drug prices
A committee to decide on a price reduction of essential medicinal drugs will be set up next week, Health Minister Rajitha Senaratne said yesterday.
He said there would be substantial reduction in drug prices once the committee which comes under the purview of the newly established National Medicines Regulatory Authority reviews the current prices.
He said the pricing committee would take into account the Cost, Insurance and Freight (CIF) value of the drug, the company's profit margin and the commissions to be paid to the reps and pharmacies in determining the price.
The minister said the new prices would be gazetted under the new the National Medicines Regulatory Authority Act while talks with China and South Korea were underway to improve the laboratory facilities.
"Once we raise the quality of the National Medicines Quality Assurance Laboratory to the international standard, the Act will be amended making it compulsory for doctors to prescribe a drug only by its generic name," he said adding that the Health Ministry did not have facilities at present to determine the quality of the more than 15,000 registered brands in the country.