Making time for the little things
By Dhananjani Silva
AIESEC Volunteers share their Sri Lankan experience with the Mirror Magazine
View(s):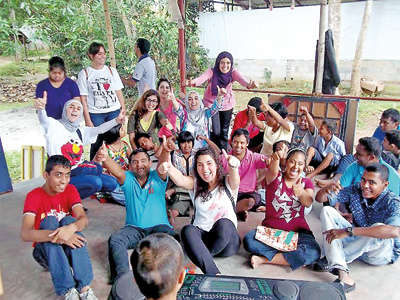 We meet 18 year old Evyleen Chao, an enthusiastic young volunteer from China during her month long stay in Sri Lanka volunteering in 'Beyond the Ability' a Community Development project by the University of Colombo's AIESEC branch. The world's largest student run organization with its presence in over 125 countries, AIESEC facilitates exchanges for both local and foreign undergraduates through community development projects and corporate internships.
Accordingly, Evyleen, an undergraduate who is following a degree in International Finance at Shanghai University of Finance and Economics in China took up volunteering at a school for the differently abled in Wattala.
Having come to contact with AIESEC through the University, it is the first time that Evyleen is volunteering outside her country.  "The reason why I chose to work with disabled is because most people have the misunderstanding that these people look different and act different.  But they are not. They too need our time.  This is the message I am trying to get across to society. To show the world that these kids also need someone to laugh with, not just food and clothes or care takers," she says.
"It is important to find time to contribute to society while challenging yourself. It is not easy. Food, language, climate here is different. But the thought that your are stepping out of your comfort zone to do something challenging while making a contribution to society helped me get over everything," she added.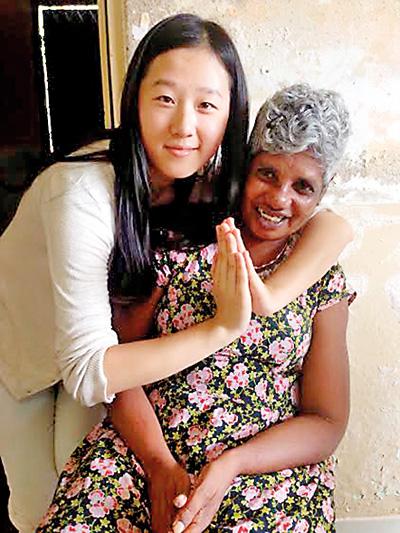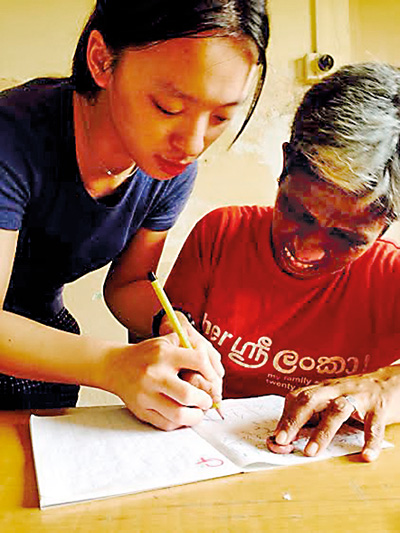 Twenty one year old Youmna El Sherbiny from Cairo Egypt who studies Marketing and Communications while she is also doing her Minor in Psychology and Sociology at the American University in Cairo says, her dream is to travel the world, to work in different NGOs.
According to Youmna, when you engage in volunteer work one gets to know how privileged you are and feels obliged to pass it on to people who are not so privileged.
Working with the disabled in a home in Panadura as a part of the Beyond the Ability project taught her patience and everything about the project has been memorable, she says adding that of all the things she is thankful for how grateful the differently abled are even for the smallest thing you do for them.
Bonnie Tsai (19 years) from Taiwan who is doing a Degree in Social Welfare at the Chinese Cultural University says she joined AIESEC last year after she came to know of the multitude of opportunities that the organization offers for youth like her.
"It is such an awesome experience being able to reach out. As young people we can relate to them easily. What is most important is to keep them happy. No matter what country or what skin tone we have I am happy that I picked Sri Lanka for my first volunteer opportunity," says Bonnie.
About AIESEC
The worldwide AISEC movement began in the aftermath of World War II, when youth from several countries felt the need to have a platform to unite, find solutions for the issues facing society, says Vice President for Global Community Development Program of AIESEC at the University of Colombo, Shifan Mihilar. The organization is run by undergraduates who aspire to be leaders he adds.
According to the Organising Committee President of 'Beyond the Ability' Project Pasindu Galgomuwa, in Sri Lanka, AIESEC operates in the Universities of Colombo, Moratuwa, Jayawardenepura and Kelaniya in addition to the initiatives at SLIIT, University of Peradeniya, IIT Wellawatte and University of Ruhuna.
To find internships and community development opportunities, Sri Lankan youth, school leavers, undergraduate or postgraduate students can get in touch with AIESEC  in Sri Lanka  or a local committee affiliated to the four universities or Aiesec-cc.lk or log onto https://www.facebook.com/AIESECSriLanka