Lessons learned through bitter encounters
Mettasena to launch his maiden novel 'Sixty Four Days in India'
View(s):
Photo journalist Padmakumar P. Mettasena has, from time to time, ventured into different avenues during his career. Having started as a picture story writer in 1980, Mettasena made a name for himself in the field of fashion photography whilst experimenting with the multiple talents he possesses as a song writer and a short film director. Now he is ready to launch himself as a writer with his maiden novel 'Sixty Four Days in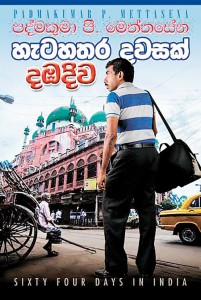 India.'
A personal crisis that Mettasena encountered in his life in 2013 triggered the events that he relates in this book and as such, writing the book was not something pre-planned, says Mettasena.
"2013 was a year of immense financial hardships for me. When I got my horoscope read, I was told that none of the planetary movements at that time were in my favour. I could not repay the loans or face the people from whom I had borrowed money. So I decided to leave the country," he says.
With a mere Rs. 400 in his bank account, on December 20, 2013, Mettasena boarded the Sri Lankan Airlines flight UL 195 to New Delhi. The book is an account of the 64 days he spent in India, leading a hand to mouth existence, going from Bombay to Bangalore, and Calcutta.
Filled with interesting anecdotes, he relates in the book how he used a paper clipping of a cover shoot he had done for a tabloid featuring a famous cricketer to hitch a free ride in the Calcutta Express train, the nasty tactic he used to get rid of the bed bugs in his clothes after sleeping at a filthy dormitory in Nanded, how he saw the Taj Mahal without having to buy a tourist ticket etc. He also captures in vivid detail, the different aspects of the society, culture and people of India.
"People generally tend to conceal sensitive personal information. But I chose to share mine as I believe it would offer the people, especially the young ones, a new vision about life by reading how a personal tragedy was turned into an achievement. I had no intention of writing a book when I went to India, it was only to get over the crisis I was facing. My life story as depicted here will show how people can learn a lesson out of the bitter encounters you face in life and accomplish something out of it," Mettasena emphasises.
Mettasena's book will be launched on March 4, at 4.p.m at Saegis Campus Kohuwela.
-DS