Young and ready for the world
A doctor-in-the-making, 22-year-old Miss World Rolene Strauss who was here in Sri Lanka for the Rotary District Conference, talks to Duvindi Illankoon
View(s):
Rolene Strauss walks into the room quietly and without pomp but it's impossible to not notice that the 5 "8' South African beauty is in your presence. Within seconds the reigning Miss World has smiled and made her introductions, charming the entire room before a word has been said. 
"I have wanted to do this since I was nine," she explains. "I remember going to see the Miss South Africa contest and thinking 'I'd like to do that someday." At 22, Rolene is already a fourth year medical student although she'll have to put on hold those plans for a year, as she jets around the world meeting people and lending her time and image to charity in her role as Miss World. There are a few complaints on that score- "what 22-year-old gets to say she got to visit over 30 countries within a year?" she smiles. "I'm very thankful for this opportunity."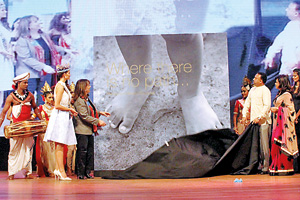 But first back to basics. Rolene hails from the small town of Volksrust in South Africa's Mpumalanga province. Its population is just about 25,000, minuscule in a country like hers. Her father, a medical doctor and her mother, a nurse brought Rolene up amidst hospital rounds and people, so "it was only natural" that she grew up wanting to become a doctor herself. Winning Miss South Africa and then Miss World was another goal she acquired along the way and keeping her eyes open to opportunities helped her achieve both goals, she tells us. We're guessing that the striking blue eyes and winning bone structure coupled with a razor sharp intelligence also played a significant role in the latter, and we're happy to learn that today's Miss World places a significant emphasis on the contestants' role in their communities.
As a fourth year medical student Rolene is unsure of what she'd like to specialise in later, and says for now she's just focussing on the role she can play once she graduates. "I'd like to work in women's health in particular," she shares. Her role as Miss World has so far helped her acquire useful skills in her future role as a doctor- "the Miss World organisation is driven by the Beauty with a Purpose campaign and one thing it does very well is to take someone's talents and push them towards achieving their goal," she says.
At the opening ceremony of the Rotary conference last Friday Rolene spoke about her role as a Beauty with a Purpose, sharing her vision for opening the eyes of young people towards opportunity. Just two months into her reign (she was crowned Miss World in December 2014), Rolene has already travelled to China, Philippines and Indonesia in an official capacity. "It's an honour but also a huge responsibility," she admits. "As a medical student I'm used to being responsible but this is different. I have to be very aware about what I say and how I say it, because I'm addressing a much larger audience here."
She returns to South Africa following the Rotary conference and will have a few days respite before heading to the US, her next destination. The response back home to her pageant win has been inspiring, she beams-the last Miss World to hail from South Africa was Anneline Kriel in 1974- laughing "some people have even said that it's like winning the World Cup, for us to get this title." More heartening, she says, has been the response from her hometown of Volksrust-"to know that I have inspired the children back home to follow their dreams, and for them to know that you can make it happen no matter where you come from-that has been amazing!"
Championing causes
Rolene Strauss was in Sri Lanka as a guest at the 24th Rotary District Conference organised by Rotary Sri Lanka and Maldives, held from February 20-22 at the BMICH. The reigning Miss World marked her visit by engaging with the Rotary's projects in Sri Lanka, including the One Million Tree Stories campaign.