Making inroads into city traffic
By Vinusha Paulraj
The Mirror Magazine catches up with Raditha Dissanayake the brains behind Road.lk on the sites attempt at setting up an effective carpooling initiative
View(s):
What you know Road.lk for is not exactly what Raditha Dissanayake had in mind for the site. After a fair share of glowering in traffic, his intention was to reduce the number of vehicles on the streets. 
"I read that young people in Europe would rather buy a phone than a car," which in turn got him thinking if alternate methods of transport were developed in Sri Lanka, the sentiment would be a common one among youngsters in the country. Originally Raditha says the website was set-up to facilitate an effective system of carpooling, but the ancillary traffic updates are what "really took off."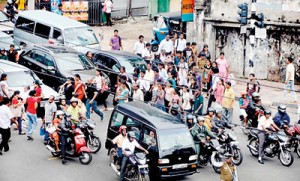 Writing code for the self professed "car-nut" is almost habit. Introduced to his first computer when he was about 12 in the late 80's much of his time has been spent at its luminescent glow. A degree in Chemistry from the University of Colombo couldn't separate him from his favourite pastime. As to questions if he takes after his father and sister known for their penmanship, his response has long been "yes, I write code, which is sort of like poetry." Decades of programming however didn't prepare him for the practical glitches in getting carpooling to work in Sri Lanka.
The biggest challenges have come from the financial aspect he shares. Venture capital hasn't been the easiest to come by and the project is currently operating on a dwindling personal fund. "Also, registering a business," in terms of paperwork is hardly short of a tedious process. Perhaps the trickiest part however "is getting the online payment system sorted."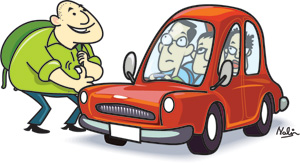 Raditha likes to think of himself as being a "serial entrepreneur" and in fact one of his first innovations was a programme making online transactions possible. Finding a method of online payment accepted in Sri Lanka, because "systems like Paypal are still not functional here" has been one of the reasons for the hold-up.
Initially, the carpool service was to be launched with the website about two years ago. Ironing out the minor issues has taken a while, he says. The traffic-updates have been tried and tested by ardent techies around the country and is deemed functional. Relying on tweets from sometimes frustrated drivers who are themselves stuck in traffic, the site has long been known solid advise on which roads to stay clear of and which ones to take.
How the carpooling would work – Raditha explains is one would simply enter their current locations and their intended destinations into the database. Using Google Maps to trace the route, others taking the closest route will be listed as matches. "Ideally we are looking to provide three to four matches," he says, and after choosing one possible match, one could negotiate the pick-up, drop off and even the price of the journey.
To make things safer for both, those hitching a ride and those offering one, verification of those using the service happens in three stages he shares. Each potential user of the service is required to have a profile on the database, so fellow users are better informed. Since you would also need to verify with a mobile number and bank details for payments, the identity of a person can hardly be a mystery. "There is also public feedback" Raditha says, which means "if you get more that three negative comments," the chances of getting a ride are slim.
A trial run in December last year has reinforced his confidence in the system. Some of the twitter community have arrived at their 'tweet-up' event with this system to thank for their shared rides. Wanting nothing more than to enjoy driving, he says the roads could be much less congested if "we can even reduce a fraction as small as 5% of the current number of cars."