Infrastructure is necessary but is it sufficient?
By C. Maliyadde, Former Secretary, Ministry of Plan Implementation
White elephants have chased away wild elephants
View(s):
Infrastructure was the most popular and widely discussed topic during recently concluded Presidential election campaign. The previous regime cited infrastructure projects ranging from upgrading rural roads to super highways to claim that the country has achieved an unprecedented development during its tenure. The then opposition which is now in government cited the very same infrastructure projects as the main source for corruption, commissions, pilferage and misuse of funds leading the country towards a debt trap.
The Central Bank Annual Report 2013 reported, "The construction sub sector continued to expand recording a growth of 14.4 per cent during 2013 over the impressive growth of 21.6 per cent recorded during 2012. Public sector investments in the highways, rail-roads and transport sector development projects such as phase two of the Southern Expressway, the Colombo – Katunayake Expressway, the Colombo Outer Circular Highway Project and the Northern Railway Project as well as port development projects contributed to sustaining the growth momentum in this sub sector."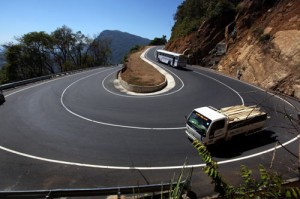 Apparently the then Government had placed highest emphasis on infrastructure in its investment priorities. Was the prioritisation right? Let us see the table below:
The contribution of agriculture sector to GDP is just 0.4 per cent higher than that of infrastructure sector. But it generates employment to 2,504,000 which is more than 400 per cent of the employment generated in the infrastructure sector.
Many economists argue infrastructure as an essential prerequisite for development. Yes, infrastructure is necessary. But, is it sufficient?
Infrastructure development is not an end by itself. It's only a means to an end. An economy which faces constraints in both internal and external revenue cannot justify any type of infrastructure at any cost anywhere. Economic feasibility, financial viability, social cost and benefit, environmental and cultural aspects, timing and source of funding are important considerations in making decisions on an infrastructure development project. Infrastructure development does not necessarily lead to development; a country has to be very choosy. A country cannot afford to build infrastructure in anticipation of development or on expectations, prays, hopes and wishful thinking or for image building or prestige. Sri Lanka is a small island with a land area of 65, 610 sq km; greatest length from North to South is 440 km; greatest width from East to West is 220 km. The British have left behind a well developed infrastructure network. Any destination could be reached within a matter of five hours on surface. A decision to or not to invest in infrastructure cannot ignore this historical and geographical reality.
An infrastructure project should be financially viable; technically and economically feasible. British colonials have developed the railway network (one of our key infrastructure) in Sri Lanka during the 19th Century. The main reason for building the railway line between Colombo and Badulla in 1864 was to transport tea and coffee from the hill country to Colombo for export and imported consumer items back. For many years, transporting such goods was the main source of income on the line. Can the Hambantota port or the Southern Expressway make that claim?Further, replication of infrastructure facilities available in the capital city would not mitigate imbalance and disparity among regions. In Sri Lanka a considerable share of employment and income opportunities is generated in the informal sector. Infrastructure projects might disrupt or even eliminate such opportunities. In the good old days while travelling down the Galle road we used to stop for a cup of tea, a king coconut, some sweets and for some fish purchasing in a wayside kiosk. Such opportunities are lost to the wayside vendors after the construction of the Southern Expressway.
Social cost
Infrastructure development is not without social cost. Often infrastructure development causes a sense of displacement, dispossession, disrespect, and moreover a displeasure among people in the locality. Implementation of the Southern Expressway had to be suspended and rescheduled on several occasions due to protests and objections raised by residents and property owners.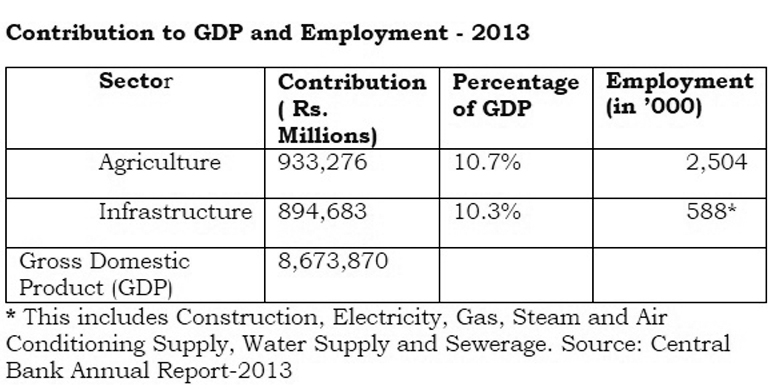 There is a specific sentimental value attached to the land among us. It is extremely difficult to separate a person from his/her land. The Southern Expressway separated the land from man and divided the community.
Additionally well paved roads in a land like no other where motorists are grossly undisciplined and vehicle imports are simply unrestricted have become death traps. Today motor accidents are the number one killer in the country. Also it is a social habit and a custom to visit a friend, attend a funeral and drop a coin at the Kalutara Bodhiya on our way. The Southern Expressway has deprived us of such social habits. Social cost attached to infrastructure projects should not, therefore, be ignored. Infrastructure development projects would more often than not have an environmental cost. Clearing of forest, carbon emission and wildlife displacement are a few of them. These negative environmental effects are visible even in much celebrated Mahaveli Development Project. Elephant corridors are disturbed; soil moisture retention has diminished; biodiversity is threatened; pollution is on the rise; wild life habitats have been disturbed. White elephants have chased away the wild elephants. Many road development projects have ignored the possible environmental threats. I was once the Chairman of the Cabinet Appointed Procurement Committee for rehabilitation of Kandy Mahiyangana stretch (so-called Daha ata wanguwa) of the old Badulla Road. Although it was not my mandate I warned RDA engineers to be concerned of possible threats of occurring landslides after the rehabilitation. My warning is already proved; this stretch is now subject to several landslides.
The roads built by British colonials in the hills take a circuitous route through tea estates, pine forests and misty peaks passing picturesque waterfalls and hair-raising precipices. The construction of these roads ran into major engineering challenges due to topographical conditions that did not suit the general specifications and the required gradients. According to folklore, when the engineers were wondering how they could proceed beyond Demodara, a farmer had suggested to them to build the track similar to the way his turban had been tied. During my recent visits I observed that many such meticulously-built winding roads in Nuwara Eliya, Badulla and Rakwana are being straightened. That is the right recipe for landslides, earth slips and many other similar environmental disasters. In fact one might wonder whether proper Environmental Impact Assessments were conducted and recommendations were adhered to in such construction work.
At the time of Sri Lanka gained independence Hong Kong was a fishing harbour. Sri Lanka had more than one international harbour. Since then Sri Lanka developed several more harbours. Hong Kong today has a single world class harbour which handles cargo to the tune of many folds of volume of cargo handled by all ports put together in Sri Lanka. The Hong Kong International Airport handles approximately 200,000 passengers and 1,172 aircraft movements on a single day. On a rolling 12-month basis, the airport handled a total of 57.2 million passengers, 4.04 million tons of cargo and 354,980 aircraft movements. The Bandaranaike International Airport (BIA) at Katunayake handled 7.3 million passengers including transit passengers, 237,000 tons of cargo and about 43,500 passenger aircraft movements in 2013.
Hong Kong
Hong Kong manages all this with one international airport whereas we have two international airports of course one with passengers and the other with peacocks. What can we learn from Hong Kong's success? There are many options and opportunities for a country to enhance the efficiency of available existing infrastructure before making more capital investment.
The next question is the maintenance of infrastructure built up. There are many reasons leading to negligence of maintenance. Lack of consultation, coordination and participation among relevant agencies and the community in identifying and implementation of infrastructure projects is foremost. We neglect preventive maintenance and hold post mortems. Maintenance is considered as an additional element and outside infrastructure project.
There are no programmes, funds, technology, equipment, tools, staff identified for maintenance. In brief there is no maintenance culture in the country. Attraction is in creation of infrastructure not in maintenance.
Infrastructure is not god given. It requires heavy investments, technology, machinery and expertise. Some are available locally while the bulk has to come from outside draining foreign exchange out. With the constraints on revenue, the Government resorts to donor assistance the bulk of which comes in the form of loans. On the other hand being a small island with limited space, the country has to be extremely careful in land use among competing needs. It is not prudent to cover the entire land with infrastructure alone. Finally as Prof. Joseph E. Stieglitz, eminent American economist and Nobel Prize Winner, stated "Development is about transforming the lives of people, not just transforming economies". According to the World Happiness Report for 2013 Sri Lanka is ranked as one of the least happy nations on earth – coming in at 137 out of 156. This was the lowest rank for any South Asian country and stands in the bottom 20, below Mali, Uganda, Palestine, Sudan, Zimbabwe, Haiti, India, Bangladesh, Nepal and many others. Sri Lanka is presently ranked with nations widely considered to be in dire circumstances. In the world economy ranking we stay at.102 out of 187 countries according to IMF. So, infrastructure development has not served us right.
(The writer is an economist and a retired former permanent secretary. He can be reached on chandra.maliyadde@gmail.com)