Tribe singer Sureshni goes solo
View(s):

'Tribe' lead singer and ex- 'X'periments' female vocalist Sureshni Wanigasuriya is determind to embark on her solo career during the years 2015. 'Tribe' girl Sureshni is the frontline singer of the trio with Thilak and Sukumal, who performs at hotel lobbies, weddings, cocktail parties and private functions.  Thilak who is the current drummer of the 'Sohan & the X' Periments' does vocals for 'Tribe' when ever he has spare time.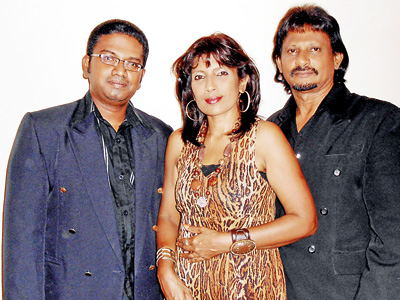 'We get together as 'Tribe' to perform at various functions. The trio has loads of talent and our repertoire ranges from current chart toppers to retro music not forgetting Sri Lankan music too. But our main obstacle is the memebers are involved in their respective music and careers. Sukumal is a professional banker and he misses most of our engagements' explained Sureshni.
'This situation pushes me to get on with my solo music career'  she said. Apart from being with 'Tribe', Sureshni now accepts bookings as a  solo singer. Sureshni loves to play guitar and is on the process of mastering the instrument. 'That will definitely give me an edge over the rest' she said. She also has worked with the band 'Europa' in Oman, Benji and his band 'Aquarius in Germany and Sohan and the X'Periments  in Dubai on a contractual basis and has travelled to many countries with various musicians.
'Tribe' has much experience in the music field and has performed at Taj Samudra lobby, Cinnamon Lakeside lobby and the Library  and at the lobby of Taj Exotica.  'TRIBE' is specialised in pop, rock, country and rock music as well as baila too. Apart from the above, Sureshni is a devoted gospel singer.  'I sing in honour of the Lord Jesus Christ, thanking him for the ability he has granted upon me in my career as a musician' she said.
She has done quite a few Sinhala gospel songs for a CD recordings with Lankika Perera of Golden Chimes.