Playing out dark themes in a hospital drama
By Vinusha Paulraj
Senior students of Elizabeth Moir take on 'Whose life is it anyway'
View(s):

Sailing across the Hospital-like set with their signature brisk steps, clipboard-clutching "doctors" have become a common sight at Elizabeth Moir as of late. This year's senior school play is a hospital drama called "Whose Life Is It Anyway." Telling the story of Ken Harrison, who discovers he has lost the use of his limbs, for the cast of about 16 teenagers it is by no means an easy ask. The dark theme nevertheless "doesn't get morbid" according to Director Marissa Janz and the kids have been growing in to their adult roles surprisingly well.
Ken, the sculptor who after a tragic accident loses motor-function in his limbs is played by Senal Wijetunge. For the 18 year old,  acting has always been a part of his time at school but this role's challenges are a first. "I'm not known as someone who can stay in a place," he laughs. Having just his upper body, minus his arms to sell his character's plight Senal feels it's easily the "hardest thing I've done so far."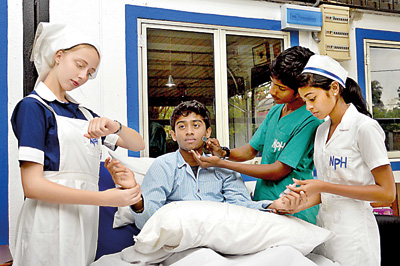 Tripti Mathews who plays Dr Clare Scott says the cast didn't know what the script was  about before they auditioned. After becoming familiar with it she's excited because "It's actually a debate." While Ken's decision as to if or not he wants to continue life is pivotal in terms of plot, the audience too is inevitably emotionally invested. Swayed by emotions, the script is thought-invoking and has even for the actors often meant thinking-over their preconceptions of what amounts to right and wrong.
For Ahmed Nomani the play has brought about  an interesting change of scene.  "I've never acted at this level," he shares and this will be his first school-level appearance. Playing Dr Paul Travers who is the character Ken's Psychiatrist he feels the whole cast made it easier for him.  "They've got great energy" that he can reflect making it an ideal cast to be in for his novice appearance.
Complete with the elaborate white headdress, Nicole Haddon plays Sister Anderson. One of the youngest cast members at just 14, her character is a nurturing one. "I'm Ken's pass for a mother," she tells us. Battling against the current of her employer, the Matron of the Ward "Wants what's best for Kevin," and is a warm presence amid the many others who tend to maintain a professionally cold distance. "It was slightly nerve wrecking," she admits to be in a cast and working with older actors, but it didn't take long to "feel natural around them."
Rachel Hayward, who is also 14 plays Dr Michelle Emerson. After the play was announced at the auditions, she says "I wasn't too sure how it would turn out." The initial apprehension wore out once she got to know the script a little better, and now she says "I love the idea of the play." Apart from learning the lines, which for Rachel has been the most harrowing task about the production, working with the cast has been the best experience. "I am a little nervous" she admits, "it wouldn't be natural to not be" but the cast is sure they can pull of a memorable evening. "Whose Life Is It Anyway" is set to take stage on February 20 and 21, from 7:30pm onwards at the Lionel Wendt. Tickets priced at Rs750, 1000 and 1500 can be purchased at the Elizabeth Moir School.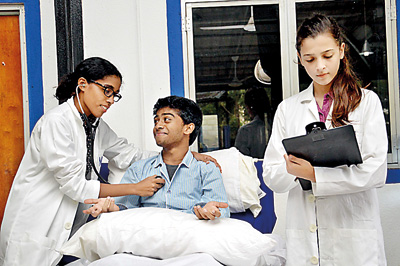 Magazine cover picture by Samantha Tenduf- La
Cast at a glance
Ken – Senal Wijetunge
Sister Anderson – Nicole Haddon
Kay Sadler – Anjali Mathews
John – Akash Gnanam
Dr Clare Scott – Tripti Mathews
Dr Michelle Emerson – Rachel Hayward
Mrs Gillian Boyle – Aanya Gunawansa
Philip Hill – Jayhan Haputantri
Dr Paul Travers – Ahmed Nomani
Peter Kershaw – Taha Adamaly
Dr Barr – Methin Lokumannage
Andrew Eden – Maahir Ur Rahman
Mr Justice Millhouse – Felix Deemer