Making a colourful splash
By Duvindi Illankoon
"Rum Punch" is playful, bold and vibrant, says Rukshika Fernando, the designer of this new line of resort wear
View(s):
Lazy island evenings, the blue ocean and good times; 'discover your island spirit', says Rum Punch's tagline and we couldn't agree more. Designer Rukshika Fernando and her husband Binara came up with the name after many days of brainstorming-"it seemed perfect," she says "for what this collection is about."
Rum Punch is a resort wear collection to be launched at next week's Colombo Design Market. Rukshika is its creative force. At 26, she has just left her post as a Senior Designer at MAS, where she spent eight years working with the Victoria's Secret brand. "My work was very fulfilling," she shares. "But it felt like the time was finally right to launch my line, which I've wanted to do ever since I started out."

She 'started out' at 16, an age when most of us were still taking life one day at a time. She liked school-St. Bridget's Convent-but "hated studies," she laughs. Her parents, both doctors, understood this and encouraged her in whatever creative pursuit she engaged in. When Rukshika decided that what she wanted for herself was fashion design, just after her Ordinary Levels in 2004, they didn't deliberate too long in helping her on her way. Rukshika completed a Higher National Diploma at the Academy of Design (AoD) and joined MAS almost immediately.
During this time she took a year off to complete her BA in Fashion from AoD, and it was her graduate collection in 2013 that first saw her foraying into the resort wear end of fashion. Defined loosely as light, comfortable clothing that is easy to pack, and often worn during travel in the tropics, resort wear is fast becoming somewhat of a niche market for Lankan designers. Ably fronted by the resort edition of the Colombo Fashion Week – now three years old and going strong-few designers are better placed than those in Sri Lanka to design inner and outerwear for the tropics.
Rukshika launched Rum Punch with this graduate collection of hers, first showcasing it at the Sri Lanka Design Festival Runway in 2013. Inspired by the Maasai Mara of the African highlands, the swimsuits and wraps of her collection were vibrant with punchy colours-deep purples, bright yellows and summery blues interspersed with prints and streamlined with contrasting colours, they are an apt celebration of tropical indulgence.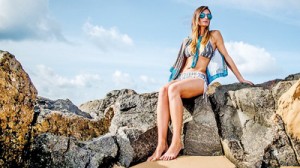 Many of these pieces are dual-purpose, in that they can be worn inside out or as a complement to another outfit. Swimsuits may be worn inside out for another colour and look, while beach wraps can easily become a wraparound skirt for an evening out. Rukshika achieves this by ensuring that the seams are concealed. For her first collection she used a technique known as bonding, an advanced technology that allows clothing to be bonded together, instead of being sewn. "MAS was kind enough to let me use one of their machines," she explains. "But it's entirely too expensive to produce using this method for the local market, so for Rum Punch I'm going to be sewing, but doing it in such a way so it's not visible."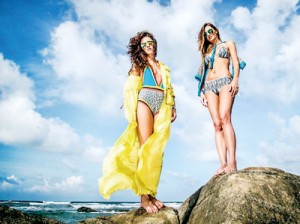 Their target market is 18-25 year olds, although this doesn't mean that everyone can't wear her pieces, she adds. Rum Punch pieces are priced from Rs. 3000 to Rs. 4900-considering you'll get two outfits from one buy in most cases they seem well targeted for the age group they're looking at.
The new collection which will be launched at the Colombo Design Market is influenced by, of all things, tyre skids Rukshika saw on her way somewhere. Using the skid mark print as her base she has designed a range of inner and outerwear, bringing in contrast binding to add swatches of colour to the pieces. "Rum Punch is playful," she says of this constant need for colour in her designs. "It's bold, exotic and vibrant."
Visit the Colombo Design Market next to the Laksala at Greenpath on February 22 to catch Rum Punch. You can also find them at www.rumpunch.lk