Lovers Drome unveils the next level of event and adventure tourism
View(s):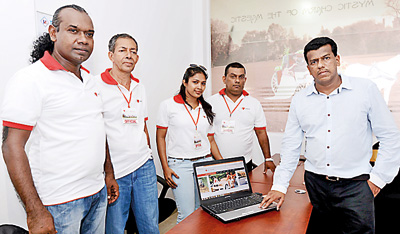 Sri Lanka's number one wedding car and vehicle providers launched its latest venture – Lovers Drome, targeting the ever-growing wedding, event and adventure tourism segments at its latest showroom at Ethul Kotte.   'When it comes to finding the perfect wedding car, the prospective wedding partners need look no further than Lovers Drome which offers from super-luxury Limousines to much sought-after vintage cars, with an old-time classic costing as little as Rs. 25,000 upwards while a stunning silver classic Limousine can be obtained for an attractive Rs. 30,000 within Colombo' said MD Lasantha  Senaratne.
As Sri Lanka's premier wedding car providers, the company will now mark a new beginning this year with its venture into three more new and innovative products – Camping Crave for that adrenalin–filled adventures in the wild, Birthday Bash  – for that exciting birthday celebrations spiced up with a papare band and City Tours for a breathtaking view of the Colombo City in addition to its already existing Lovers Collection-  portfolio of super-luxury and stunning vintage cars.

'We felt that there was a huge vacuum in these segments in order to cater to high-end wedding and adventure tourism. Through this we hope to not only serve Sri Lankans but also up-market tourists who visit our island nation for an unmatched experience. We invite all of you to visit our new showroom at 759, Ethul Kotte Road, Ethul Kotte for convenience of our customers'  said Lasantha  Senaratne, Managing Director of Orumix Group, the mastermind behind Lovers Drome. Lovers' Drome is the latest venture of the Orumix Group of Companies.
For the first time in Sri Lanka, Lovers' Drome has come forward to offer free of charge a Land-cruiser for your family to travel, a BMW Sports for your going-away or MGA Sports cars for your home-coming or motor-cycle squad FREE OF CHARGE for those who register between January 30 and February 28 by calling  0772288928 or emailing info@loverscollection.lk .
'Ready to get out of town and head into wild? Get away from the distractions of the city and plan your next camping trip to Kithulgala, Kumana, Yala,  Wilpattu or Wasgamuwa National Parks while we look after all your needs. Lovers' Drome Camping is determined to provide the best for your needs in the wild while driving on four-wheels and camping and will ensure that your next camping trip the best ever yet'.
'Lovers' Drome provides all camping gear and outdoor supplies whether you are an experienced camper that enjoys long backcountry hiking, driving or camping.
We also cater to the corporates that are looking for out-bound and out-door training' said Lovers' Drome Camping Partners Wasantha Wijesekera and Murad Sulaiman.