Ceramic artiste moulds a popular play for Sri Lankan audience
View(s):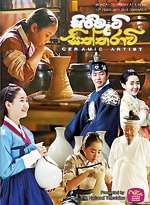 With popular demand for South Koran soap operas, National television Rupavanini telecast its latest Sinhala dubbed story (Sirimeti Sittharavi- Ceramic Artist replacing the previous serial imported drama 'Yahapath Maharaja'  from 6.30 pm to 7.30 pm every Monday to Friday.  The title in Sinhala is designed by Elious Silva, using the word (Sirimeti) for Porcelain.
Jung Yi, The Goddess of Fire " is a 2013 South Korean  historical drama directed by Park Sung – Soo and Jung Dae – Yoon . This 32 episodes long this tele series is a production of MBC (Munhwa Broadcasting Corporation), starring Moon Geun- young, Lee Sang-yoon Kim Bum, and Park Gun-hyung.
This epic historical drama is based on the real life of a woman named Baek Pa-Sun who lived during the 16th century Joseon Dynasty in Korea. This drama recounts the life and courage of Yoo jung also known as Jung Yi (Moon Geun – Young), she was the first female potter and porcelain artist in Korean history. Baek's glazing skills were so prized hence she was appointed as a china maker for the royal family.
Jung Yi was among the Korean artisans captured by 'Toyotomi Hideyoshi' during the Japanese invasion in 1592. They were forcibly taken to Japan and made to continue their craft there to enrich Japanese arts and culture. Jung Yi continued her important work in Japan and introduced the superior methods of making ceramic pottery to the Japanese. She helped the advancement of many new types of pottery that would be claimed as Japanese works of art. Meanwhile the crown prince Kwang Hae (Lee Sang – Yoon) is devastated by the loss of Jung Yi and struggles with his tumultuous life and profound loneliness without the woman he loves.