Rs. 172 billion Chinese Port City project still in stormy seas
By Our Political Editor
View(s):
Mangala contradicts Senaratne, says Cabinet did not decide to go ahead with the huge controversial project
PM and FM tell China's special envoy decision will be taken after comprehensive review
New Govt. cancels Rajapaksa's order for a castle in the sky through national carrier, billions spent on luxury Russian helicopters for VIPs
Foreign Minister Mangala Samaraweera did not mince his words when he met Chinese President Xi Jinping's special envoy Liu Jianchao on Thursday.  Casting diplomacy aside, he told China's Assistant Foreign Minister, "Our Government has not taken a decision to go ahead with the Chinese-backed Colombo Port City Project. The news reports are completely wrong." The assertions came after Liu told Samaraweera that China was thankful to the National Unity Government for deciding to go ahead with this multibillion dollar project.
Liu had quite clearly believed the official announcement made by the new Government's cabinet spokesperson, Minister Rajitha Senaratne, on Thursday. Senaratne told a news conference the ministers had at their weekly meeting the previous day (Wednesday) "unanimously" decided on the matter. "The Prime Minister told us at the Cabinet meeting that this project should be carried out without any misunderstanding with the Chinese Government. Considering the relationship with China, we can make any alteration with the understanding of the Chinese Government," he said. Senaratne declared that a Cabinet sub-committee had decided to go ahead with the project after examining the matter. Asked whether Minister Patali Champika Ranawaka was a member, he confirmed he was. Ranawaka has been a staunch critic of the project.
Prime Minister Ranil Wickremesinghe in a statement in Parliament, however, also made it clear there was no such decision as announced by Minister Senaratne. Excerpts from what he said: "…… when this Government came to power, I asked for all the documentation relating to this project. Once these documents were checked, we found all the necessary documentation was not there. There was a shortcoming in the environmental assessment report, too. We have appointed a special committee to look into this. In addition to that, a Cabinet subcommittee too has been appointed under my leadership. It is after these reports are ready (that) decisions will be taken. There was a suggestion by some environment groups to abandon this project completely. We did not do that……. We are not taking the stance that this project should be completely stopped.
"We will make a decision after taking a look at the reports and if it is necessary we can amend the Gazette notification. There are two matters. This is a massive project and has the sponsorship of the Chinese Government. We cannot abruptly stop such projects. At the same time it is important to safeguard the environment of this country. The environment cannot be harmed and at the same time rules and regulations must be followed. Once the committee report is ready, the subcommittee will take a look at it and a final decision will be made by the Cabinet. We did not take up the position that this agreement should be torn up but we are continuing our inquiry into it. I met the Chinese government's special envoy today and I told him we have not got the full report yet but once we get it we will take a decision. It will take two weeks for the report to be ready…."
He made the statement after the issue was raised by Janatha Vimukthi Peramuna (JVP) leader Anura Kumara Dissanayake. Samaraweera told the Sunday Times, "I was surprised over media reports that the project would go ahead since there was no such decision by the ministers."
Senaratne seems to be outdoing his predecessor Keheliya Rambukwella with a gaffe almost every week. He once said that the then Chief Justice 44 Mohan Peiris had tendered his resignation. He had not. Days later Peiris was removed from office and the Government declared he never held office because the removal of the previous Chief Justice was void. Perhaps the diverse mix in the National Unity Government is leading to different statements from key players. There are instances where remarks made by ministers have been contradicted by their deputies or vice versa. Policy pronouncements, like the one from Justice Minister Wijeyadasa Rajapakshe on moves to re-introduce the death penalty, have sparked controversy. The reason he gave was mounting crime. The answer to the issue seems to lay elsewhere, with the Police Department. Its politicisation continues to be an obstacle to curb the deteriorating law and order situation. How executing people would arrest the situation is questionable. The abolition of the death penalty is a big issue in the West and the European Union has already issued a statement in opposition to Rajapakshe's suggestion.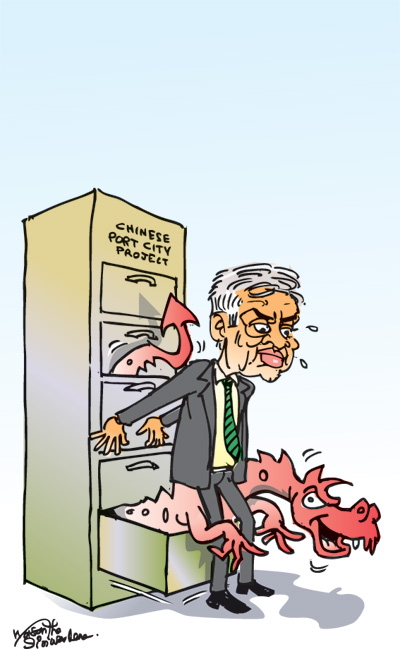 Samaraweera told China's special envoy that all investments in Sri Lanka by Chinese companies were under revision. He said the Colombo Port City Project itself had been shrouded in mystery. When this unsolicited proposal was decided upon by ministers, the then Opposition asked the UPFA Government to table in Parliament all the documents related to the project. However, it had shied away from doing so, heightening suspicion. He said that in China, the Government of President Xi Jinping was spearheading a campaign against corruption. In that spirit, Samaraweera said, the new Government would expect Beijing's fullest co-operation in the review of Chinese-funded projects in Sri Lanka so those involved in corruption and other malpractice could be brought to book. Samaraweera said the Government had won a mandate from the people to fight corruption after making a pledge in its 100-day programme of work.
Special envoy Liu is in Colombo to extend an invitation to President Maithripala Sirisena to visit China. Dates and other details of the visit are to be discussed when Foreign Minister Samaraweera travels to Beijing on a two-day visit beginning February 27. His planned visit and that of President Sirisena come barely two weeks after the duo visit New Delhi — a move described by Foreign Ministry officials as an important foreign policy initiative. "It reflects the Government's objective of a neutral foreign policy with no leanings to any one country," one of them said. Liu held a news conference in Colombo on Friday to respond to issues raised by Samaraweera though no direct reference was made.
Minister Senaratne's remarks, however, did cause considerable confusion in the Colombo-based diplomatic community. Among the initial responses was one from Indian High Commission officials who were trying to determine the basis on which such a decision has been made by the Government. The cause for Indian concerns is the fact that the port city where China will own land given to it free when developed, adjoins the International Container Terminal (ICT) in the Colombo Port. With the appearance of Chinese submarines and warships at the ICT, concerns in New Delhi grew over the neighbouring land mass Beijing will accrue in one of the primary locations in the City of Colombo. That is an area next to where China's submarines and warships on visits to Colombo were located. The Sunday Times learnt a discussion on the Colombo Port City Project took place at the Cabinet meeting after Kabir Hashim, Minister of Investment Promotion, Highways and Higher Education, presented a Cabinet Paper recommending a full review of the project.
The Sunday Times (Political Commentary) of January 19, 2014 first revealed exclusively details of the Colombo Port City Project. UPFA Ministers gave approval to this US$ 1,337 million (Rs. 172.4 billion) project. It is to reclaim more than 575 acres (233 hectares) of sea off Galle Face Green. The move followed an unsolicited project proposal from China Communications Co. Ltd. President Rajapaksa who is also Minister of Highways, Ports and Shipping told his ministers that the project "leads to create a new city to raise the image of the Port of Colombo as a leading hub city with regional and international connections."
This project is costlier than the monies spent on the Mattala Rajapaksa International Airport (US $210 million), phase one of the Hambantota Port (US$ 361 million) and the Colomb-Katunayake expressway (US$ 350 million). It was to be carried out under the supervision of the Sri Lanka Ports Authority and the Board of Investment. A significant feature of the project is the granting of a portion of the land area on a 99-year lease to the Chinese firm which made the unsolicited proposal. The base price of the land is being estimated at US$ 24 million or more than three billion rupees.
The Sri Lanka Ports Authority (SLPA) was allocated 125 hectares including 62 hectares which is saleable from the land to be reclaimed. Strategic Development Project status was given to this new venture. The SLPA was exempted from licence fee, royalty fees and buyers of their land were to be exempt from the Property Transfer Tax (or Land Tax) and Stamp Duty. The Government is to transfer the reclaimed land to the SLPA as a "free gift." The SLPA, ahead of approval by the Cabinet of Ministers, signed a memorandum of understanding with the Chinese firm — a move which indicated the haste with which the project was to be carried out. This was after a Standing Cabinet Appointed Review Committee (SCARC) gave it instructions. How such instructions to override ministerial approval could be given by a committee remains a critical question when it should be the Ministers who should do so for a project involving a colossal sum.
The new Government's review of the Colombo Port City Project will cover all aspects including how the unsolicited proposal originated, who were responsible, whether commissions were paid and whether all procedures laid down for mega projects were followed. This week, senior Government officials pointed out that land for development was available in the eastern sector of the Western Province with vast open areas devoid of buildings. Hence, they questioned the need to reclaim land from the sea at great cost for development activity.
China was not the only foreign policy preoccupation for Foreign Minister Samaraweera this week. He left yesterday for the United States where he is scheduled to hold a string of important meetings. Main among them will be talks with US Secretary of State, John Kerry on February 12. He will also extend an invitation on behalf of President Sirisena for Kerry to visit Sri Lanka. This meeting assumes greater significance in the light of the UN Human Rights Council (UNHRC) sessions in Geneva next month. The Council at its 28th sessions beginning March 2 is due to receive the report on the findings of a three-member team which probed alleged war crimes in Sri Lanka.
Samaraweera told the Sunday Times, "We are not in a denial mode like the previous Government. We want to address the concerns before us. There needs to be justice and reconciliation. It is not to satisfy international opinion but our people want it." He pointed out that the 100-day programme of work dealt with the matter. It said. "Since Sri Lanka is not a signatory to the Rome Statute regarding international jurisdiction with regard to war crimes, ensuring justice with regard to such matters will be the business of national independent judicial mechanisms."
He said his visit was "exploratory" to "exchange ideas" towards this and to build bilateral relations with the US after the ties remained "somewhat strained" during the previous regime.
Samaraweera will also meet UN Secretary General Ban Ki-moon on February 13 and fly from New York to New Delhi to be on hand when President Sirisena begins his two-day visit on February 16. Also on his itinerary are meetings with Susan Rice who is the National Security Advisor to President Barak Obama, and Samantha Power, US Ambassador to the United Nations. Samaraweera will also speak at the Carnegie Endowment for International Peace, the oldest international affairs think tank in the United States and address the National Press Club in Washington DC. Leading US media outlets have welcomed the change of Government in Sri Lanka. The US Assistant Secretary for South and Central Asian Affairs, Nisha Biswal, who was in Colombo last week has assured her Government's fullest support during talks with Foreign Minister Samaraweera.
Foreign policy issues are not the only ones to engage the Government's attention this week. Both the Government and Opposition leaders met on Thursday to discuss common issues, particularly local elections. Taking part in the discussion were President Sirisena, Premier Wickremesinghe, Opposition Leader Nimal Siripala de Silva, Sri Lanka Freedom Party (SLFP) General Secretary Anura Priyadarshana Yapa, Mahinda Amaraweera and Thilanga Sumathipala. A decision was made to place a moratorium on local polls for one year, unless there is evidence of corrupt activity in a particular local body. Opposition Leader Nimal Siripala de Silva told the Sunday Times, "We agreed to support this move. Conducting local polls ahead of parliamentary elections would lead to divisions. We do not want this to happen. We are supportive of the Government's 100-day programme of work."
The Opposition also voted in favour of the budget at voting time yesterday. The Opposition Leader said "We have, however, cautioned the Government of our fears that some of the proposals would lead to unemployment. However, we cannot object to the budget proposals since they have benefited the people. The question is whether a Government can introduce a similar budget next year with more salary increases and other forms of tax relief without further diminishing funds for public expenditure." De Silva said there were also policy issues. He said the Ven. Maduluwawe Sobitha Thera along with Jathika Hela Urumaya leaders Ven. Athureliye Rathana Thera, and Minister Patali Champika Ranawaka were calling for the closure of casinos. However, Finance Minister Karunanayake had introduced a high levy on casino operators. "Does this mean that casinos would continue to stay?" he asked. He added that even taxation on liquor had benefited only one local manufacturer.
De Silva said the Opposition would, however, go ahead with the vote of no-confidence on John Amaratunga, Minister for Public Order, Disaster Management and Christian Affairs. The move stems from an incident where supporters of Ameratunga allegedly roughed up Tyagi Alwis, Chairman of the Wattala Pradeshiya Sabha. The incident had taken place after Ameratunga had visited the area. The local council had been in session when Alwis was pulled out, allegedly assaulted and thrust in a drain. Police have arrested four persons and are on the lookout for a fifth. However, the Opposition alleges that pressure had been brought to bear by Ameratunga on the Police to downplay the case. Ameratunga, however, denies the accusations. It seemed ironic that Ameratunga is the first target of the Opposition with the new Government barely four weeks in power. While being a UNP parliamentarian, he he had close links with former President Mahinda Rajapaksa and served as a member of his official entourage on trips to Israel, Palestine and the Vatican. On one occasion he had obtained an air ticket from President Rajapaksa to visit the US.
There is little doubt that the vote of no-confidence would be passed with the majority vote the Opposition commands. The logical choice for Ameratunga then would be to resign or insist that he still enjoys the confidence of the President. Yet, such a stance would become difficult since the Government has declared transparency and the President has vowed that wrongdoers would be punished. He made the assertion when ministers were sworn-in. Moreover, non-action over the issue could cause tensions and a rift within the National Unity Government.
Prime Minister Wickremesinghe told ministers at their weekly meeting last Wednesday to keep a close watch on complaints of corruption. The idea was to have all such cases investigated. Even as he made those remarks, other startling instances of alleged corruption or malpractice had come to light. Here is one such instance:
Over the years, as aircraft manufacturers rolled out modern versions, fuel efficient and luxurious, for passenger travel, heads of State and Governments needed those most. They had to shuttle from one foreign capital to other pursuing diplomatic initiatives of their respective countries to avoid war, keep the peace and promote their interests. The rich and the powerful now needed aircraft twenty four hours of the day and seven days of the week. Thus, the President of the United States has at his disposal the Air Force One, a Boeing 747.
Yet, leaders of other developed countries like Australia, the United Kingdom or even France depended on their respective Air Force for foreign travel. They maintained VIP aircraft for this purpose. Like India, however China uses an aircraft from their national carrier. What of Sri Lanka, a nation that has survived economically mostly on foreign loans and has a Mount Everest high catalogue of development priorities? The answer – those in power in the previous UPFA Government did not believe they could conduct foreign policy travelling in either First or Business Class of commercial airlines operating through Colombo. So they chose a way to have a dedicated aircraft at just three day's notice. This is how it was done:
On April 18, 2014, the Cabinet of Ministers of the former UPFA Government took a decision to buy six Airbus 330-300 aircraft with Rolls Royce Trent engines. Each cost US$ 234,389,333 or more than Rs 29.5 billion. Two of the aircraft have already arrived and are flying to different destinations. For these two, SriLankan Airlines pays around a million dollars each every month to the leasing party through whom, as is the practice, they have been procured. The third Airbus, A 330-300, was scheduled to be delivered later this month at the same leasing cost.
However, unknown to ministers who gave approval for the procurement, the third aircraft was to undergo modifications. It had been decided a facility to make it a dedicated aircraft for former President Mahinda Rajapaksa for foreign travel. From the assembly line in Toulouse, southwestern France, it was being moved to another area in the huge complex. There, plans were under way to remove the 28 Business Class seats in the front part of the aircraft and put in its place a specially constructed facility (or kit). "That is a veritable luxury apartment in the sky. It would have a toilet with showers, luxury seating including a bed, television, refrigerator, satellite telephone and other amenities. It would be like the US President's Air Force One without the sophisticated electronic paraphernalia," said a source familiar with the exercise.
In order to accommodate this facility (or kit), Airbus engineers had said that the new aircraft body would have to be re-inforced in the front cabin area to take a weight of an additional ton. That meant that whilst on commercial flights, the Airbus A330-300 (with the facility removed and replaced with seats) would yet burn more fuel due to the increased payload. Engineers and technicians from SriLankan Airlines in Colombo were to be flown to Toulouse to be trained in fixing and removing the facility (or kit). The time taken to fix or remove them is said to be three days each way. That means for three days before a VIP flight and three days thereafter, the aircraft would have to be on ground till the facility (or kit) is removed and is replaced with the 28 Business Class seats. Thus, for six long days the new aircraft would not have been available for commercial operations, quite apart from it being unavailable when with the President is on foreign tour.
If that is bad enough, the re-fit was to take almost four months costing the national carrier four million US dollars as lease during that period. Adding to that is the cost of the re-fit which is said to be more than US$ 16 million or over two billion rupees. With the leasing fee of US$ 4 million, it would total US$ 20 million or more than Rs 2.6 billion. Whether the re-fit cost had been written into the six A 330-300 and four Airbus A 350-900 with Rolls Royce XWB engines each costing US$ 283,308,300 or more than Rs. 35.6 billion that is being purchased is not clear. However, what is clear is the fact that no approval had been obtained last year from the Cabinet of Ministers for expenditure for the re-fit costing more than Rs. 2.6 billion. It is they who approved the initial order on a recommendation from the former Civil Aviation Minister Priyankara Jayaratne. It was for purchase of aircraft for"wide body re-fleeting" of SriLankan Airlines.
It was at the nick of time that President Maithripala Sirisena and Prime Minister Ranil Wickremesinghe were apprised of the situation. The Cabinet later decided that the re-fit programme should be cancelled immediately. They directed SriLankan Airlines to terminate that arrangement with Airbus Industrie. As a result pilots from the national carrier will fly to Toulouse to take delivery at the end of this month, the third A 330-300. The three remaining aircraft are to be delivered by the French aircraft manufacturer only later this year. This is in view of central tanks being fitted to enable the use of these Airbus A 330-300 on long haul flights.
The first indication of the new Government's move to cancel the re-fit order came from President Sirisena. He asked an interviewer on Rupavahini the previous Saturday night: Do you know that an aircraft which has been paid for by the Treasury and that is to be used as the official airplane of the President? He said it cost US$ 16 million. Look at how much it costs. I will not take your time to detail the luxuries that are part of this aircraft. It is exclusively for the use of the President and was awaiting delivery to Sri Lanka. I discussed this with the Prime Minister, the Cabinet and decided that we will not take delivery of this aircraft. We have announced in the budget that SriLankan Airlines and Mihin Lanka will be amalgamated. We have decided to use that money to buy spare parts for the aircraft.
No doubt there was some confusion. Later, official spokesperson Rajitha Senaratne was to say that SriLankan Airlines had "got a VVIP kit and 160 seats had to be removed to fit it." He told the weekly news briefing that such a re-fit would have deprived passengers of seats. Finance Minister Ravi Karunanayake told Parliament during the presentation of his 'mini budget' on January 29 that "The recent Airbus purchases made by the loss-making national airline brings out another wanton exercise of utter waste where a VIP kit had been attached…… offered free of charge. Whereas a question could be asked as to why the cost had not been renegotiated without including luxury equipment or is it another episode under the mega deal category? "
The luxury re-fit on an Airbus A 330-300 for the former President's foreign travel apart, there were also two luxury Russian-built specially fitted Mi-17 transport helicopters that were imported for use by the former President. That was for domestic travel. This was after the Tiger guerrillas were militarily defeated nearly six years ago.
This VVIP configuration with only nine seats and onboard satellite communications cost US$ 13,446,015 or more than Rs. 1.74 billion. Another VVIP 13 seater Mi-17 helicopter also for former President's use was purchased at US$ 13,511,015 or more than Rs 1.76 billion. Optional equipment for this second VVIP helicopter cost US$ 1,404,879.10 or more than Rs. 182 million. Besides these two VVIP Mi-17 helicopters, 12 more helicopters were obtained from Russia under a credit line. Here are the details:
Four numbers Mi – 17 SH Military version US$ 13,037,265 or over Rs 1.69 billion each. Optional equipment US$ 2,922,469 or over Rs. 379 million each.
Two numbers Mi – 17 E – 22 seater US$ 12,421,390 or over Rs 1.6 billion each. Optional equipment US$ 2,017,796 or Rs. 262 million. Optional equipment US$ 2,017,796 or over Rs. 262 million each.
Six numbers Mi-17 E – 26 seater US$ 12,468,765 or over Rs 1.6 billion each. Optional equipment US$ 6,594,410.50 or over Rs. 857 million each.
During a span of 12 years when the separatist war with Tiger guerrillas was raging, the Sri Lanka Air Force (SLAF) held only eight Mi-17 helicopters among its assets. While one of them crashed in the northern seas, another was shot down. The new fleet was procured after the guerrillas were militarily defeated. Thereafter, the Ministry of Defence contracted three of the Mi-17s to a UN mission engaged in Central Africa. A further three Mi-17 helicopters are due to leave Sri Lanka later this month on lease to a UN mission in Sudan. This is the first time that SLAF assets, procured from another country, have been leased by the Ministry of Defence to an outside source. It is not immediately clear whether the Cabinet of Ministers have granted approval for this purpose. After all, national assets are being leased to foreign parties however legitimate they are. Finance Minister Karunanayake said in his 'mini budget' speech that the prices paid for the helicopters were now being probed.
An area of dissatisfaction amongst the public is over the National Unity Government's inability to move with speed to deal with bribery, corruption and other forms of malpractice of the previous regime. They say that many a media exposure has been made and the matters appear forgotten thereafter. The issue was also raised at Wednesday's ministerial meeting by Minister Rajitha Senaratne. He noted that action against those who served in the Mahinda Rajapaksa administration was not forthcoming.
On the other hand, Government legal advisers argue that exposure alone would not do if there is no evidence. An oft-repeated remark has been the fact that if the UPFA had come to power, hundreds would have ended up in jail by now.
However, Foreign Minister Samaraweera defended the Government. "We have to go through a due process in keeping with the laws of the land. We have only scraped the tip of the iceberg so far. It takes time but it will not be forgotten or abandoned. We will go ahead and deal with those involved no matter what positions they held or what power they wielded." So a nation waits for the fulfilment of the pledges including the 100-Day Programme of Work. Those who voted for the 'Maihtripaalana' are getting a little restless.