Govt. having its say tripped while having its way
By Chandani Kirinde, Lobby Correspondent
View(s):
It was reality-check time for the minority Government of Prime Minister Ranil Wickremesinghe in Parliament on Friday, when it faced some stiff opposition over disagreements on a date to debate the Mohan Peiris removal/Shirani Bandaranayake reinstatement issue. One thing was clear from the outcome of the day's proceedings which brought Parliament sessions to an abrupt end. A minority government can have its say, but not its way.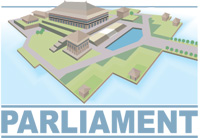 The day began with the Government side riding high following the feel-good Budget it presented on Thursday, but things got stormy after Prime Minister Wickremesinghe read out a detailed statement explaining the circumstances that led to the removal of Peiris. Speaker Chamal Rajapaksa suspended sittings for 20 minutes after the Prime Minister's speech, to discuss the Opposition's demand for an early date to debate the Chief Justice's (CJ) issue, but after an extended closed-door meeting between party leaders, no agreement was reached.
When sittings resumed, led by former Chief Government Whip (CGW) Dinesh Gunawardena and MP Wimal Weerawansa, several Opposition MPs demanded that they be allowed time to debate the Prime Minister's statement on Friday itself. The most vociferous speaker was Mr. Gunawardena who alleged that, "The Government's action had undermined the authority of Parliament, as it overturned a decision taken by the Legislature. Only Parliament can remove the CJ and not the President. There is procedure laid down for this to be pursued, and it must be followed," he said.
Mr. Gunawardena further said that the Government had been influenced by the Bar Association of Sri Lanka (BASL), which acted to throw out Mohan Peiris using thuggery. Mr. Weerawansa said there were many questions pertaining to the method used by the Government to remove Peiris. "We have no problem about Mohan Peiris being removed, if a motion was brought to Parliament for his impeachment and adopted by the House. We are not here to appear on his behalf, but our concern is the method used for his removal," he said.
Most SLFP members in the Opposition, including Leader of the House Nimal Siripala De Silva and Opposition Whip John Seneviratne were less vocal, but urged an early date be fixed for the debate. Things came to a head when Mr Gunawardena asked for a vote on a motion moved by the CGW Lakshman Kiriella setting the next sitting day for Feb.5. Mr Gunawardena insisted that the motion be amended, setting the date for Feb. 2 and put to a vote in the House.
The Speaker, eager to defuse the escalating tension between the two sides, suspended sittings once again. He returned to his seat about half-an-hour later to hurriedly announce that sittings are being adjourned for the day, but did not set out the next sitting day as is usually done. Earlier in the day, Prime Minister Wickremesinghe revealed to the House some of the backroom drama that had unfolded, in which Mohan Peiris had featured prominently, from the day Maithripala Sirisena was elected President.
He said that, when he arrived at Temple Trees in the early hours of Jan.9, on a request made by former President Mahinda Rajapaksa, among those present there was Mohan Peiris. "When I asked him what he was doing there, Peiris said he had come to give some sort of advice and left the room. However, I learnt later from the Attorney General that, when he arrived at Temple Tress around 2.30 am that morning, Mohan Peiris had been present at that time too," the Prime Minister said.
Mr. Wickremesinghe added that, later Mohan Peiris telephoned him and said that there are attempts to remove him from office, and that, in future, he would ensure all Supreme Court judgments were in favour of the Government . The Prime Minister further said that Mohan Peiris, along with his wife, had also made an unscheduled visit to the residence of President Sirisena, as well as courted former President Chandrika Kumaratunga, to retain him in office.
"Along with Justice Minister Wijeyadasa Rajapakshe and Thilak Marapone, I met with him at Temple Trees, and here he asked for time till April to stay on as CJ. When I told him of the BASL Executive Committee decision which declared his appointment illegal, Mohan Peiris said if he is offered the post of head of mission in a place like Geneva, he would step down," the Prime Minister said.
He added the Foreign Minister had informed him that there were heads of mission vacancies only in Brazil and Vietnam, and Peiris was offered Brazil, but had turned it down. He was also informed by the Justice Minister that, within a few weeks the position in Rome would fall vacant and he could accept it. However, on Jan.26 the BASL had informed that the appointment of Mohan Peiris was an illegal one, and hence, action was taken by the President to remove him and reinstate Dr. Shirani Bandaranayake as the CJ.