The illusion that is life in sculptures and drawings
View(s):

Living in the modern world gripped by existentialism creates inner conflict for all human beings. The purpose of life, the insatiable need to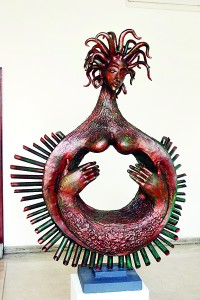 succeed and the root of contentment are among a myriad of philosophical topics mused upon during everyday life. In an attempt to capture the conflicted man of today, veteran artist Manoranjana Herath presents Inner Sounds, his exhibition of 15 sculptures and 20 drawings at the Barefoot Gallery on Galle Road.
At the entrance to the gallery is a sculpture of a woman with Medusa-like hair and a great hole below her heart. Despondently, she stares at the world while holding her palms below her breast. Entering the gallery, the visitor confronts drawings of featureless black heads on top of which faces depicting every human emotion are pasted. Each work dwells on what the artist refers to as the "personal battle of contemplation".
"Through my creations I wish to capture day-to- day problems like political emptiness and the desire for power. We can't express all our feelings through words. That is why there is drawing and sculpture. Life is a perpetual run in an illusionary world. I want the visitors to think about that when they look at my works. Most of the exhibits are self-portraits," the artist said.
The majority of the sculptures are semi-abstract and use different types of raw material ranging from cement to metal with living organisms like plants and small fish incorporated into the sculpture. The drawings are a result of screen printing and some even utilize discarded scrap metal. The creations identified as self-portraits contain pictures or moulds of the artist's own hands and feet.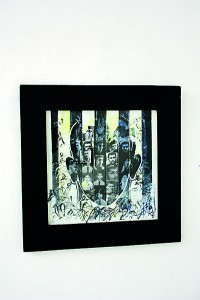 Manoranjana Herath obtained his PhD from the University of Kelaniya. He is currently a senior lecturer at the Department of Sculpture of the University of Visual and Performing Arts in Colombo. He has held solo exhibitions since 1990 and has been part of several international group exhibitions in the U.K, Bangladesh, Nepal and India. Dr. Herath is also a published researcher who authored "Imaginary Animal Figures in Gampola Period" and "Vehicle Decorations and Society in Sri Lanka".
"Having exhibitions helps me to keep updated and allows me to vent out the pressures of life," he says.
The exhibition which opened on January 22, is open for public viewing from 10 a.m. to 7 p.m. on weekdays and 11 a.m. to 5 p.m. on Sundays.
- Chiranthi Senanayake