Respite and revival
By Jyoti Dhar
Artists at the latest artists' residency at Theertha International Artists Collective, talk of the experience
View(s):
In a product- and results-driven world, the idea of taking a hiatus to read, research and reflect may seem superfluous. For artists, writers and other cultural producers, moving between periods of nourishment and output is as vital as it is natural. For many creative types, the interplay between learning and producing takes place in some form or another on a daily basis. There is one hallowed space, however, that allows for a complete retreat away from the quotidian. It is an opportunity known as the artists' residency. On the rise in and around South Asia, the artists' residency is a site for in-depth contemplation, knowledge production and the exchange of ideas.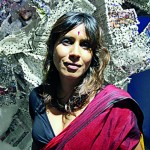 The majority of residencies around the world are affiliated with not-for-profit organizations or museums and can last anywhere between two weeks to two months. Often, artists are invited to participate in particular residencies, according to their theme, or will respond to an open-call for proposals, depending on the specific programme. Much of the time, artists will choose or are chosen to take part in programmes outside of their home nation. In this case, the chance for such practitioners to gain insight to an institution's archives, experts and milieu is often as important as the exposure to an entirely new country.
Susan Hapgood, the incoming Director of International Studio & Curatorial Program (ISCP) in New York concurs "Artists' residencies allow for dedicated space and time for intense focus. They also connect artists to new cultural environments, and forge professional links between individuals coming from other places." Certainly a crucial aspect of any residency is the community that a practitioner gets to be part of for a given time-frame, which includes the other participating artists. Some of the most engaging conversations and collaborations can occur when artists from very different backgrounds and stages of their careers come together.
In Sri Lanka, one of the main hubs for artists' residencies is Theertha International Artists Collective located in Borella, Colombo. Under the mentorship of Jagath Weerasinghe, Theertha is an artist-led, not-for-profit initiative and is part of the South Asian Network for the Arts (SANA)
as well as the international NGO, Triangle Network. Funded by Dutch development organisation, Hivos, Theertha's main focus remains on curating residencies and workshops as well as staging regular exhibitions at their adjunctive gallery, Red Dot.
For Layla Gonaduwa, being invited to take part in Theertha's latest residency entitled "Borders and Lines," allowed for the extrapolation and permutation of her ongoing ideas. "I wanted to talk about the temporality of landscape and was interested in how an author's ownership of a text ends once it reaches print," says Gonaduwa. Having previously worked with enamel, sculpture and text-based installations, Gonaduwa was initially unsure as to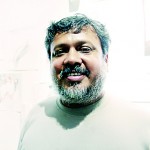 how she was going to execute her work during the residency. The interdisciplinary artist, who has moved toward a more conceptual practice over the years, admits that it came to her gradually. "After speaking to Tony [Evanko, a fellow participant], who has a minimalistic approach to his work, I fine tuned [my idea]. As such I came up with two separate installations that work together."
As part of the exhibition held at the end of the residency, Gonaduwa created a site-specific work made up of perforated pages, torn from the opinion pages of various newspapers. Strung up together to form some kind of entrancing web, the piece seems to echo stories from the past as well as reveal the precariousness of the present as it cascades down from the gallery walls. Scattered all around its base are the residues of Gonaduwa's act; the debris of disparate voices and gestures. Just in the peripheries of one's vision are little
figures of silver fish scurrying away from the scene – markers of Gonaduwa's earlier work "The Silver Fish" (2014) shown at the last edition of the Colombo Biennale – from which this was a progression.
Evanko, on the other hand, admits that the consequences of a residency are not always that immediately apparent. "The exchange of ideas, stories and experiences become raw material for future work. The results of this may not become visible for a year or two, but they will certainly become visible at some point." As an artist and the Director of his own residency programme at Casa Tres Patio in Colombia, Evanko admits that he came to Sri Lanka with preconceived notions about what his experience would entail. "I had some very naive preconceptions about the influences of globalisation on Sri Lankan culture. During my stay, because of our conversations and the travelling, I came to realise the very long cultural history and the religious and political implications of that history."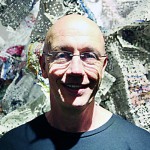 As part of the residency's exhibition, Evanko chose to display a video of lapping waves, shot in Galle, with a model boat suspended in front of the projector to create a shadow. The piece is a fairly pared down metaphor for transience and hope, and as the artist alludes to himself, the full manifestation of his explorations and travels around Sri Lanka may well be yet to come. During the month-long residency Evanko and another fellow participant Samit Das, chose to visit both Galle and Sigiriya. For Das, who had learnt about the country's art and architecture during his time at Santiniketan in India, this was a revelatory first trip to Sri Lanka.
Das, whose well-entrenched artistic practice has involved the exploration of archives, cities and space, was fascinated by the archeological aspects of Anuradhapura. In particular he was drawn to the 5th century frescoes (the Apsara paintings) found on the face of the rocks in the Sigiriya complex as well as the rock paintings and Buddha statues at the Dambulla Cave Temple. In a bid to excavate the similarities and distinctions between these and the Ajanta paintings in India, and to look at the Subcontinent's shared archival past – what Das refers to as his concept of "greater India" – the artist created a series of preliminary mappings and diary-like entries on the walls of the gallery for the residency's exhibition.
Gonaduwa ultimately reminds us of what interacting with artists such as Evanko and Das, as well as an overall experience like this, means for artists like her. "In a country where conceptual art is still very much in its infancy and the audience equally so, it can be a struggle. Residencies like these expose us to what is happening outside this island and gives us a chance to learn about different movements, meet people and enhance our thinking." As well as the educational and professional components to a residency, it is important to note that an artist's personal development can be just as significant.
Let's hope that in the years to come, artists such as Gonaduwa and her companions are afforded the chance of respite and revival through opportunities like this once again.
The exhibition, 'Border and Lines,' part of Theertha International Artists Collective's latest Artists Residency, is on at the Theertha Red Dot Gallery at 39/4A D.S. Senanayake Mawatha, Borella, Colombo until February 1.