Letters
View(s):

Express trains to Jaffna and Colombo

The Railway Department and Govt. boast about the train services from Jaffna and Colombo, but the allocation of seats is a problem. Travellers find it difficult to locate their seat and they have to search for their allotted number carrying their bags and baggages. At times they have to get the help of railway officers to locate their seat numbers.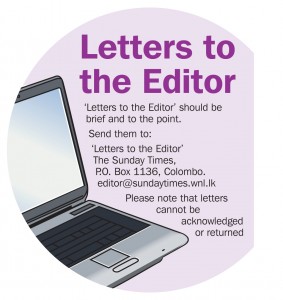 Furthermore the intercity train has no canteen facility. It is being dominated by vendors from outside freely walking up and down in the train. It is not clear whether these vendors are sanctioned by the Railway authorities and are serving the passengers with hygenically cooked eatables.
I travelled in the intercity train recently twice from Jaffna to Colombo and back. These trains never reach Colombo on time and it is the same from Colombo to Jaffna. The delay is due to trains waiting at signal lights for the local train to arrive on time. Sometimes Intercity travellers have to stay more than seven to eight hours without proper refreshment.
-Muttiah Macillamani
Upcoming polls: Nominate the right men and women for the job
For the first time since Independence the canker of corruption in the body politic of this country has received nationwide focus. With the recent exposures of the corrupt activities especially of the leadership of the rejected regime even the poor and the illiterate have come to be convinced of the immense damage that corrupt politicians and officials have done to this country.
The main beneficiaries of corrupt deals from mega to minor ranged from the leaders of the regime through parliamentarians barring a few, to Provincial councillors and minor legislators. These were the 'file' carrying frogs that figured in the recent cross-over mega drama that continues to receive public attention.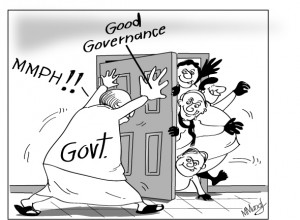 These corrupt elements, although the head has been removed, remain alive and kicking, waiting for the first opportunity to re-establish themselves again.
They are indeed smacking their lips and waiting to jump on the band wagon at the forthcoming Parliamentary elections.
The million dollar question is whether President Maithripala Sirisena as the leader of the SLFP will give nomination to these discredited rejects who are anathema to the nation and thereby tarnish his immaculate image?
A golden opportunity has arisen for the new leader of the SLFP to demonstrate his courage as a fearless decision maker and a leader who can put nation before party. Let the Rajapakse followers go the way of their master and fade away into the wilderness. As publicly admitted by one of them during the Presidential election campaign they have made enough. They will continue to live in luxury.
If leaders are clean their followers will also be clean. The leader of the JVP, UNP and JHU are incorruptible. To sermonise to them on corruption would be to insult them. Indeed, they have already shown the way.
Now the most challenging task before these four party leaders President Sirisena and Ranil Wickremesinghe, Anura Kumara Dissanayake and Champika Ranawaka is to drive the last nail into the coffin of corruption.
The way to do this is by ensuring that this country gets a Parliament comprising erudite men and women with untainted characters to whom the people could look up to. We need a legislature where children could sit in comfort in the galleries, the Hansard would be readable and informative, the debates interesting and the language parliamentary. In fact we need a Parliament that will not only be symbolic of our great heritage but also reflect the true state of development of the country materially as well as culturally.
At the Parliamentary election the people will have no alternative other than to vote for the candidates nominated by the parties. Leaders must look beyond the old hacks however 'loyal' they have been. The path has now been cleared for good people to fearlessly face the hustings. Hopefully, the era of cut-outs, posters, bribery, thuggery and intimidation has ended with the demise of the Rajapaksa regime. Party leaders must as a matter of the highest responsibility nominate good men with untainted characters and above suspicion for the people to vote for.
-Edward Gunawardena
Via email
The importance of gloves
Bites from poisonous snakes and other creatures are a common occurrence among labourers working in the plantation sector. Daily admissions to hospital indicate this grave situation.
There are instances these bites become serious with prolonged side effects and incurable wounds that sometimes lead to a painful death.
These attacks mostly take place when removing weeds in chenas, and gardens and when garbage is being cleared.
People seem to be unaware of the value of working with protective gear like gloves in such circumstances. However, ordinary gloves used for gardening for instance don't withstand the penetration even of a black-ant (Kadiya).
Krait bite is the most common because of the indolent nature of the serpent. I have no knowledge of the availability of bite preventable gloves at the local market. Can someone or any responsible company in the field of making gloves educate the poor workers?
-K.K. Kulatilaka
Elpitiya
We can now truly be the Pearl of the Orient
Unity in Diversity. While doing his homework, the son came across the phrase, "Vetrm, ayill otrumay". He asked the father what it means. The father started with a simple explanation (a) For a chew a person takes betel leaf, which is green, lime which is white, arecanut which is brown. When he chews them and spits out, the juice it is red. (b) Various items, such as butter, flour, eggs, plums are taken to produce a single cake, which is tasty to the palate, (c) A variety of flowers such as roses, jasmine, daisies and a variety of leaves are used to produce a single garland. Yet each preserves its scent and perfume.
Where there are different communities, languages, religions and cultural practices, each one of them is allowed freedom of practice, without fear, hindrance or interference – all of them blend into one to produce a single great nation.
The Common candidate idea was mooted as far back as 1999. It became a reality in December 2014 and followed by a grand sweep for Maithripala Sirisena on January 8, 2015.
The Pearl of the Orient can now be restored with Maithri Bavana throughout Sri Lanka.
S. Thambyrajah
Kandy
Pope, peace and prosperity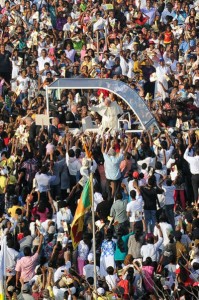 The Papal visit was a perfect example of efficiency in organisation and execution. Everyone, and I mean every person who participated in it, whether as organiser or observer, deserves great credit. One must not forget, the very important Presidential Election, which preceded the Papal visit; it too, was equally well organised, if not more so.
I was in Britain for 50 years, and I saw a few elections there, but this one outshines them all for peaceful polling. I might add, it produced the preferred and perfect result!
I wish the new government great success and the people, peace, progress and prosperity.
Dion J. Walles
Colombo 6
Get the formula right to put country on correct track
An election has come and gone. The saying goes that good brooms sweep well. And that, by itself, may not mean much but we have to ensure the basics are right. First on the list is good governances which again, has a three-sided meaning. First, all systems must be in place. Secondly, it is essential to maintain the Rule of Law. Thirdly, transparency of all actions must prevail.
When it comes to new development and work, the following should fall into place.
- a good public service
- performance evaluation of those in place
- a proper plan of action
- The question of leadership for which the correct procedures must be employed Leadership must be backed, not only with competent people, which brings us to the next point,
- the process of decision-making which must be streamlined and be efficient
- it is important that all of the above should be backed by an appropriate cabinet structure which will give the impetus and produce the results desired.
- last but not least, is the separation of powers which should always be in place where the executive, judiciary and legislature should not interfere with each other.
Let us hope that the new leader is in the process of implementing the above. For this he will need some input from civil societies that matter. And they in turn will need to interact and allow exchange of knowledge with the general public.
To perform any task, one must have the wherewithal and a proper structure of the key elements otherwise one will fail.
I am saying this with 57 years of engineering experience, some knowledge of history and a lot of common sense.
Thilak Wijesinghe
Colombo 8
Memories linger—My first taste of politics
I was a kid of five.
Election fever raging in Matara.
I stood by our gate with my two brothers.
Waving green flags.
A wave of green flags was nearing.
Shouts of 'Apey parta kola partai' – Jayawewa!
Chandha hora alu partai!
We shouted 'Apey parta kola partai' – Jayawewa!
Chandha hora alu partai!
Forgive me, Mr. Rajah H. – the Alu candidate.
I was only a little parrot!
Today, It's RVP – Ratata Vadakarana Partiya
Jayawewa! Jayawewa!
May my country be Blessed!
-Chathurani Abeyawira
Thalawatugoda
Truth will set us free
Our President has done it all now.He paved the way…gave us the vision-Maithree- (compassion).
If we want the president to establish a maithree palanya we are deceived.
It has to start from within our hearts and should start within our own families first. Then to your neighbour. Then to the office…etc..
"Love is patient,(A) love is kind. It does not envy, it does not boast, it is not proud.(B) It does not dishonour others, it is not self-seeking,(C) it is not easily angered,(D) it keeps no record of wrongs.(E) Love does not delight in evil(F) but rejoices with the truth.(G) It always protects, always trusts, always hopes, always perseveres."(H)
-Malcolm Perera
Colombo 3
Our wishlist
Now that a new era has dawned in our country may we wish that all our wishes come true?
May we form a list of the wishes and keep adding to it so that one day all of them will come to pass. After all what is life without dreams?
This is an ad hoc list. I hope others will keep adding their wishes and we can try to implement them in whatever way possible.
1. We wish all members of parliament declare their assets now and when they leave the post, whenever that may be.
2. We wish the MPs will be elected with minimum qualifications of at least 5 passes at the O/Ls
3. We wish no one with a history of proven crimes can hold a position in Parliament
4. We wish the MP's will behave with decorum so that we can take our children to watch them in Parliament without feeling ashamed
5. We wish politicians will stop driving at break neck speed on the roads pushing other motorists to the sides.
6. We wish no politicians are invited to programmes which are not their specialty
7. We wish every child will have a place in the government school in their own village/city close to their homes
8. We wish the Grade Five scholarship exam would be scrapped and the children allowed to continue in schools in their home towns and each town will have a fully equipped high standard school
9. We wish the school children be given career guidance as a rule and encouraged to follow vocations suitable for their talents.
10. We wish hospitals would provide common drugs to the patients and not ask them to buy them outside
11. We wish the consultation fees of the doctors would be standardised and the cost of special investigations/treatments like scans and surgery too
12. We wish tobacco and alcohol would be totally banned in our country (tall wish indeed!)
13. We wish a concerted effort be made to eradicate the garbage problems in a systematic way by recycling and minimising packaging material, specially non biodegradable material
14. We wish the beautification programme of the city be continued and extended to all the cities and villages
15. We wish a scheme is set up with the dream of "No citizen without a home"
16. We wish for a plan for the elders of the country where they can spend time in useful ways
17. We wish the cases in the courts do not take so long and they are heard at village/city levels before coming to courts
18. We wish lawyers' fees are standardized.
19. We wish musical star shows are replaced by other talent recognition
Want to add? Go ahead.
Dr. Mareena Thaha Reffai
Dehiwela
A crusader against corruption 
Pope Francis quoting from the Bible has said, "The corrupt should be tied to a rock and thrown into the sea" (Daily Mirror 14.01.2015. A7) This fiery language by such a humble personality surely reveals the evils and dangers of corruption on earth.
M. Mahdi
Fort, Galle
Time to change  the present vehicle licensing system
Since the new government has reduced the price of fuel the suggestion I would like to make is to do away with the present vehicle licensing system altogether for the following reasons.
For one, it would reduce the paperwork and manpower considerably and another is that the Police need not check the vehicles for the licence any longer thereby reducing their involvement which can be directed elsewhere where it is absolutely needed. This does not mean that there will be no payment of licensing fees, except that the mode of collection would be somewhat different, fair and efficient.
The proposed new system would be that instead of a payment of a lump sum for vehicle licence each year, a small element of that cost (to be decided by the authorities concerned) would be charged with the cost of fuel per litre whenever they pump the fuel whether it be petrol or diesel. This way, no one can avoid the payment of this vehicle licence element since whoever who uses a vehicle, whether they are buses, lorries or cars or motorcycles, they will be paying their fair share. As everyone knows, there is a considerable number of vehicles plying the roads without such valid licence.
The beauty of the system is that the more they use their vehicles, the more they will contribute. Equally, the bigger the vehicle or the engine capacity, more they will be required to pay. Each petrol station will be charged a pre-calculated element per litre against the total volume of each fuel delivered and this amount should be paid to the relevant Provincial Council say on a weekly basis. This I think is a more democratic way of charging the vehicle licence and is compatible with the new Government's ideology.
I hope this suggestion would be appreciated.
Ranji Fernando
Colombo 6