Laurels sit lightly on Lankan doc in the Caymans
On the eve of being bestowed one of the highest honours, 'Emerging Pioneer in Health Services', in his home away from home, Dr. Sarath Seneviratne who was in Sri Lanka talks to Kumudini Hettiarachchi
View(s):
On holiday in Sri Lanka, there is no undue excitement tinged with arrogance, only humble and matter-of-fact acceptance. On his return to the Cayman Islands, there awaits a great honour, which Dr. Sarath Seneviratne takes in his stride.
Tomorrow (January 26), he will be bestowed the Award for 'Emerging Pioneer in Health Services'and invited to join the Prime Minister of the Cayman Islands, Alden McLaughlin, for the subsequent celebrations which are part of the pomp and pageantry associated with Heroes' Day.
It is not the first time that Dr. Seneviratne, currently Assistant Professor at St. Matthew's School of Medicine in the Cayman Islands, has thus been honoured. An Obstetrician and Gynaecologist, "with a lot of work in infertility" to his credit, he is probably one of the most qualified doctors in the world. The other laurels which have been showered on him are a medal and certificate in Her Majesty The Queen's Birthday Honours in January 2014 and the Commander Medal of Honour in 2013.
Dr. Seneviratne is the only foreigner to be bestowed all three awards extended to those of eminence in the Cayman Islands, while only a single Caymanian has received not all three, but just two of these awards.
The story of this Sri Lankan who has reached an exalted status in the Cayman Islands unravels over sandwiches, delicious home-made butter cake and tea in the elegantly-decorated sitting room of his Cambridge Place home in Colombo 7. While their Colombo home is the base for wife Rashantha (known among friends as Chinki) and their only son, Sacha, both lawyers, the home away from home is in the Cayman Islands.
One angle of the multifaceted personality of Dr. Seneviratne who dabbles in painting and poetry while also writing books (he has authored 'Golden Boy', 'Memoirs of a Thomian' and 'Common Sense') is amply portrayed in the large canvases adorning the walls of their home.
When his family's visits to his Cayman Islands' home are over, he indulges in painting to his heart's content, he says, pointing to a large canvas depicting the image of a feminine figure rising from among lotuses that he had presented to Chinki on her 50th birthday.
No mean sportsman, he has played cricket for the Moors Cricket Club and headed the Sri Lanka National batting averages in 1976, captained S Thomas' College (STC), Mount Lavinia (1964-65), captained the Sri Lanka President's XI Vs Malaysia in 1972, with those of the ilk of Anura Tennekoon, Bandula Warnapura and Duleep Mendis playing under him and also been the All Sri Lanka (All Ceylon) Captain to Pakistan in 1972 against the Pakistan Sind XI, which the border war, however, had prevented.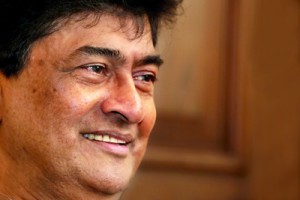 In hockey, he had represented Sri Lanka in the Asian Games in Bangkok, been Vice Captain when the team went to New Delhi and Captain in Agra. He has won university and Thomian colours in cricket, hockey, rugby and football.
Hailing from the 'Gallindagoda Walauwa' in Leuwanduwa, Welipenna near Matugama, Dr. Saratchandra Buddhapriya de Alwis-Seneviratne, 69, had his education at STC and entered the Medical Faculty of the University of Colombo.
Laughingly he says how when he went to England, he was called Dr. or Mr. Sarath or S. and in the Cayman Islands too they could not pronounce his name using only half his surname, making him settle for the shortened Sarath Seneviratne.
Having passed out of the Colombo Medical Faculty, while setting his sights on specializing in obstetrics and gynaecology, he had also secured numerous other qualifications — MRCS, LRCP (Eng); RCP, LRCS, LRCP&S (Glas/Edin); AC/TCM (Peking); Sports Med (Ger.); and MACF (SL); which included a Diploma in Acupuncture and Traditional Chinese Medicine from China and a Diploma in Sports Medicine from Germany and also full registration to practise in the whole of the United Kingdom.
His post-graduate qualifications include FRCOG (GB); FRCS (Edin); MRCP (Ire); FFSRH (GB); FRSM (GB); and FACOG (USA) while the other affiliations are Membership in Cosmetic Surgery (AACS); Cosmetogynaecology; Aesthetic Medicine (AAAM); Gynaecologic Oncologic Surgery; Advanced Minimal Invasive Surgery (AAGL);  Colposcopy; and the Golden Glove Club (Paris EEC).
Working in England until 1994, Dr. Seneviratne had been invited to the Cayman Islands (the British OverseasTerritory in the western Caribbean Sea comprising the three islands of Grand Cayman, Cayman Brac and Little Cayman, with George Town as its capital) to be the Head of Department of Obstetrics and Gynaecology and Consultant to the whole country.
When asked why they would have chosen him, he replies that they would most probably have looked at his qualifications.
For Dr. Seneviratne, the attraction of Cayman Islands was that "the weather is like that in Sri Lanka, whereas England is cold and it is a cosmopolitan country with people from all walks of life" in the population of about 60,000 that inhabits the three islands. An added boon was that it was a tax-free job.
With seven Obstetricians and Gynaecologists already in the Cayman Islands and health structures present in a small way, his task was to strengthen and develop these structures, lowering peri-natal mortality rates and improving medical education.
He set about his work in earnest, writing a labour ward protocol and conducting clinics. Now there are 10 Obstetricians and Gynaecologists and 300 doctors.
Continuous Medical Education (CME) through weekly lectures, Dr. Seneviratne introduced to the Cayman Islands, delivering the first five, himself. "When doctors and nurses take part in CME, there is a strengthening of knowledge. It is a learning exercise. Points are given to those attending and also those giving the lectures. Twenty such points are needed to practise medicine," he explains, adding that without CME, it is like being frogs in a well.
Much is left unsaid by him but a web search reveals that while his specialities are infertility, cancer screening and pain relief, he has pioneered techniques in laparoscopic surgery, earning him Harvard University recognition for the 'Modified de Alwis technique'. This technique minimizes the risk of damage to the bowel and other structures during laparoscopic gynaecological surgery.
Just two years into his tenure in the Cayman Islands, he had been invited to join the private Chrissie Tomlinson Memorial Hospital, an American-type institution, as Specialist/Consultant. This private hospital had been set up in memory of the mother of Dr. Steve Tomlinson, the first Caymanian doctor, says Dr. Seneviratne, adding that he decided to switch because with the earnings there it was easy to engage in charitable work.
Not only does he assist 'The Pines', a Home for the Aged, the Young Parents' Programme, the Cancer Society, the Humane Society and the Red Cross but also sportsmen and women while sponsoring the Ladies' Cricket Team that has been on a three-year winning spree.
For both Dr. Seneviratne and Chinki, social service is in their veins, for they are from families which have produced stalwarts who have helped society in Sri Lanka.
Dr. Seneviratne's parents, Hinton D'Alwis-Seneviratne and Una Wikramanayake have donated land to numerous Buddhist temples. Chinki's granduncle Sir Cyril de Zoysa and father Kingsley Wickramasinghe, a well-known criminal lawyer, were the main architects behind the construction of the Kalutara Bodhi. Mr. Wickramasinghe had been the Secretary of the Kalutara Bodhi Trust for 20 years.
In his charity missions, Dr. Seneviratne has not forgotten his homeland. A long-standing benefactor of his alma mater, he along with Ven Mettavihari, of Dharmavahini, Chinki, Sacha and Mr. Ajith Perera, had launched the first Buddhist and educational TV channels while he has also set up the day and night indoor cricket complex in Kalutara in memory of his father-in-law, built several places of worship and a computer centre.
He has made a concerted effort to support the field of medicine. Paying out of his pocket for the airfare, hotel stay and even sea-plane flights to Kandy, he has facilitated the sharing of knowledge by two well-known Harvard Medical School academics – Prof. Jan Einarsson and Prof. Julian Robinson on laparoscopic surgery.