Indian Summer shines on Colombo
By Chiranthi Senanayake
View(s):
Yearning for sweet and sour tofu or buttery naan with hot garlic lobster?
The words "Indian Summer" may spring to mind sunshine, spices and smiles, and bringing its own blend of cuisine to Colombo, the international restaurant chain Indian Summer opened its first diner at Horton Place, Colombo 7 on January 16.
Though Indian Summer specializes in North Indian fare, it also offers Indo- Chinese and Thai food as evident by the slogan "fusion cuisine". The chefs use special cooking techniques like Dum cooking which is the art of slow cooking a dish's core ingredient overnight so that it marinates in its own juices. They also use an Indian clay bake oven to make their Tandoori menu items.
The Colombo 7 restaurant is part of an international hospitality brand that was launched in 2004 and now has branches in Australia, London as well as the Middle East under different names like Seasons and Summer Palace.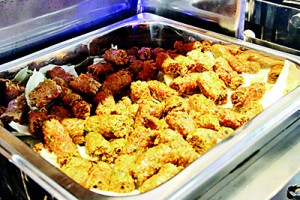 A feature of the restaurant is the interactive kitchen where the customers can observe the cooking process being done by an all Indian team of chefs.
Sri Lanka is no stranger to North Indian cuisine. Thanks to wayside eating shacks in Maradana and a plethora of Indian restaurants, North Indian fare is familiar and popular. However, Indian Summer aims to stand out from the rest offering authentic North Indian delicacies made under standardised hygienic conditions, said a Director of the company, Khushru F. Mistry.
"Hospitality is pleasing people and that is what we want to do. Customers must try our signature butter chicken dish and our biryani. We are also big on kebabs and bread. The food is definitely value for money. A couple can easily eat here for Rs. 4000. Our buffet goes up to 24 dishes." he added.
The Group chose Sri Lanka for its newest Indian Summer restaurant because the country is an emerging market with a booming tourist industry, Mr. Mistry said.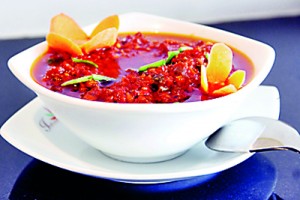 Under the management's inclusive policy, the restaurant serves Halaal food and it has applied for an official certificate. Paying great attention to health aspects, unsaturated fats like olive oil and imported quality spices are used.
Customers can order online via the website http://www.sundaytimes.lk/150125/ and delivery is offered within an eight km radius. Indian Summer also caters for outdoor and indoor functions.
A BOI registered company, Indian Summer's is looking to expand to Kandy and Nuwara Eliya. It also hopes to open a four star hotel in the country.