GBC brews innovation and industry leadership
View(s):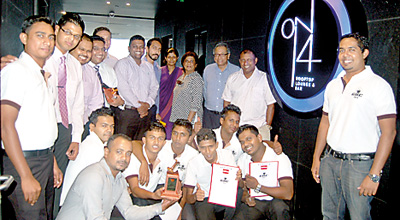 Barista Lavazza specialises the perfect cup of coffee – with enough flavours and variations to please even the most discerning palate. The pinnacle of recognition for this incredible skill, is the Grand Barista Championship or GBC. This competition brings together employees from all of the chain's twelve outlets to battle it out to crown the brand's number one barista. 
Conducted in Sri Lanka for the second consecutive year, the GBC adheres to the rules and regulations set forth by the World Barista Championship, pitting the Sri Lankan baristas with standards expected internationally – and they were not found wanting. The semi final round held at the Barista Lavazza outlet at the World Trade Centre saw 18 of the 60-plus strong Barista team from outlets all over the country compete for top honors.
The overall winner of the 2014 Grand Barista Championship was D.M.D. Sampath, a young barista from the city of Badulla, currently working out of the Barista Gandhara (Colombo 6) outlet. Sampath joined Barista over a year ago as a Junior Brew Master, with absolutely no prior experience with coffee. For his signature beverage in the final round of the Grand Barista Championship, Sampath prepared a 'Sweet Cardamom Whisper', which brought together tantalizing Sri Lankan spices such as cardamom and clove, with premium quality Italia coffee to create a tantalizing blend of his own creation.
Barista Lavazza is the first international coffee chain to set up in Sri Lanka. Having launched their first outlet in Colombo in September 2002, the chain now operates twelve espresso bars across the island and has a host of initiatives planned for the near future.