Cut out to dress up men!
View(s):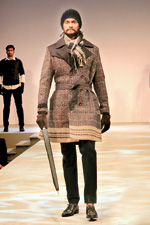 Three young AOD graduates whose menswear  hit the ramp recently talk to Duvindi Illankoon
It's not just the women who like to dress up to the nines! Among the innovative designers who showcased their collections at the Sri Lanka Design Festival last December were three designers who chose menswear as their focus. They were among the 24 young graduates of the graduating class of the Academy of Design who took to the ramp with their final year collections, as the SLECC filled up with their friends, family and industry professionals. The ST Mag caught up with the three of them in the aftermath of the show:
Kasun Gunawardana
Kasun is all about everything that is minimalistic, and says "I wouldn't call myself a fashion designer" at the very beginning of our interview. Then what on earth is he doing designing clothes? "Fashion for me is art as opposed to something commercial," he explains. "So I can get away with experimenting with things and creating my own visual identity."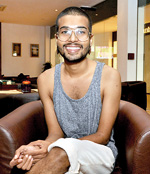 Formerly a student of LaSalle in Singapore- where he studied Fashion Design and Textiles in Menswear- Kasun is now a happy graduate of AOD. He has always been fascinated by fashion, he says, but it was only as a fashion design student that he developed a passion for nature and sustainability, and a sense of appreciation for discipline as a designer.
His collection, titled 'Dhayana' means detachment, and to visualise it Kasun spring cleaned his room with gusto so he would have 'space' to think. "The emptier it got the better I felt," he laughs. "I also knew my collection would have to be very breathable." The collection was inspired by Japanese menswear, and the light, natural fabrics were tailored to fit, but also to ventilate- "for example a piece would give the impression of a jacket, but it wouldn't look strictly formal."
Kasun also works as a costume designer and hopes to develop a lifestyle products range named 'Kasun's Place' soon.
Senani Wickramasinghe, 26
An IT student turned fashion designer, Senani indulged a long held love for art by deciding to choose fashion design when her IT degree wasn't quite turning out the way she expected it to. Her family was super supportive, she says, and when she joined AOD she found another supporter and mentor in the form of Principal Karen McLeod.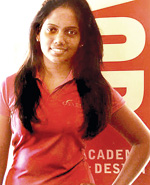 "I really enjoy my work," she says. Senani now works as a designer at Kiito's, a bespoke tailor in Colombo. Her ambition is to work in modern tailoring for men and women using craft textiles and her graduate collection echoed these sentiments, as she used handloom, batik and knitting techniques to bring a "vintage classic look" to her pieces.
Inspired by 40's menswear, the unnamed collection drew some of its inspiration from stained glass windows commonly found in churches. Although the look was vintage, Senani wanted her collection to evoke a contemporary feel too and used the 40's inspiration to create wearable jackets and pants for the modern man. The result, she finds, is an entirely satisfying marriage of old world charm and modern appeal. 
Jeevagarunyan Thavaratnam, 23
For Jeevaguranyan, or Jeeva as everyone knows him, fashion design wasn't exactly his first choice as a career. "I was first into car design," he happily admits. "But then I realised that it would involve way too much studying, so I chose fashion design instead!"
Jeeva joined AOD in 2011, and chose to specialise in textiles. His graduate collection uses three main materials-canvas, denim and twill- and at the urging of his lecturers he added a fourth material in the form of linen. His collection 'Y Not?' was inspired by vintage gas stations in the US, which we think is rather delightfully random, although self-explanatory. Oil creases on denim was his initial concept and he soon developed it into a fully formed collection using prints and washes to good effect.
Now that he has graduated, Jeeva hopes to work in a professional capacity as a menswear designer.