Cinnamon Grand's Nuga Gama enhances its offerings in the New Year
View(s):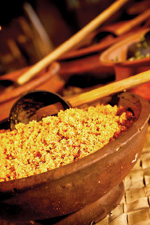 Authentic Sri Lankan restaurant cum village, 'Nuga Gama' at Cinnamon Grand proceeds in to the New Year offering enriched traditional Sri Lankan culinary products to its guests. Fondly referred to as 'the village in the city,' Nuga Gama recreates the rural village experience with its eco-centric set up with thatched roof mud huts and traditional innuendoes, heralded the New Year with innovative' dishes added to its highly popular menu.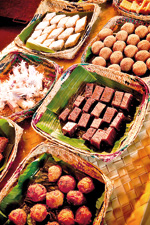 This month, patrons are in for a treat given the many new and innovative dishes that have been introduced to the restaurant menu. Open daily for dinner and on weekends for lunch, Nuga Gama will now serve Toddy Crab in its bite menu to compliment the local spirits and special beverages, a pumpkin juice for refreshments, Goraka Chutney to heighten the taste of the dishes, a special savory tempered broken rice and two desserts – ash plantain biscuits and Wellapthuru from rice flour and cinnamon will be added to the extensive menu, conceptualised by the Nuga Gama team. A range of hoppers with innovative mixtures have also been added to the list. These include hoppers made from semolina and kuruakkan among others.
Nuga Gama's Chef Sujith Ariyarathna stated that the new additions are part of a bigger plan to introduce new flavors, created out of local vegetables and fruits promoting clean dining and healthy living. "All dishes served at Nuga Gama have nutritional value. We serve organic produce, mostly from our own garden and if not from trusted sources. Our preparations are in keeping with the traditional methods which enhances the nourishment of food," Chef Ariyarathna said.
The weekend lunch buffets consists of three-types of rice dishes – two traditional and one savory rice, staple diets boiled maioc, jack fruits, etc, four meat items such as Chicken Curd Dry Curry, Mutton Black Pepper Curry, Beef Curry, Babath, five seafood dishes the likes of Jaffna Crab Curry, dry fish (Karawala), Prawn and Cuttlefish, two salads, five sambols made from Thubu, Kowakka, Aguna, Gotukola, etc and over ten types of desserts. Kee roti (coconut, honey and cashew), Wella Pathuru (flour, penil pol, cinnamon powder), Pomala Watta (like narang kewum), Seeni Pittu (kom pittu), Godapara (from the Welithalapa mix) – sweetmeats from the villages are all on offer.