A twist in the tale
By Duvindi Illankoon
The Mirror Magazines catches up with the director and cast of Cold Theatre 7 on their latest production 'The Mousettrap'
View(s):
A piercing scream rings through the house. Seven people run into the living room to find a body lying prone on the floor. As panicked voices debate what to do a nursery rhyme plays softly in the background. "Three blind mice, see how they run…"
The stage is set for Agatha Christie's 'The Mousetrap', the world's longest running play to be enacted in Sri Lanka for the first time by Cold Theatre 7. Director Kevin Cruze finds himself tackling his second Christie in a row and says he's still thoroughly enjoying this genre of mystery and suspense Cold Theatre 7 brings to Colombo audiences.
If you watched their last production 'And Then There Were None' then the beginnings of this tale may sound slightly familiar. Four guests arrive at Monkswell Manor run by the charming Mollie and Giles Ralston. They are soon joined by Mr. Paravicini, who claims to have had his car overturned in a snowdrift.
The houseguests are for all purposes trapped until the snowstorm eases, so they're surprised when a young man joins them; he reveals himself to be Sergeant Trotter, on the hunt for a murderer. Soon, the houseguests and its owners are under scrutiny and their ambiguous personal histories are questioned. Everyone's a likely
suspect and this leads to plenty of tension and mistrust as the play unravels.
THE RALSTONS
Mollie Ralston:

Thanuja Jayawardene/ Dinesha Senaratne
A determined young woman, Mollie is the entrepreneurial force behind Monkswell Manor, bequeathed to her name. "Mollie is possibly the most relatable character in the play," says Thanuja and Dinesha echoes this sentiment. "She comes across as straightforward and probably a little dull at the start, but after a while you realize that she's a pretty layered character."
Giles Ralston- Anuk De Silva
Anuk's character is a genial young man and supportive husband. Giles knows that it's really his wife who runs the show and he's happy to take a back seat. He is also-admittedly along with everyone else in the house- a suspect in Sergeant Trotter's investigation. Both Giles and Mollie have personal histories that are not entirely made clear.
---
THE GUESTS
Major Metcalfe - Chrishan Silva / Niren Ranasinghe
A retired army man looking for a quiet spot in the country to relax, poor Major Metcalfe has definitely chosen the wrong place to holiday in. A rather officious gentleman with an abrupt, no nonsense manner, Major Metcalfe is a military man through and through. But don't expect a character in black and white, say the actors. "The good thing about working with Kevin is that we've really had to analyse our characters so there's a story behind each character and the way they act, " says Chrishan.
---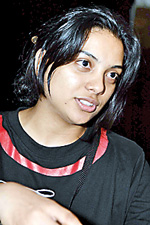 Miss Casewell-Liza De Jong / Kavitha Gunasekera
A tomboyish, rather mannish young woman, Casewell has a sense of dry humour almost always lost on her fellow guests. "She's ambiguous," says Liza. "Like everyone else she has an agenda for being here." Playing Casewell, a woman remarkably different to Boyle whom she also plays is a love-hate affair for Kavitha. Sharing her characters with someone else definitely has its advantages, she smiles. "I get to watch the other person playing my character and see a different interpretation. It only adds to how I approach my role."
---
Mrs. Boyle-Kavitha Gunasekera / Piorina Fernando
Every good Christie play must have its overbearing and incredibly irritating older woman and The Mousetrap is no exception with Mrs. Boyle's character.
Boyle is critical of anything and everything around her, and her disdain includes this guesthouse she booked herself into. Will Boyle's ability to grate on the nerves of anything that moves finally get the better of her? You'll have to watch the play to find out.
---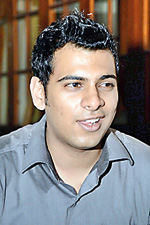 Christopher Wren- Wasaam Ismail
"He's a slightly socially awkward guy who manages to always say the wrong thing at the wrong time-although he means well," we're told by Wasaam, who makes a theatre comeback after a hiatus of two years with this play. Christopher is instantly disliked by his fellow houseguests and finds himself easily cast as a suspect, especially as he seemingly turned up out of nowhere.
---
THE UNEXPECTED VISITORS
Mr. Paravicini-Dulika Jayamanne
A dark, mysterious man with a foreign accent, Mr. Paravacini is a guest making an unplanned stop at Monkswell Manor. His continental manners and plain old foreign-ness earn him a place on the list of suspects.
Sergeant Trotter-Amesh De Silva / Heshan Perera
Detective Sgt Trotter is the last to arrive and he's the one to alert everyone to the possible presence of a murderer among them. He is here to protect them, he says, and investigate the matter. "He's looking to make a name for himself as a detective," say the actors. "So he's desperate to crack this case, but quite fairly interrogates everyone."