Welcome to the new world order – embrace footgolf
View(s):

Two of the renowned sports of the world, football – the most popular, and golf — the most richest; have merged lately to create an unexpected

trend around the globe in the form of 'footgolf'. The United States of America and even the whole of Europe have embraced this new sport, founded in 2006, but in Asia, where football is still the top sport as in the remaining part of the globe, 'footgolf' is yet of unknown quantity.

Footgolf is just as simple as it sounds: it's golf, played not with a golf ball and a heavy set of clubs, but with a football and your foot. The only modifications necessary to existing golf courses are footgolf holes, which measure a regulation 21 inches in diameter.

But in Sri Lanka neither the Football Federation of Sri Lanka (FFSL) nor the Sri Lanka Golf Union (SLGU) were aware of such a new trend. The President of FFSL, Ranjith Rodrigo stated that though he had heard of footgolf the country would not be in a situation introduce the sport, concerning the infrastructure effort they would have to make.

"It's obvious that football is the most popular sport in the world with over 200 countries engaged in it. The FIFA is continuously making attempts to provide more facilities to developing countries like Sri Lanka. In addition FIFA is keener on promoting its own versions such as futsal and beach football, which are really popular by today," stated Rodrigo.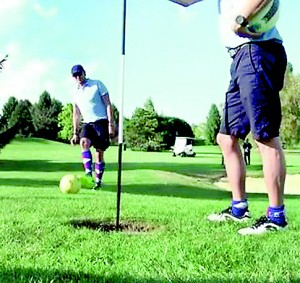 "Footgolf would need a huge land to create a course similar to golf and it is still not even in the agenda of FIFA. But to have a newer version in football is really interesting and after all it's a joint of the most popular and the richest sport in the world. But for now it's alien to Sri Lanka," he added.
Even the SLGU was clueless of a sport that is incorporated with the most popular global sport. SLGU official Reshon Shamlai stated that they have heard nothing of a sport by the name of footgolf.
"No we don't have any idea of such a sport. That's news to us. Now that we heard of it, we will explore what it is all about," he said.
The sport's global governing body is the Federation for International Footgolf (FIFG) and as at present it has 25 members, including the UK and the USA. But nowhere has footgolf taken off faster than in the USA, where there are almost 200 courses in 37 states, with about 30 in California. Next month, more than 100 players, from countries including Norway, Hungary and Argentina, are expected to compete in the world's first Pro-Am FootGolf tour at River Ridge in Oxnard.
Footgolf organisers have been able to capitalise not only on football's rising popularity in the USA following the recent World Cup held in Brazil, but also on golf courses' desperation to arrest their own sports' decline. Data from the US National Golf Foundation suggests that more than five

million people have quit playing golf in the past 10 years, while potential players under the age of 35 are uninterested in a pastime they consider time-consuming and weighed down with etiquette.
The sport was introduced to North America by Roberto Balestrini, a veteran of the hospitality industry, who has co-founded leagues in Canada, Mexico, Puerto Rico and the USA. The Argentinian-born Balestrini (51), stumbled across footgolf on an obscure USA cable TV channel, where he saw it being played by Martin Palermo, a former striker for the Buenos Aires side Boca Juniors.
The best footgolfers combine a golfer's brain with a footballer's toe – but part of footgolf's appeal, Balestrini had said, is that anyone can play: men and women, young and old, talented and talentless. "I can't run around a football pitch for 90 minutes anymore. But even a 7-year-old can kick a ball and walk – and so can a 70-year-old."
However footgolfers must abide by certain aspects of golfing etiquette, such as attire: argyles are encouraged; football studs are forbidden. But otherwise players can take it as seriously as they wish.
- NA