Unmasking the masks
View(s):

K olam, Thovil, Sokari and the like used to be vital components of Sinhalese village life well into modern times. These night-time rituals were anticipated by villagers for the excitement of their drama, colour and devilry- which were just as important as their religious aspect and healing faculties, though today these rituals seem anachronistic to many of us.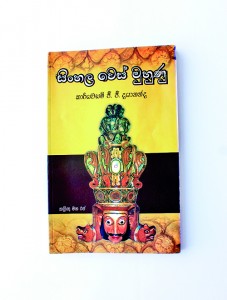 Sinhala Wes Muhunu, by Kariyawasam P. G. Dayananda, a slim volume treating the masks used in these ceremonies, evokes that lost age when religion, ritual, rite and healing were all one.
Dayananda goes as deep into the matter of masks as sources available today would allow, explaining the lengthy process (marked by stringent traditions) of crafting a mask.
There is much in this book to make it an enjoyable read. It reveals, for example, how the craftsman had to possess traditional knowledge, creativity, technical know-how, and also a fine appreciation of human nature in giving life to a mask, seeing as each mask has its own character and persona- though caricatured to produce a mystic effect.
The technique involved in crafting is explained in simple, graphic descriptions. An occasional 'siw-pada' verse originally intended to guide the craftsman, or having been borrowed from a ritual, is inscribed to illustrate a point or entertain the reader.
The interest of the book is heightened when one perceives that the author himself firmly believes in the magical/supernatural properties ascribed to masks – being neither an academic influenced by western ideas nor, fortunately, young enough to scorn such matters. This staunch belief on the part of the author makes the book more refreshingly authentic.
In fact Dayananda dedicates one chapter to 'Haaskam' (loosely, 'miracles'), in which he vouches for the truth of regional legends, anecdotes and even personal stories which testify to the supernatural powers in masks. Evidently he looks at his subject from the point of view of the traditional craftsman- rather than from the vantage point of the anthropologist or the art historian. He is enthusiastic about his topic, and does not pretend to be doing anything other than expounding an ancient craft practised by his forebears. He has drawn information from the pioneering works of John Callaway and Otakar Pertold, both of them anthropologists who worked in the nineteenth century, but he does not take upon himself the guise of an anthropologist. His language is simple, commonplace but has the lucidity of good journalistic writing. Inevitably, as Mr. Dayananda had been a journalist for the best part of his life.
This book, replete with colour plates and illustrations, is commendable as a souvenir of an age fast diminishing, and deserves to be preserved.
Book facts
Sinhala Wes-Muhunu by Kariyawasam P.G. Dayananda. Reviewed by Yomal Senerath-Yapa