Mystery of half-broken granite statue of Lord Buddha in Kerala
By Aanya Wipulasena
View(s):
Sweating in the heat and dust of the 20-minute bus ride from Alappuzha town, we finally arrivd in Karumadi, a village 17 km away from Ambalapuzha, Kerala.
It was a clear day with the sun lighting up the green paddy fields. Birds flew over ponds trying to catch small fish. Villagers in colourful sarees and sarongs walked to the Hindu temple in the village to say their morning prayers. And, near the temple three village boys played excitedly on a swing, made of rope and a wooden plank for a seat, hanging from a branch of a bo tree.
As much as this picture was fascinating we moved on and finally with the guidance of a auto-rickshaw driver and a couple of villagers reached our destination: Karumadi Kuttan, less than 500 metres from the Hindu temple and colourwashed in white as part of recent renovations.
Karumadi Kuttan, which translates from Malayalam into "black boy" or "boy from Karumadi", is a statue of Lord Buddha dating to the 10th century when Buddhism flourished in India. The Archaeological Department of the Kerala government has classified it as one of the main archaeological sites in the state.
Sadly there is not much left of the three-foot granite statue depicting the Buddha in meditation. Positioned facing the Punnamada lake and the backwaters of Alappuzzha, the statue is protected by a pagoda that is believed to have been built by the Dalai Lama during a visit to the site.
We learned there are some legends on how the statue was broken in half. Vishnu Prasadu,27, a self-professed Buddhist is a native of Uttar Pradesh state and a teacher of English. "It is believed that an emperor from the Mughal Empire wanted to eradicate Buddhism from India and he destroyed this statue along with many others. This is among the few Buddhist statues that survived the mass destruction."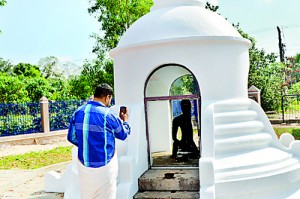 Another account says the statue was broken in two by a charging elephant that was angered by the villagers.
The Archaeological Department of the Kerala Government reopened Karumadi Kuttan after completing renovations on January 12.
India's Director of Archaeology Dr. G. Prem Kumar said the government spent Indian Rs. 1.3 million to lay floor tiles, erect a compound wall, set up lights, and provide a resting place and an information counter for visitors. Security guards will be deployed at this site beginning this year.
"This granite Buddha statue is one of the protected statues in India. We are hoping to preserve it as it is, but we cannot say how the image was damaged," Mr. Prem Kumar added.
He said that Alappuzha was under Buddhist influence during the rule of the Ay King Varaguna. This statue was believed to be built by Buddhist monks along with several temples and monasteries. With the growth of Hinduism the influence of Buddhism in Kerala waned.
According to Dr. Kumar, there are five Buddhist statues that have been found in Kerala.