Lankan artists make a splash in London
By Duvindi Illankoon
View(s):
For 14 Lankan artists, it was recognition of a different kind at 'Serendipity Revealed', an exhibition of contemporary Sri Lankan art at the Brunei
Gallery in London. Some 8000 people visited the exhibition over a 10-week time span, making this exhibition, an immensely satisfying investment of time for curator Annoushka Hempel.
The Brunei Gallery is affiliated to the School of Oriental and African Studies and has dedicated itself to showing work of both a historical and contemporary nature from Asia, Africa and the Middle East. Annoushka, founder of the Colombo Art Biennale and director of the Hempel Galleries, secured the place for her adopted country's artists following a lengthy application process. After many months of hard work, 120 pieces by 14 artists were taken to London for the show which ran from October 9 to December 20, last year.
"The response was very, very good," she says. "Someone said 'wow, I had no idea Sri Lankan art was so sophisticated' and that was an indication of the kind of preconception that exists about Sri Lankan art. Our artists are expected to be traditional, and I think it came as quite a surprise for people to experience how contemporary their work can be."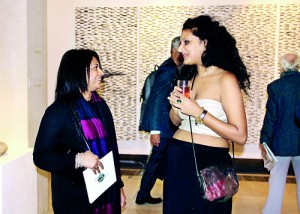 As an undertaking it was quite 'ambitious', says the curator, and her team worked hard to do justice to the works being exhibited. Reginald Aloysius, Liz Fernando, Kingsley Gunatillake, Vimukthi Jayasundera, Janananda Laksiri, Cora de Lang, Bandu Manamperi, Nina Mangalanayagam, Dhanushka Marasinghe, Anoli Perera, Mahen Perera, Pala Pothupitiye, Koralegedara Pushpakumara and Pradeep Thalawatta were the artists chosen to have their pieces shown at the Brunei. They're each well known in their own way-some perhaps more than others-and have had their work shown both at home and abroad.
Opening night was "fantastic," says Annoushka. "I wanted a bold audience who were able to understand and appreciate art from emerging countries like Sri Lanka." She also "wanted the Sri Lankan diaspora in the UK to view contemporary Sri Lankan art", as she was interested in their perspective. Since then many people, including members of the diaspora but also, more significantly, those who had nothing to do with Sri Lanka attended the exhibition. The response was "very positive," Annoushka said.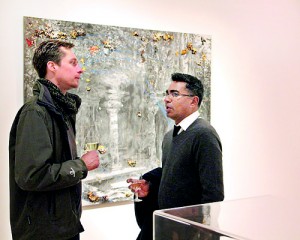 Kingsley Gunatillake's books with the bullets embedded in them were found powerful by many, while Dhanushka Marasinghe's installation involving a clothing line with eyes projected onto underwear was also received well, as were Bandu Manaperi's performance art, Anoli Perera and Pradeep Thalwatte's pieces and Pala Pothupitye's cartographic art. "The show was all about revealing the stories of Sri Lanka through the eyes of its artists and each artist was given space for their stories," Annoushka says. "When you look at the work you can tell they're Sri Lankan but what stands out is the quality and delivery of the work. That was a revelation to many people and the response was overwhelming."
Though concluded at the Brunei, the exhibits will stay in London for some time, and Annoushka hopes to approach other galleries in the UK about exhibiting the works once more.