Sundown Sing- a- long
View(s):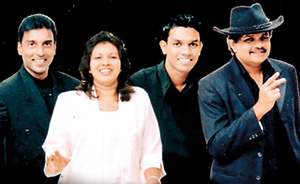 What has been designed to be the Loveliest Night of the Year is also intended to raise much needed funds to help under-privileged cancer patients. On Saturday, 24th January 2015 at 7:00pm, Nalin and the Star Combination will be on the band stand to enrich the evening with music for singing and dancing. This will include the Golden Oldies of yesteryear with English lyrics. 
This sing-a-long cum Sundown Dance will also bring in the popular singer Annesley Malawana who will thrill the audience with the well-known favourites, especially of the legendary Clarence Wijewardena.  The compere for the evening will be the evergreen Vijaya Corea, who with his award-winning style and classic humour, will give the audience an evening to remember.
There is already a rush on for the tickets at Torana, Liberty Plaza, Kollupitiya and Majestic City, Bambalapitiya, considering that all the fun of the evening will also place in the hands of everyone, a song book of 145 songs. The venue is the Banquet Hall of the BMICH where prices have been slashed on food and beverage while corkage is free.
There is also the promise of fabulous prizes on the entrance ticket draw, business cards draw and the baila competition in addition to a valuable prize for the best singing table which is a rare opportunity to both sing and dance one's cares away without strain on the purse. You could be there single, double or, to enjoy the benefits of a reserved table, form a table of 10.
This most enjoyable time is available for just Rs. 1000/= a ticket. On the last occasion, the organisers said it was a full house and, judging by the movement of tickets, they said it would be a full house this time too. For those who are interested, wisdom would prompt them to have a ticket in hand well in advance.
For more information call on 2587474.