Media exposed
Award winning playwright and veteran radio programme director explains how media mislead masses
View(s):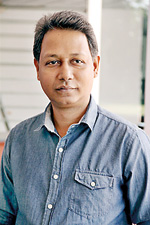 'Both state media and private media have been on the course of misleading people; while the first was promoting extremism the other was dragging people to consumeristic society', says playwrighter Rajitha Dissanayake describing his latest play 'Siriwardana Pawla' (The Siriwardana Family). The play will be premiered on January 23 and 24 at the Lionel Wend theatre.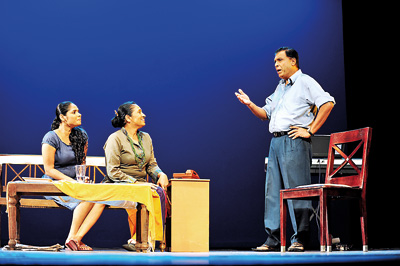 The play revolves around a single family's dreams and shows how the corporate media manipulate society. It highlights the predicament of those who pursue false ideals propagated by the media and how they lose their humanity in the process.
"After war we did not learn a lesson, instead of working for peace and reconciliation, the media has been promoting extremism. The state media which was used for this was playing a dangerous game to divide people," the playwright said. "The state media always tried to create an enemy and look at our own brothers and sisters suspiciously," Rajith lamented.
Describing the desperate situation of the private media he says, "They were was mainly pushing for a consumeristic society and did not promote the intellectual and aesthetic capacities of the people,"  Asked what impact this had on the people, Rajitha said, "This even impacted on people's decisions in electing their leader," he said.
However Rajitha was glad that there was a social media movement which was unravelling the truth and was playing greater role on disseminating information to the people. "People have accepted this alternative medium and the traditional media must not mislead the people or take them for fools," he said.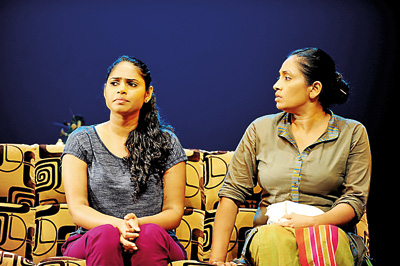 "Siriwardena Pawula' is a youth creative project where a large number of newcomers joined with Rajitha. The project was initiated by CARE International and the play will be going to about 10 destinations as a part of the project and it will be later staged in other cities as well.
The cast of 'Siriwardane Pawla' comprises Jayani Senanayake, Dayadeva Edirisinghe, Nadeeshani Peliarachchi, Shyam Fernando, Anuradha Mallawarachchi, Pasan Ranaweera, Devinda Wickramasinghe, Kasun Chathuranga and Charindra Chandrasena.
The set design is by Dharmapriya Dias, music designing by Kapila Poogalarachchi, lighting by Ranga Samarakoon, costume designing by Nalin Lusena and Samadara Mabulage and make-up by Priyantha Dissanayake. Shyam Fernando will be the stage manager and he will be assisted by Vijith Nuwan and Charindra Chandrasena.