Kala Pola on Jan. 25
View(s):

Sri Lanka's internationally acclaimed open-air Art Fair – Kala Pola – takes place on Sunday January 25 along Nelum Pokuna Mawatha in Colombo.  Presented by The George Keyt Foundation in association with the John Keells Group, Kala Pola 2015 opens at 8.00 am and will continue for thirteen hours non-stop until 9 pm the same night.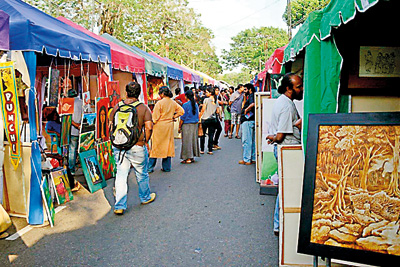 Drawing inspiration from similar open-air Art Fairs in Europe, Kala Pola has become a rich cultural event over the years and is today a much-awaited and not-to-be-missed event in Colombo's annual cultural calendar. Presented since 1993 by The George Keyt Foundation, Kala Pola has continued to enjoy the generous patronage and strong partnership of the John Keells Group over the past 22 years under its corporate social responsibility programme which is committed to supporting the development and promotion of the arts and culture of Sri Lanka.
As it has always been in previous years, Kala Pola 2015 is free of charge and open to the public. A major tourist attraction, it is billed to attract thousands of visitors from all parts of Sri Lanka and from different parts of the world on Sunday, January 25.
They will all indulge in its atmosphere of bonhomie, camaraderie and cultural entertainment and bask in the infectious feeling of an exciting summer art-fest right in the heart of Colombo, Sri Lanka.