Game changer
By Namali Premawardhana
Lankan rapper Prageeth Madushanka, speaks to the Mirror Magazine on the importance of cultivating a hip hop culture, which appreciates local language rap
View(s):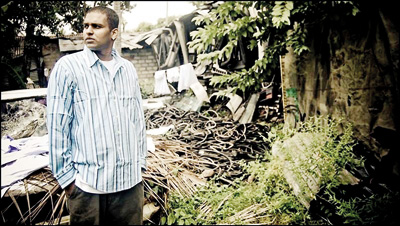 Those familiar with Sri Lankan hip-hop, would also be familiar with the usual copy-cat "gangsta" gimmicks. But despite how tiring it can get, there are also rappers and producers who want to do something more than just make money off their music. Enter Prageeth Madushanka.
Prageeth, better known as Big Doggy, first started rapping as a teenager in the early 2000s. He remembers a time when he and his friends would sit beside a stream somewhere in Negombo and write rhymes. "We never thought that we would do anything with our music those days," he smiles.
In 2003, Big Doggy gained radio time when his crew Nether World made it to No.1 on the TNL Top 10 with their single "Front Line". Then in 2005, his solo debut "My Soul" made No. 1 on the same chart. He laughs remembering his early days as a rapper, walking around in the sun sweating in baggy pants and jackets. "Those were the days of the bling-bling era. Everyone was rapping about their girls and their Rolex and the cars they dreamed of driving."
They were a "copy-cat generation" he says, but rapping in English meant that "our audience didn't understand what we were trying to say. Sometimes even we didn't know what we were saying!" So he decided to change something.
In 2008 he collaborated with AJ Legaz and Slaker on his first Sinhala track, "Hirakari". The track (which came out with a glossy video and viewable on YouTube) gained him considerable popularity in a broader hip-hop listenership in Sri Lanka, establishing Big Doggy as a key player in the local hip-hop scene. But in the underground hip-hop movement, local language rap was "an alien thing" he says. "People thought we were downgrading ourselves." But in the five years of being very much part of the local hip-hop scene, Prageeth has come to realize that it was more important for people to understand his message than for him to appear cool. He continued to rap in Sinhala, releasing the first Sri Lankan triple CD "Dam Paata Haendawe" with Slaker Productions under the M-Entertainment label.
As he enjoyed the success of this release, he also stepped out for a few years from the music scene to establish himself a career in the tourism industry and tie the filial knot by mid-2014. And things began to change.
The responsibility of a regular job and stepping into family life has changed the way this rapper thinks. He identifies himself as a certified hip-hop fan. He not only loves hip-hop and rap, but he also knows that music has the power to really affect lives. So he's not giving up on hip-hop, instead, armed with a new vision and sharpened lyrical skills, Big Doggy is back with a new plan. His one aim? Be real. July 2014 saw the release of "Rap Sellama", the first single and title track off Big Doggy's upcoming solo album. Leaving behind the dream-talk of massive wheels, Rolexes and trapping glamorous women, the track calls the Sri Lankan "rap game" back to its roots, to reanalyse what the message of hip-hop music has become, and how it can be changed.
"That is not our reality. We are not Americans. We live in Sri Lanka and eat rice at three meals every day," he says, no longer laughing. "There is no point pretending anymore." "Rap Sellama", produced by Iraj, is complemented by a Skit Digital video meant to expose what he feels is "fake" about Sri Lanka's entertainment industry. He has taken a step out of his comfort zone to talk about things that everyone is thinking, but can't be bothered saying. Now he wants to go further.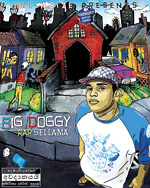 Recently, Big Doggy together with rapper Omee and vocalist GayaniKaushalya released "Sandakathmina", the follow-up to "Rap Sellama", focused on the child abuse and trafficking issue running rampant in Sri Lanka. "We are talking about what our community is facing. I want to tell people what's happening in my culture," Big Doggy explains.
And far from the message overshadowing the music, the need to express himself clearly and to as many people as possible has pushed Big Doggy to new levels of perfection, resulting in a visibly growing audience. But the man remains humble, committed, and realistic. "Sometimes, people just don't understand what you are trying to do," he says, "and they won't accept you."
But he wants to keep talking about the things that matter, whether his audience grows or not. He knows he can't change everything that's difficult about the world he loves, but he's determined to do his part. "It's like Tupac Shakur said," he explains. "As rappers, we are people who can spark your mind, and that can change the world".