Await Christie's 'The Mousetrap'
By Duvindi Illankoon
View(s):
In 1952 Agatha Christie's 'The Mousetrap' opened in the West End of London to rave reviews. In November 2012 it celebrated its 25000th performance, easily becoming the longest running initial play of our time. In 2014 its rights were made public for the first time and in January 2015, Sri Lanka will see its first ever theatre production of the Christie classic.
The play is directed by Kevin Cruze and his carefully chosen selection of theatre personalities from Cold Theatre 7. Fresh off their last Christie production 'And Then There Were None', the cast and their director are now gearing themselves for a three-day run of 'The Mousetrap'-a play notorious for its subversion from traditional whodunit fiction. Christie wrote the play for Queen Mary in 1947 and it was initially titled Three Blind Mice, for the author was fascinated by subtle illusions of the macabre she believed nursery rhymes to possess. The play's first stars were Richard Attenborough and Sheila Sim, and to date over 400 actors have played the main 8 roles.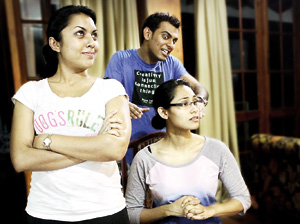 "I enjoy mystery and suspense," says the director. "-and I believe that the actors we have at Cold Theatre 7 are very capable of bringing that to the stage." Kevin formed Cold Theatre 7 a few years ago, and since then they've staged original plays like 'Lankawe Twins Kalabala' to good audience reception. Last year, they conducted several theatre workshops for a local schools using the funds raised from 'And Then There Were None'.
It's a genre rarely done in Colombo but Kevin believes his cast is more than up for the task. Twelve actors will take on 8 roles over the duration-read next week's Magazine to find out more. Even if you've seen 'The Mousetrap' on West End before the director says you'll find his take slightly different; "we're hoping to explore why certain things happen the way they do," he explains.
The play is built on a platform of crowd funding, because its 'difficult' business getting sponsors on board at this time of the year, says Kevin. Their page on IndieGogo is at https://www.indiegogo.com/projects/the-mousetrap if you'd like to check it out. 'The Mousetrap' will go on the boards of the Lionel Wendt on January 30, 31 and February 1 from 7.30pm. A matinee show for charity will take place on February 1 at 3.30pm. Tickets are available at the Wendt from January 20 onwards.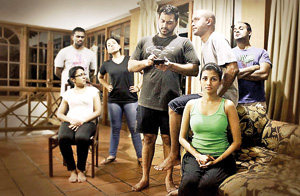 Cast at a glance
Mollie Ralston – Thanuja Jayawardene / Dinesha Senaratne
Giles Ralston – Anuk De Silva
Christopher Wren – Wasaam Ismail
Mrs. Boyle – Kavitha Gunasekera / Piorina Fernando
Major Metcalf – Chrishan Silva / Niren Ranasinghe
Miss Casewell – Liza De Jong / Kavitha Gunasekera
Mr. Paravicini – Dulika Jayamanne
Sgt. Trotter – Amesh De Silva / Heshan Perera