A kitchen straight from Naples
A young couple with an appetite for career change, good food, a host of family recipes and you have Oro 1889. Smriti Daniel gives us a taste of this new Italian restaurant in Colombo
View(s):
To Nishan and Thilini Punzi, Oro 1889 is currently all things: it represents a gamble with their lives' savings, a tribute to their heritage, a celebration of their love of food, the realisation of a dream and a radical career change. It's also the only place they or anyone else in Colombo can eat a real Neapolitan pizza – and they have the oven to prove it. 
It's the most beautiful thing in their kitchen – a handcrafted, artisanal beast whose interior turns cheese molten and cooks a pizza in 90 seconds at 500 °C. They owe its existence to a friend, a pizzaiolo and artisan pizza ovenmaker from Italy, who came to Sri Lanka and built it himself by hand to a highly prized, secret design. Today, as usual, logs of wood have been burning away merrily, heating the interior for an hour before Oro's first customers appear at 6:30 p.m.
The menu is perfectly simple and every pizza on it was named for either Naples, a family or friend or the restaurant itself. You can have the Bianca with fresh mozzarella, potatoes, pancetta bacon, mushrooms, chilli flakes and extra virgin olive oil, named in honour of Nishan's Italian nonna or raise a slice of Panuozzo del Papà to one of the couple's best friends before you bite into tomato, mozzarella, speck ham, fried aubergine and red peppers.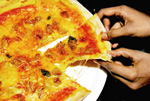 Because this is Neapolitan pizza, it's a gooey mess in the centre; thick with warm tomato sauce, and stringy, fresh mozzarella, each slice is best eaten folded up and delivered hot to your mouth. The toppings seem sparse, but they punch above their weight, delivering mouthfuls of pleasure as each ingredient shines. The dough itself, made fresh with flour and yeast imported from Naples, turns into a distinctively thin, flexible Neapolitan base – crisp, dark spots on the bottom, and springy circumference help identify it.
If you're not in a hurry to get to the pizza, I'd recommend you dawdle by the starters. You can't go wrong with aubergines parmegiana. Made to Nishan's mother's recipe it calls for layers of eggplant cooked in olive oil and tomato sauce, served with mozzarella and parmesan cheese and finished with basil. Served with slices of the house sourdough bread, it makes for elegant, beautiful cooking. Looking over at Nishan working in the open kitchen, Thilini says affectionately, "all these recipes are his aunt's, his mother's, his grandmother's. These aren't his inventions, he's just bringing his family kitchen to you."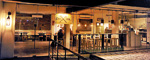 Oro's real appeal lies in the intimacy its owners bring to it – Nishan manages the kitchen and Thilini serves you herself. The restaurant is the reflection of their tastes honed over years of travel. Embedded in the floor are 150 year-old hand-painted Amalfi tiles, each a patterned masterpiece from Naples. Everything from the reclaimed doors, table tops and photo frames, to the simple wooden chairs were finished laboriously by Thilini herself. The red walls are the result of hours driving around Colombo, haunting demolition sites and procuring old bricks. Rusted metal cubes throw a golden light, and candles jammed into old wine bottles send trails of wax dripping down the side.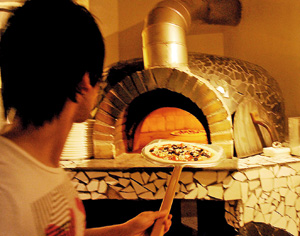 When the couple couldn't find an architect who could realise this vision, they opted to do it all themselves. It was not the first or even the last rash decision they would make. "I'm still amazed that we moved countries and opened a new business in two months," says Thilini looking around. She grew up in Bahrain and spent time in Australia before moving to London. In Nishan, whose family hails from Salerno near Naples in Italy, Thilini found someone who loved food and travelling as much as she did..
When he took her to Naples for the first time, Thilini fell in love at first sight. She had never visited Europe before and what she found was a town that wasn't classically beautiful. Still, its warren of busy streets decked with lines of drying clothing, the quality of the light, just something in the air resonated deeply. It's here Thilini had the best espresso "in the world" at a small café outside the train station, and got her first mouthful of decadent, flaky cornetto – Italy's answer to the croissant.
"In Naples anything they do, they do it to perfection," says Nishan. He has his own memories of home – "born and bred to be a cook," he remembers meals where his massive family would gather around tables all fitted together and laden with food to create a banquet.
After they got married and settled down to earning a living in dual corporate jobs, the couple found themselves at a fork in the road – they could either do the expected thing and buy a house with a 25 year mortgage or they could put all their savings into living the dream. "The rat race wasn't for us and we knew it, we knew we wanted to leave," says Thilini.
Sri Lanka was enjoying a post-war boom and they saw the potential for a new business here. Being determined not to go into debt meant everything had to be simple and DIY but they've turned it into a strength, creating a lovely, unique space at the Liberty Arcade down Duplication Road, Colombo 3. They'll be on a budget for a while to come and while their apartment may be smaller than the restaurant, at least the rocket they're growing on their balcony is served up in their own pizzeria.
The food is on the expensive side – a pizza can set you back Rs.2,000, while starters range from Rs.550 – Rs.650, and desserts from Rs. 400 – Rs.600 (more about the last in a minute). Thilini says this because almost all their ingredients are imported. Some like the 'nduja' you'd be hard pressed to find anywhere else in Colombo – the succulent pork sausage from Calabria spreads like a pâté and brings a subtle kick to a slice of Santa Maria pizza.
My advice is not to leave Oro without dessert. The zuccotto or traditional Italian ice-cream cake is a boozy concoction which pairs brandy soaked cake with deliciously smooth ice cream, while the zeppole are golden globe shaped doughnuts, dusted with sugar and served with cinnamon gelato. There's also tiramisu, affagato and a range of homemade sorbets. "These are all our favourite desserts," says Thilini, remembering that Nishan's neighbour's exceptional zeppole were always on hand to welcome them home to Italy.
In the end, it's these choices by its owners that make Oro the unique experience it is. "We love what we do," says Thilini, simply.
Find Oro 1889 online at www.facebook.com/oro1889 and http://pizzeriaoro1889.com.