Basil in LA; bustle over missing baggage
View(s):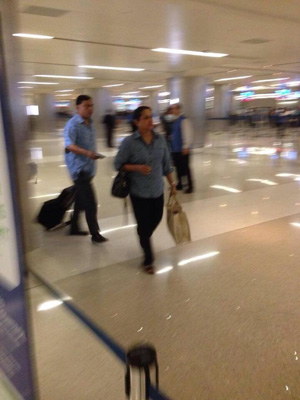 A purported photograph of former Economic Development Minister Basil Rajapaksa arriving at the Los Angeles International Airport together with his wife Pushpa went viral on websites. Its veracity has not been confirmed. However, what many did not know is what went on after the couple came out of an Emirates flight and went to collect their luggage. Four suitcases which had been checked in at the Bandaranaike International Airport did not arrive. They had to leave the LA International airport with only their hand luggage.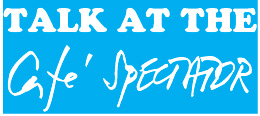 So, the first thing Mr. Rajapaksa, did was to telephone friends in Colombo. They lost no time in launching an 'operation' to search for the missing luggage. Many were the stories told to them, officially and otherwise. One version that proved totally wrong and mischievous was the claim that the bags were full of US dollar notes — and over-enthusiastic airport staff had ripped the bags open to see what was in them.
SriLankan Airlines counter staff who checked in the baggage said "it was not our fault though we do the ground handling for the Emirates airline at Colombo. He said there had been some miscommunication about the loading of this cargo. However, the baggage had been later dispatched to Los Angeles after a complaint had been received.
"The bags in question were traced and handed over to the passenger concerned," added an Emirates airline official. Basil Rajapaksa, who was the national organiser of the Sri Lanka Freedom Party (SLFP) until last Friday came in for strong criticism after his brother, President Mahinda Rajapaksa's defeat at the January 8 Presidential election. He took responsibility for it and resigned that office. He is expected to return to Sri Lanka and move into a residence in Gampaha which is being renovated. Until last week, he occupied an apartment at Baur's Flats adjoining the Navy Headquarters in Fort. The Gampaha House is said to belong to a businessman who supplies air bags to a leading Japanese car manufacturer.
Former President Mahinda Rajapaksa, has been allowed the use of the official bungalow which was occupied till Thursday by Defence Secretary, Gotabaya Rajapaksa. The former Defence Secretary has since moved to a private residence in the Nugegoda area.
Until his official residence in Colombo is renovated, Mahinda Rajapaksa is staying with his brother Chamal at his official residence, the residence of the Speaker along Parliament Road in Kotte.
Kiss for Karu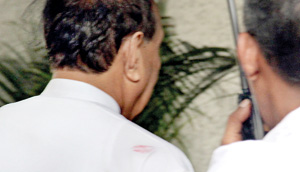 When Public Administration and Buddha Sasana Minister Karu Jayasuriya clad in an immaculate national dress walked into Temple Trees for Prime Minister Ranil Wickremesinghe's meeting with UNP ministers on Friday, he was unaware of the lipstick mark on the back of his national dress.
However, he appeared to be embarrassed when our photographer Indika Handuwala clicked his camera.
Ministry seniors at ex-monitor's rally
Just two weeks ago, a very senior official of the External Affairs Ministry (EAM) and her assistant were participants at a Presidential election rally in Kosgoda.
It had been organised by Sajin de Vass Gunawardena, the powerful former Monitoring MP of the EAM.  One onlooker said the duo raised their hands and clapped after Vass Gunawardena had spoken. He of course wanted those present to cast their votes to Mahinda Rajapaksa for President.
This week, Gunawardena's presence at a meeting with President Maithripala Sirisena at his Wijerama Mawatha residence prompted reports that he was one of the latest supporters. Insiders said he had turned up their as an emissary with a message from former President Mahinda Rajapaksa. They remained tight lipped about the message.
Ali Raja coming back: Yahapalanaya in real danger
Ali wadey ne, remarked an amused Sri Lankan passenger at London's Heathrow Airport, seeing a seemingly worried Elephant Raja trying to board a flight to Colombo with a pliant retired official of our national airline in tow. Never mind the huge hailstones falling from the skies over London. Elephant Raja was anxious to take to the skies himself after my comment last Sunday that his deal with the ex-chairman of the national carrier and his faithful followers could come unstuck.
Worried that his mega deal – most things were mega not too long ago — to grab the airline's business in Britain might not go through, he went on his knees (metaphorically speaking) and with palms together he recited "shanthi, shanthi". Even without the help of MR's astrologer who by the way is still staring at the stars, Elephant Raja's fervent prayers were answered.
A "Kumaraya" came to his help. That was nothing new to the Kumaraya who has had years of experience in the hospitality industry.
He is said to have contacted one of his kind. And soon the new ministerial (sorry) ministering angel was trying to fix meetings with the high and mighty to ensure that the big bucks will not pass by Elephant Raja if the deal goes sour.
Sri Lankan travel agents and others handling holiday travel in London are watching carefully to see whether all his talk about "yahapalanaya" is true or mere sloganising and whether Sri Lanka is going back to the days when big money tasted as sweet as wild honey.
Sri Lankans in Britain and here are silently watching the ongoing antics wondering whether Elephant Raja and his Colombo clan will win the day. Will good governance, accountability and transparency be dumped even before the 100 days are over, ask some.
Champika seals office of CPC boss
Champika Ranawaka, the Jathika Hela Urumaya General Secretary, who was appointed as Minister of Power and Energy, ordered the sealing of the office of the Chairman of the Ceylon Petroleum Corporation.
This was until he assumed office last Friday. Mr Ranawaka says that he will conduct a detailed probe into fuel procurements in the recent past.
Ranil did not want diplomats
It was the now Urban Development Minister and Sri Lanka Muslim Congress (SLMC) leader Rauff Hakeem who suggested at a meeting that members of the Colombo-based diplomatic corps be invited to the swearing-in of President Maithripala Sirisena.
The move was dismissed by Prime Minister Ranil Wickremesinghe. "Why should we? They did not help us to conduct a free and fair election," he retorted.
Nonis and the second coming
Seen at Galle Face last week was Chris Nonis who took a tumble off a bar stool in New York last September and lost his perch as high commissioner in London.
What brought him to Colombo after all these months was the Pope's visit, being the devout Catholic Nonis is, though he forgot to turn the other cheek that night in New York.
"It is not just the Pope but hope that brought him here," said a local wag quite acquainted with the way things are done in Sri Lanka, yahapalanaya or no palanaya. Perfect timing, said another pointing to the fact that Nonis turns up just as his tormentor "Sajin the Obnoxious" (as some call him) and his ministry side-kick Kshenuka Seneviratne, the foreign secretary, fall off their self-erected pedestals.
But what has the Sri Lankans in Britain and seasoned diplomats scratching their heads in bewilderment is the story in an overseas-based news site with close connections to a ministerial type that Nonis is to be put back in his seat, hopefully not one as unsteady as a bar stool at the Big Apple.
That is not all. This news story promoting Nonis says he is well versed in matters relating to the Commonwealth and a great asset to the new President.
The fact is, however that Nonis was a head of mission politically appointed by the previous regime and meant to extol it at every turn.
If being slapped is the qualification for diplomatic appointments, then soon Sajin Vass will have plenty of work on his hands from prospective diplomats queuing outside his residence, said another wag.
Intelligence chief quits; telephone tapping stops
The State Intelligence Service (SIS) called a halt to monitoring land telephones soon after the election results were announced. Insiders say that the technical hand hired for the purpose has also been relieved of his duties. He was a serving officer who was later recruited to work in a temporary capacity.
The move came as SIS Director Chandra Wakista, DIG, quit his post yesterday. He made a brief two-minute speech to his officers before departing.
Senior Superintendent of Police M.H. Marso is acting for the Director until a new appointment is made.
Another minister coming
During the swearing-in of ministers, it transpired that a person considered senior enough in the United National Party (UNP) had been left out.
To make amendments, a source close to national leader Ranil Wickremesinghe said, he was offered the post of Minister of Muslim Affairs.
"How can I accept that? Though I am a Muslim, I represent a Sinhala electorate," came the reply.
So, the source said, a few other state institutions and responsibilities are to be attached and the man is to be told to take his oaths.
Sajin: From white elephant to grey and now the green ones
So what is Sajin Vass Gunawardena's fascination with elephants? It could not be their size. The other day Wildlife Conservation Department officials are said to have found an elephant in the back garden of his residence in Ambalangoda or wherever he resides. When I say back garden I don't mean a perch or two. Sajin does not do things in a small way, especially if it comes out of government coffers. In any case you can't park a pachyderm just like that.
His love for elephants goes back some years. Remember Mihin Lanka that white elephant into which the previous government kept on pouring billions of rupees like pushing bunches of bananas into the mouth of a hungry elephant. No wonder he was called Farce Gunawardena by those who knew him better.
From that white elephant he moved to a grey one in his back garden. He is said to have bought it for ten million rupees. He could not have been trying to outweigh that poor fellow, could he? And now it seems that he is trying to get within touching distance of the Green elephants. But they don't want him anywhere nearby because they are after him. But does he mind? After all, there have been others after him before.