As crucial election nears, main candidates gear up for final lap
By Our Political Editor
View(s):
Fonseka rejects offers from UPFA, works out new deal with NDF leaders
Rajapaksa presents manifesto as postal voting takes place; works  out constitutional changes
Sirisena claims Rs. 2. 5b from Attanayake; SLMC to announce decision today
The man who led troops to victory against Tiger guerrillas, former General Sarath Fonseka, caused some alarm on Thursday in the Opposition camp after threatening to pull out of the National Democratic Front (NDF) coalition. A concerned political aide, Senaka de Silva, hurriedly intervened. He arranged for meetings with former President Chandrika Bandaranaike Kumaratunga, UNP national leader Ranil Wickremesinghe and former party chairman Malik Samarawickrema. Hours of talks resolved issues. Fonseka complained he remained isolated despite the support he had extended. Now the former military strongman has emerged with more confidence over his agreements with candidate Maithripala Sirisena and Wickremesinghe.
Emissaries from the UPFA, some with the knowledge of the leadership and others not, have been 'fishing for political trophies' from the opposition. There was an overture to Fonseka, too. That was to redress all his grievances. It would have been a lot. He would have to be restored his rank, pension, medals and other perks due to a retired General. The court cases he now faces including one (with Senaka Silva) for harbouring deserters would have to be resolved. It was revealed in these columns on December 7 that Fonseka signed two agreements which are yet to be made public. The one with Sirisena, presidential candidate, related to the restoration of Fonseka's rank, title and medals. He had sought to become a Field Marshal. In the agreement with Wickremesinghe, Fonseka has sought his inclusion in Parliament on the National List. Thereafter, with the constitutional changes done, he has sought to be appointed as the Minister of Defence. Both Wickremesinghe and Sirisena had agreed to "consider his requests."
The Fonseka 'threat' was heightened by other factors. It was on December 19 that his son-in-law Danuna Tillekeratne, who 'went missing' surrendered to court. From 2010, there was a warrant out for his arrest over a case involving the procurement of military hardware from a US firm. On one occasion, CID detectives told court they had information he was living in Rome. Ahead of his surrender, former Sri Lankan test cricket captain Hashan Tillekeratne, a brother of Danuna's father, declared at a news conference he would support President Mahinda Rajapaksa at the presidential polls. Danuna, one source said, had severed connections with the Fonseka family. For Fonseka fans that was cause for concern but some officers who served under him and now employed overseas telephoned. They said they were relieved he had chosen to remain with the NDF. Jayantha Ketagoda, who took Fonseka's seat in Parliament after he was disqualified, claimed one of his demands from the Government was to restore the former Army Commander's rights. Other than his own remarks at a news conference, there was no response to that demand from the UPFA Government.
Fonseka, like some of the others in the Opposition, was one of those wooed by the UPFA with attractive offers. Another such offer was made to Harin Fernando, now the UNP Leader of the Opposition for Uva Province. He, however, has turned it down despite pressure being brought on him by a young VIP. On the other hand, UPFA leaders have frowned on others who after talks had agreed to remain with the alliance but added insult to injury by leaving. The anger of President Mahinda Rajapaksa over one such instance was clearly reflected when he addressed a polls rally in Matale on Friday. He declared that munafiqs la inney Mannarama paththey (or Munafiqs, the Arab word for hypocrites were in the Mannar area). For a section of the Muslims present at the rally, it was too obvious a reference to Rishad Bathiuddin, the former Minister of Commerce and Industry and protégé of Economic Development Minister Basil Rajapaksa.
In remarks he made to the Sunday Times of December 7, then Minister Bathiuddin said his All Ceylon Makkal Congress high command took a decision to support the Government. The decision, he said, was taken on December 5. Hence, he said that Ameer Ali, Eastern Provincial Councillor would resign his position (from the Eastern Provincial Council) and would soon be sworn in as an MP.
In fact, President Rajapaksa had called upon A.H.M. Azwer (now senior Media Advisor) to resign as a National List MP to make way for Ameer Ali. He became an MP of the ruling UPFA. The ACMC thus had Ali and Bathiuddin in Parliament. On the night of December 8, Bathiuddin arrived at 'Temple Trees' with a draft Memorandum of Understanding his party wanted to sign with the UPFA. He was accompanied by ACMC General Secretary Y.L.S. Hameed. As revealed in these columns last week, Bathiuddin ended up in a fist fight with Sri Ranga, a UNP parliamentarian who now supports the UPFA Government. This appears to be the turning point. The Sunday Times learnt he was admonished by President Rajapaksa. Earlier, Namal Rajapaksa MP who counts Sri Ranga as a friend also protested to Bathiuddin.
At a news conference on Wednesday (December 24), Bathiuddin accused President Rajapaksa of "creating the Bodu Bala Sena (BBS). He charged that the BBS created communal tensions and disturbed ethnic harmony. "BBS monks invaded my ministry six months ago; still the police have failed to arrest the suspects involved in this incident. Even though I have given them addresses of these perpetrators," he said. There was no reference to his fight with Sri Ranga.
Asked why there was a move to sign an MoU with the UPFA if the BBS was reportedly the cause, Bathiuddin told the Sunday Times, "There are many other reasons besides attacks on the Muslim community. Hours before we decided to leave the Government, a person who claimed to be an emissary of President Rajapaksa visited me saying that he (the President) wanted to meet me and urged me to come along with him. I told him that I cannot come right now because our party's High Command meeting is scheduled to start in a short while. We were to finalise matters relating to a decision to extend support to New Democratic Front (NDF) candidate Maithripala Sirisena. He told me that if I crossed over I may have to face some consequences in the future. He requested me not to decide anything with anger. I declined the request for a meeting and went ahead with the party meeting".
"Thereafter I wrote a letter to the IGP that my life is in danger now because of this incident. If anything happens to me, I said, the Government is responsible. An electronic media personality has been attacking me in his talk-shows for four years. In one of his recent talk-shows he claimed that I have been trapped in Basil Rajapaksa's nest as a convicted person. He claimed he has files on me and I won't quit the government because of this. He also claimed by supporting the Rajapaksa regime Bathiudeen is betraying his own community. I will be exposing other reasons which led me to quit the Government which I served for ten years."
The Sri Lanka Muslim Congress led by Rauff Hakeem has made a last minute decision to quit the Government. An announcement is due at a news conference today. The party remained noncommittal when the postal voting took place for two days leaving voters who supported it, if any, to wonder what its position would be. If former Minister Bathiuddin has declared that the BBS was cause for his exit, this placed Hakeem in a quandary.
Early this week, the BBS publicly announced that it would back the UPFA. The announcement came from its leader Venerable Galagoda-Aththey Gnanasara Thera.
There was also some other minor turbulence for the NDF. Namal Rajapaksa, an attorney who is also a Presidential candidate, protested to the Commissioner of Elections, Mahinda Deshapriya over what he alleged was bias by the state media. He urged that a Competent Authority be appointed to monitor their role. Deshapriya summoned a meeting of political parties fielding candidates and representatives of the two independents for a meeting on Thursday. He lamented that those who raised their hands for the passage of the 18th Amendment to the Constitution would have to answer for the situation that had arisen. He said he had no power to make such appointments.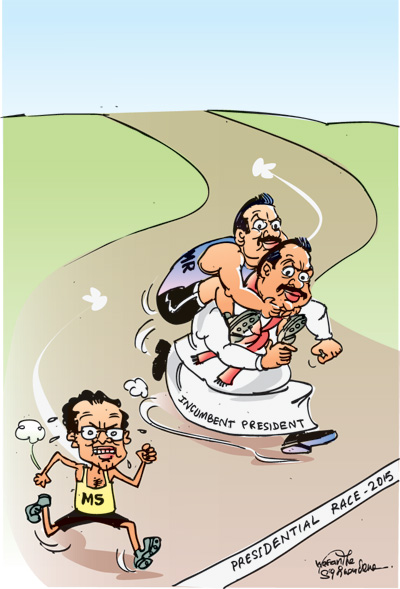 This is while Constitutional changes, a subject on the academic fringe, are being largely ignored on the political platforms by the two main rivals for the January 8 presidential election. They are nevertheless giving the subject top priority elsewhere. Both are equally conscious that it is not a 'marketable commodity' with the average voter who is unaware of the different nuances. For UPFA's Mahinda Rajapaksa, the main plank of his campaign has been the military defeat of the Liberation Tigers of Tamil Eelam (LTTE) back in 2009. He argues that to "suggest that terrorism is now relegated to history" is "far from reality and truth." The other argument is that Western powers are plotting his downfall. His rival, Maithripala Sirisena of the National Democratic Front (NDF) says, "The extent of corruption in Sri Lanka in the past few years has been unprecedented." His catalogue of promises includes a pay increase for workers, and building a moral society by acting against drug and liquor businessmen who have been given ministerial portfolios.
Rajapaksa's manifesto, originally due for release last Monday (December 22), was put off for last Friday (December 26). It was hurriedly advanced to last Tuesday (December 23) after the UPFA leaders realised that the two-day postal voting would begin on that day. Those casting postal votes would thus not know what the UPFA offered. Yet, copies of the 112-page document, distributed during a BMICH ceremony telecast live on Rupavahini, the national broadcaster, are still scarce. The NDF, denied space at different Colombo hotels, distributed its manifesto at a ceremony at the Open Air Stadium of the Vihara Maha Devi Park on December 19.
The UPFA and the NDF candidates have given top priority to Constitutional changes. Proof comes not from political platforms but behind the scene activity, the polls campaigns notwithstanding. President Rajapaksa has appointed a team of Ministers headed by Nimal Siripala de Silva, even before elections results are known, to prepare the groundwork for Constitutional changes.
Rajapaksa's manifesto has pledged a new Constitution. For this purpose, he has said, that the entire Parliament will be formed as a Constitutional Council consisting of people's representatives belonging to all political parties." He has pledged that "I will present the Draft Constitution to a referendum seeking the approval of the people." Of course, that will not mean an abolition of the Executive Presidency. He has said that the "present executive presidency system," will be amended "by eliminating the weaknesses of the Parliamentary system while retaining its satisfactory elements."
Other members of the Committee include Basil Rajapaksa, Dullas Allahapperuma, and Wimal Weerawansa. The ministerial committee's main task will be to formulate a road map on how the procedures for the new Constitution should be structured by Parliament. Another matter the Committee has been tasked with is to prepare the infrastructure for Rajapaksa's pledge to "set up a special security force with the assistance of the Army to prevent the drugs trade and large scale criminal activities." At the same time, Rajapaksa adds that, "I will set up a special criminal court to investigate such offences and punish wrong doers within a short time."
Rajapaksa adds; "I will establish a naval force to curb and destroy all activities relating to the drug menace at sea, in the same way the drug menace is curbed on land. I will provide necessary facilities and resources to the officials of the Police Narcotics Bureau, the Customs Department and other related institutions to prevent the importation of harmful drugs into our country, and the peddling and/or marketing of such drugs." The headline to the pledge in the manifesto reads "A permanent stop to the underworld and drug menace."
The ongoing polls campaign notwithstanding, the ministerial committee has held meetings in the mornings to discuss the two key issues and consider proposals. These discussions have seen participants making reference to the NDF candidate's manifesto and making claims that aspects relating to a 'unitary state,' 'national security' and 'separatism' were absent in Sirisena's manifesto. "We have in fact made that clear by asserting in our manifesto that provisions in the Constitution that require a referendum will not be changed," argued JHU General Secretary Champika Ranawaka, one of those who were in the team that drafted the Sirisena manifesto.
That apart, the pledge to "put a permanent stop to the underworld and drug menace" does raise some issues. It is no secret that some of the biggest drug busts in post-independent Sri Lanka have taken place when the UPFA was in power. In such cases, it is not the inadequacy of personnel in state agencies or their operational incapability that have led to a proliferation of the drug menace. Hence, the Army is not required in an operational role to carry out drug busts. Not if the Police Narcotics Bureau is depoliticised. It is different in the case of the Navy or the Coast Guard who police the sea routes used by smugglers. To the contrary, in almost every major bust, influential persons have successfully brought pressure to either stall investigations or to penalise those responsible.
One instance that stands as a glaring example is how the official letterhead of the Prime Minister of Sri Lanka was used by an official there to ask Customs to release a container that held the largest quantity of heroin to be detected in the country. Nobody was punished for this. Of course NDF candidate Sirisena also wants to combine the National Intelligence Service, obviously the State Intelligence Service (SIS) since there is no organisation by the first name, the Special Task Force (Police), Customs and the Authority for the Control of Dangerous Drugs into a Special Force "to suppress drug dealers." For the two sides, what is of importance is to first study where the shortcomings lay in the investigation, enforcement systems and to provide safeguards to those involved from political pressure.
For the NDF, constitutional changes have become equally important for another reason. As revealed in these columns last week, the main partner in the Front stands for the abolition of the Executive Presidency while another, the Jathika Hela Urumaya, wants it retained with significant changes. As pointed out last week, Sirisena pledged in his manifesto that "I will have discussions with other parties and pass this (constitutional) amendment without fail within a hundred days." Towards this end, Sirisena has been having a series of discussions with UNP national leader Wickremesinghe. The idea is to chart a course that will be acceptable to both sides. A glaring example in this regard is how Deputy Minister Nishantha Muthuhettigama, against whom there is an open warrant, was able to use the VIP Lounge at the Bandaranaike International Airport to take a flight to Singapore. That was after literally mocking at the warrant by singing from an election platform after a Sub Inspector of Police had saluted him. The answer to such conduct is not the introduction of new mechanisms. It can only be through an honest implementation of the law where political interference should be debarred.
This is how Sirisena has explained the constitutional issue in his manifesto: "The President needs the assistance of Parliament to change the post of Executive President. That is because it is Parliament which has the power to amend the Constitution. Yet Parliament was unable to effect this change for the past twenty years. It is the President as leader of the main party who should provide the leadership to pass the required Constitutional amendment with a two thirds majority. For that the President should take the initiative to reach an accord among the main political parties. It is to fulfil this task that I decided to come forward as the common candidate of all the people at this Presidential election."
Sirisena has explained that "to change the Executive Presidential System" he is taking as "background material" agreements abolishing the Executive Presidential system reached by Movement for a Just Society (Ven. Maduluwawe Sobitha Thera) as well as the draft 19th Amendment compiled by Pivituru Hetak (Venerable Athureliye Rathana Thera). It is therefore clear that a commitment to abolish the Executive Presidency will entail further consultations by Sirisena with the parties concerned. His election as President would not automatically mean the abolition of the executive presidency in its entirety.
These factors notwithstanding, the NDF appears to be consolidating its position vis-a-vis opposition political parties that did not sign its common programme. Significant among them is the Janatha Vimukthi Peramuna (JVP) which has begun to co-operate with the NDF campaign in a limited way. JVP's Gampaha District parliamentarian Vijitha Herath took part in a meeting attended by professionals and businessmen at Kiribathgoda last Tuesday (December 23). He was to say that the January 8 polls were the last opportunity to change the present system and the people should ensure that President Rajapaksa was defeated. NDF partner party representatives Dr. Harsha de Silva (UNP) and Champika Ranawaka (JHU) took part in the event. They also took part in a string of other meetings. JVP leader Anura Kumara Dissanayake said the party accepted invitations from professional bodies and similar organisations to take part in such meetings. He said, however, the JVP was not participating in any propaganda rallies together with the NDF though the JVP was exhorting the public on its own on the need for a change.
Ahead of these developments, the onetime UNP General Secretary Tissa Attanayake who once had visions of how his party should conduct the presidential polls dropped what he thought was a political bombshell. It exploded in his own hands. At a news conference he produced a document dated November 1 and claimed it was signed in secrecy by the NDF presidential candidate and the UNP national leader. Among other matters, Attanayake's document was to allege that the two of them had agreed to reduce the strength of the armed forces in the North by fifty per cent and within two years when elected after a parliamentary election to disband all High Security Zones in the North and return the land to original owners. This was purportedly one of several matters on which Attanayake claimed they had reached accord. The date of the purported agreement, November 1, was when the country was mourning the landslide victims at Ampitikanda Estate, Mihiribedde in Koslanda. Barely 24 hours after the claim, both Sirisena and Wickremesinghe held a news conference to declare that the claims were false and the document was forged.
Wickremesinghe said, "First of all I have to say that is a forged document. What is on it is not my signature. It is not Maithripala Sirisena's signature that is there either. The main facts that we wanted have been included directly in our manifesto, which are the Premiership and the presentation of the 19th Amendment to the Constitution in January itself. That is for the removal of the excessive powers of the executive presidency. There is nothing more for us to talk. Even when Tissa Attanayake was with us we talked of a joint agreement. No details of it were known. Only Mr. Maithripala Sirisena and I were the ones who held the talks. This is a fake document. As my signature has been forged, I have sent a letter to the IGP to have an investigation. This is a criminal act."
Maithripala Sirisena: "This is a forged document. I left the government on November 21. Then I have not even met Mr. Ranil Wickremesinghe once. As the postal votes were being cast, this has been made public to hoodwink the voters. We have information that other similar forged documents are being created. Besides Mr. Wickremesinghe, I will also be writing to the IGP. I will take this matter to court. When Tissa Attanayake left, one thing he himself said was that he did not know about the discussions that had taken place. Then he has made a fake document like this. The UNP lost so many successive elections because of a General Secretary like him. I ensured the UPFA won all the election during my tenure as its General Secretary. Now along with Tissa Attanayaka, President Rajapaksa will also face defeat."
Sirisena has demanded two and half billion rupees in damages from Attanayake. A Letter of Demand sent by his Attorney Sandun Gamage to Attanayake said "…..I am instructed to state that my client's signature and that of Hon. Ranil Wickremasinghe's have been forged on this false Agreement and in fact have been affixed on this fraudulent Agreement by scanning such signatures that were available on official documents. I am instructed to state that the aforesaid forgeries of the signatures and the entire false Agreement has been concocted by you with the full knowledge that these are totally false, fraudulent and forgeries and made solely for the purpose of defaming and holding my client to public hatred, ridicule and contempt especially in view of the fact that my client is the Common Opposition Candidate at the forthcoming Presidential Election…… "
There are only eight days more of political campaigning before the January 8 polls. Floods have wreaked havoc in several districts affecting hundreds of thousands of people and questions have arisen about their ability to exercise their franchise. However, most voters may have already made up their minds leaving those undecided more time. The final outcome will no doubt be a turning point in Sri Lanka's history.