Rupavahini blatantly flouts Polls Chief's guidelines
View(s):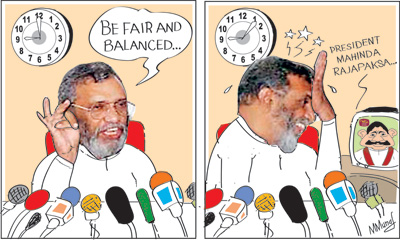 Elections Commissioner Mahinda Deshapriya, on the one hand, acknowledged the role of the state and private media equally when he spoke to the nation last Monday. On the other, more importantly, he made clear that both should act in a fair and just manner in their coverage in the run-up to the presidential election on January 8.
The remarks came in a speech he made when receiving nominations at his office in Rajagiriya last Monday for the presidential election. The event was telecast live by the state broadcaster Rupavahini. Exclusive rights were given to Rupavahini to instal cameras inside the hall on the mistaken belief that it is the 'national' tv channel. It was a mistake all his predecessors made. Camera crews of the private electronic media were not allowed into the hall where he was making the speech. It was the Rupavahini live telecast that had to be shared with all other channels.
Hardly had his guideline echoed in the precincts of the Elections Department as well as millions of households and offices, did it show how futile they were.
As soon as the ceremony to receive nomination papers was over, the cameras turned to the crowds that had assembled outside in support of one of the candidates — Mahinda Rajapaksa. It remained focused until President Rajapaksa was being driven out. At one point, the BMW car stopped and cabinet ministers vied with each other to shake Rajapaksa's hand. Some succeeded, elbowing out the elderly and physically weaker ones. The jumbo cabinet comes useful to double up as cheer squads. It was a security nightmare.
External Affairs Minister G.L. Peiris, attired in a full suit, stretched out from the back of a bulky cabinet minister and was able to only touch the President's finger-tips. He was lucky. Septuagenarian Prime Minister D.M. Jayaratne trotted as fast as he could, stumbling along the way, until a well-built person from his security detail wearing a tie held him round his waist lest he be stampeded by the surging crowd of his cabinet colleagues. Sri Lankans countrywide saw these spectacles. And then the live commentary was all over as the president's motorcade drove away.
It seemed as if there was no opposition candidate contesting the poll. No cameras were focused on Maithripala Sirisena or any of the other 17 candidates.
If all private networks cannot be allowed in view of the large number of crew members, it would have been possible to select one "pool" camera unit from private networks whose coverage could be shared. That would have been fair and equal coverage the Commissioner prays for. At least that way, there would be less news management.
That it happened under the nose of the Elections Commissioner, with the walls of the hall he spoke in still reverberating with his words, is proof that some laws are selective. In addition to the unbalanced coverage, crawlers also ran about UNP General Secretary Tissa Attanayake's 'cross over' to the UPFA.
That is from the national network.
So much for fair and equal coverage!
---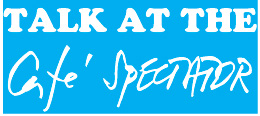 Polls pardon even for most-wanted man
Amidst reports of 'crossovers' from government ranks and vice versa, Police insiders say a most wanted person has re-appeared in Sri Lanka.
If their claims are correct, the man who is related to a one-time powerful personality in uniform, may win a reprieve from a string of court cases he faces.
The first hint emerged when the relative made clear this week his unstinted support to President Mahinda Rajapaksa at the presidential election.
---
Top police promotions put on hold till polls
The Public Service Commission (PSC) has put on hold interviews for promotions in the Police until the presidential election is over.
Vacancies for five Deputy Inspectors General of Police (DIG) exist in the Police cadre. Also on hold are other promotions from Sub Inspector to Inspector and Inspector to Assistant Superintendents.
---
DPL tears also at public expense
The talking point in External Affairs Ministry circles is about a 'diplomat' who was forced to join the ranks after his love affair came to an abrupt end.
He is now said to keep a framed portrait of his onetime sweetheart on his office table.
A colleague in the diplomatic mission he serves overseas said when he had no paperwork to do, which is most of the time, he keeps staring at the photograph.
Perhaps no one should grudge that private matter, except for the fact that Sri Lankan taxpayer is footing the bill for it.
---
More diplomats called back for election work
It is not only some politically appointed heads of diplomatic missions overseas who have been re-called to do election work in Sri Lanka. Even junior level officers have descended and are quite busy. The question in the External Affairs Ministry lobby is whether the electioneering work would help these diplomats, almost all non-career types, to draw their foreign allowance.
A section of senior officials seem to think so. Whilst some of the returnees have found their own accommodation, others have obtained rooms at the Colombo Hilton.  There were also others who won rich rewards after the election. One was the case of a diplomat who served in a European capital where he was the number two. He was elevated to number one in another station.
Thus, he served overseas for nine long years only to be sent to 'Siberia' – the 'ice room' or the cold storage of the Ministry after he was accused of fathering hostile emails against the de facto Minister. They are watching to see who this diplomatic officer would back though this time, because he seems to know to pick a winner.
---
Airline turns tables for Rajapaksas
There were strict orders to the SriLankan Airlines special flight that took President Mahinda Rajapaksa, wife Shiranthi and son Yoshita to Cochin this week for a special pooja. The order was to serve only vegetarian food on board.
As a result, the choice was Seeni Sambol buns, Bhoonda (an India speciality), samosas etc. President Rajapaksa flew for a special pooja at the Tirumala Venkate-shwara Temple.
---
Navin's lawyers stall CID probe
Former Minister Navin Dissanayake who crossed over to the United National Party (UNP) last week appears to have forestalled, at least for the time being, Criminal Investigation Department (CID) Detectives from interrogating him.
This was over a bombshell he dropped that a hitherto unidentified party had offered him Rs. 100 million if he did not cross over and remained in the UPFA Government.
Dissanayake's lawyers have written to the CID asking it who had made the complaint and taken up the position that no offence had been committed. The lawyers have said that since he is a Member of Parliament and enjoyed privileges, they wish to know under which legal provision the CID wanted to question him.
Lawyers had alluded to media reports of Mr. Dissanayake's disclosure at a news conference about the Rs. 100 million offer and speculation thereafter that the CID was to question him. Government sources say that the ex-minister was claiming that a Chinese had offered him the big bucks. If he can't prove it, he will be in big trouble, they say.